Coolmuster PDF to JPG Converter Online Help
Welcome to the online support center for Coolmuster PDF to JPG Converter! This comprehensive resource provides you with detailed steps, frequently asked questions, and in-depth information about this PDF to image converter. If you have any questions or suggestions, please don't hesitate to leave your comments here. To begin with, let's delve into the main features of Coolmuster PDF to JPG Converter.
Key Features
• Seamless Conversion: Effortlessly convert PDF to JPG, PNG, TIF, BMP, and GIF.
• Formatting Preservation: Retain the original layout, fonts, and images during conversion.
• Batch Processing: Convert multiple PDFs to JPG simultaneously.
• Selective Conversion: Preview and select specific pages or page ranges for conversion.
• Efficient and Dependable: Deliver fast and accurate results.
• File Protection: Ensure the security of sensitive information.
• Regular Software Updates: Stay current with the latest features and enhancements.
• User-Friendly Interface: Intuitively designed for ease of use.
• Additional Features: Let you add folders, delete unwanted source files, and customize output locations.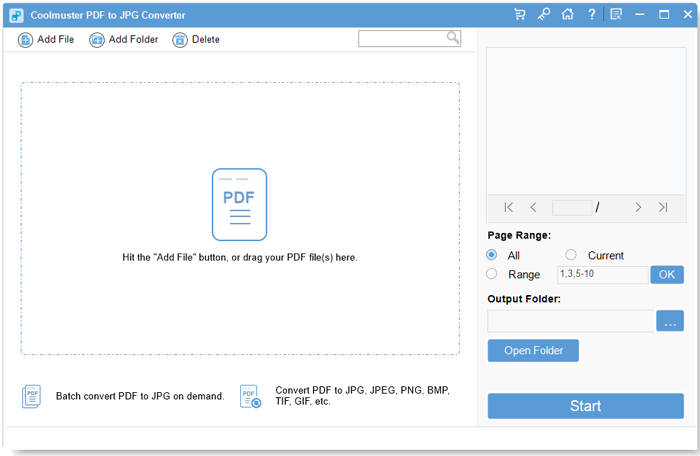 System Requirements
OS: Windows 11, Windows 10, Windows 8, Windows 7
Minimum Hardware Requirements: >750MHz Intel or AMD CPU processor, 512MB or above of RAM, 1GB above free space
Installation & Uninstallation
Installation
To install this PDF to JPG converter on your computer, follow the simple steps outlined below:
* Download the installation file by clicking on the provided download link.
* Locate the downloaded .exe file on your computer and click on it. A window will appear, guiding you through the installation process. Next, just follow the prompts on the interface to proceed.
* Once the installation is complete, you will find a quick-start icon conveniently placed on your computer.
Uninstallation
Navigate to the installation folder where you have stored the PDF to JPG converter and locate the "uninst.exe" icon. Click on it to initiate the uninstallation procedure, effectively removing the PDF to JPG converter from your computer.
Registration
Upon ordering this PDF to JPG converter, you will promptly receive an email containing the registration code and a URL for downloading the full version. You have the capability to either uninstall the trial version and download the full version onto your computer or directly register the converter using the free trial.
To register the software, click "Register" within its window to access the registration interface. It will prompt you to enter the licensed email and registration code. Please ensure that the email address you provide matches the one used for purchasing the program.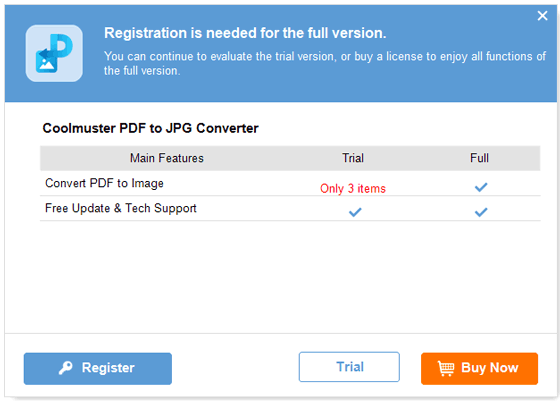 Once you have successfully registered this PDF to image converter, simply restart it to fully explore and enjoy its functions firsthand.