Coolmuster SignPub Online Help
Welcome to the online help center for Coolmuster SignPub! Here you can get detailed steps, frequently asked questions, as well as the detail information of this products. If you have any questions or suggestions, you can leave your comments here. First of all, let's check the main features of Coolmuster SignPub together.
Key Features
• Full support for all metadata entries so as to modify/add ePub metadata conveniently.
• Be able to help users to insert images or illustrations, and copy and paste text to ePub with ease.
• Allows to customize the cover for your ePub books and select use your favorite image as the cover for your ePub book.
• Dropcap and other visual effects can be added to your ePub books to make your files beautiful and redouble your eBook reading.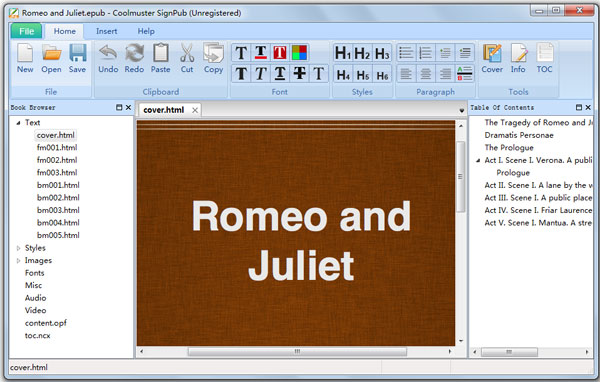 System Requirements
OS: Windows 2003/XP/Vista/7/8 32bit
Minimum Hardware Requirements: 500 MHz processor, 256 MB Memory, 15 MB hard disk space
Installation&Uninstallation
Installation
Follow steps below to install this software on your computer. It is very simple.
* Click the download link to get the installlation file.
* You will find an .exe file on your computer. Click it and a window come up to remind you the installtion. Just follow prompts of the interface to continue.
* After installation, there will be a quick-start icon on your desktop.
Uninstallation
Go to the installation folder which you store the software to find the uninst.exe icon. Hit it to remove the whole software from your computer.
Registration
As soon as you have ordered this software, your email box will receive a letter which contains the register code and the url for downloading the full version. You may either remove the trial version and download the full version on your computer or register the software on free trial version directly.
To register the software, you need to click "Register" on the interface of the software to enter the register interface. It asks you to fill the licensed email and register code. Please note that the email address should be the one you purchased the software.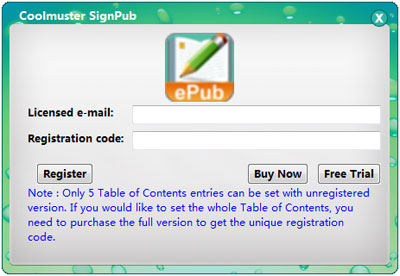 After you have registered the software, just restart the software to experience its full functions by yourself.