Combine PDF software is a sought-after tool by individuals looking to have their information in one document instead of searching them in multiple files. In doing so, you save time and free yourself from having to check through numerous files simultaneously.
There are plenty of the best PDF merge software, and choosing the right one for your needs can sometimes be challenging. This definitive guide shares the best program to combine PDF files for an efficient merging process, including online and offline. Let's have a look.
Part 1. Top 3 Best PDF Merge Software Offline
PDF document merge software provides a fast and efficient way to join documents securely. Unlike online tools, offline applications don't require internet connectivity to work. With their use, you're also guaranteed your PDF documents will retain the original quality after merging. Here we list the top 3 best software to combine PDF files offline. Let's explore them one by one.
Tool 1. Coolmuster PDF Merger - The Most Reliable
If you are looking for the best app to combine PDF files, Coolmuster PDF Merger should be among your top choice. It is the best free PDF merger for Windows 10/11. This application comes in an easy-to-use interface that allows for effortless re-arrangement and merging of PDF files. It also retains the output document's formatting, layout, and images. So, you're assured of quality results. In addition, the software is 100% safe, as your personal information isn't compromised during the joining process. Here's what you should know about this offline app for merging documents.
Features of Coolmuster PDF Merger:
Retain the quality of your original documents after the merging process is complete.
Enjoy a seamless merging experience with a simple-to-use interface.
Benefit from secure merging as your personal information isn't compromised.
How to Use Coolmuster PDF Merger:
01Download, launch, and run the best software to merge PDF files on your Windows computer.

Free Download for PC
02Choose the Add File option at the left-hand corner of the window to import the files you wish to merge. The other alternative is to drag and drop the files on the application interface.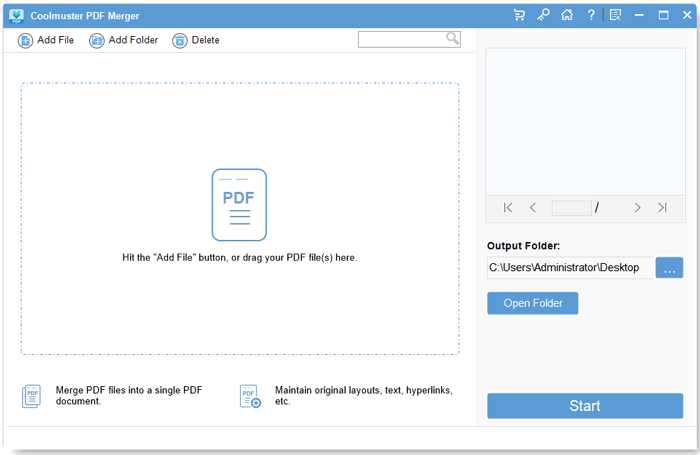 03Select the Output Folder to store your merged files by clicking the three-dot menu. Still, you can check the preview of your imported files.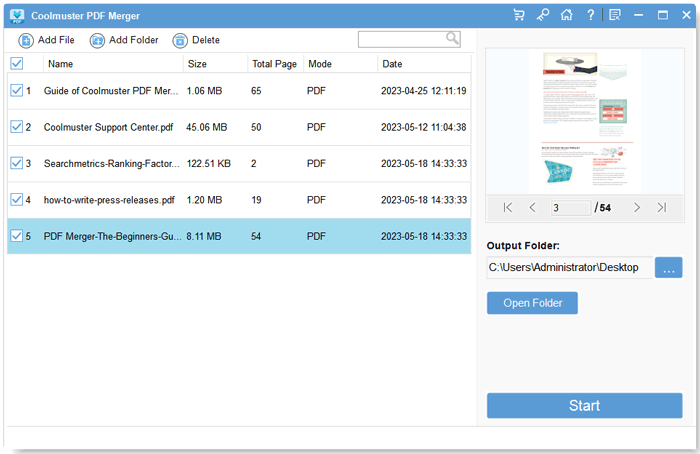 04Click on Start to begin the merging process.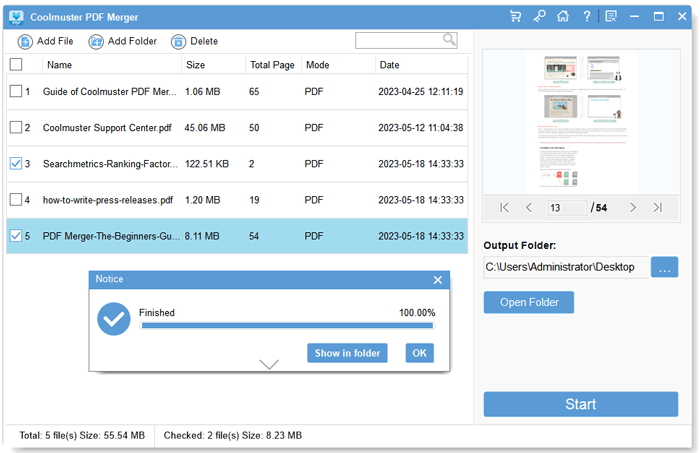 Pros:
* Benefit from faster uploading and merging of multiple PDF files.
* The preview panel allows for document organization before merging.
Cons:
* No free online version is available.
Pricing:
* You can download the Coolmuster PDF Merger and try it for free. However, there are limitations on some functionalities.
* To enjoy the premium feature of this PDF Merger software, consider purchasing any of these licenses:
1-month license for 1 PC at $9.95.
1-year license for 1 PC at $15.95.
Business license for 10 PCs at $35.95.
Further Reading:
[9 Tools Review] The Hottest PDF to Word Converter Online/Offline
Combine and Merge PDF Files Online - The Best Free PDF Merger Online
Tool 2. Soda PDF Desktop
Soda PDF is another of the best PDF merging software. Although it is popularly known for merging PDF files online, you can still use it as a desktop application. The application integrates well with storage providers like Dropbox and Google Drive, and can even be used offline. You can re-arrange files to your liking and change the page size and orientation without changing the original format.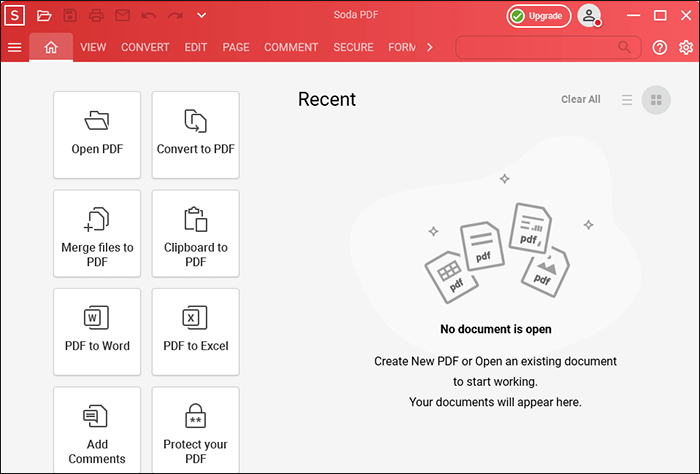 Features of Soda PDF Desktop:
Import PDF documents in bulk.
Benefit from different functionality like splitting, password protection, etc.
Merge documents without distorting their original format.
Enjoy seamless document merging from Dropbox and Google Drive.
Pros:
* Benefit from an easy-to-use interface for both novice and experienced users.
* Sort documents quickly after they're uploaded.
Cons:
* Merge a limited number of PDF files per day.
Pricing:
* The software is free to download and use. Note that the standard plan has limited functionality.
* To enjoy more features, here are the pricing plans to consider:
Soda PDF 360 Standard yearly license goes for $81.
Soda PDF 360 Pro yearly license goes for $100.
Soda PDF 360 Business yearly license goes for $204.
Tool 3. UPDF
The UPDF should be the best app for merging PDF files offline. It has an easy-to-use interface and can merge several documents at once. In addition to joining documents, this desktop application can create, convert and edit PDFs.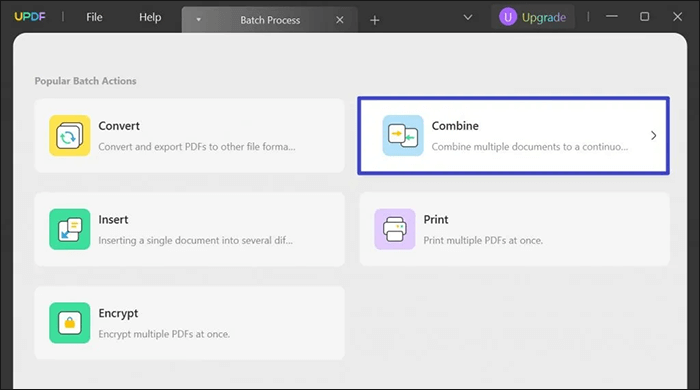 Features of UPDF:
Work efficiently on different operating systems, including Mac and Windows.
Benefit from a wide range of tools, allowing the performance of different tasks in one place.
Enjoy an easy-to-use interface even for beginners.
Pros:
* Merge files safely and securely.
* Enjoy high accuracy while maintaining the original document quality.
Cons:
* Merge a few files unless you upgrade to a paid version.
Pricing:
The annual plan goes for $29.99.
The lifetime plan goes for $49.99.
You May Like:
From Separate to Seamless: How to Combine PDF Files Effortlessly
From Text to Portable Magic: Ranking the Best Word to PDF Converters
Part 2. Top 5 Best PDF Merge Software Online
Downloading and installing a desktop application to merge PDF documents, especially if you work with PDFs occasionally, can be hectic. As a one-time user, online tools offer a convenient way to merge documents quickly and securely. Let's dive into the top 5 best online PDF combiners you can try out today in this part.
Tool 1. SmallPDF
SmallPDF is the best tool for merging PDF files. Using this merger is easy. All you have to do is add your files, re-arrange the order, and click the combine option to start the process. Once complete, you can download your file to Google Drive or PC or save it to cloud storage.
Features of SmallPDF:
Enjoy quick processing of documents as merging happens online.
Sort the pages to merge quickly.
Upload documents faster across different operating systems.
Merge files quickly, as no sign-up is required.
Pros:
* Combine images and PDF files into a single file.
* Delete the individual pages after the merging is complete.
Cons:
* Merge 2 PDF documents per day.
Pricing:
* Free plan.
* In addition to the free plan, you can switch to the premium option, which offers three pricing plans:
SmallPDF pro goes for $9 per month.
SmallPDF team that goes for $7 per month.
SmallPDF business package pricing is customized based on your business needs.
Tool 2. PDF Converter
PDF Converter is best free PDF combiner software you can use. You just need to drag and drop the files to merge on the user-friendly interface for a quick re-arrangement and conversion process. There's also an option to compress your combined PDF once created.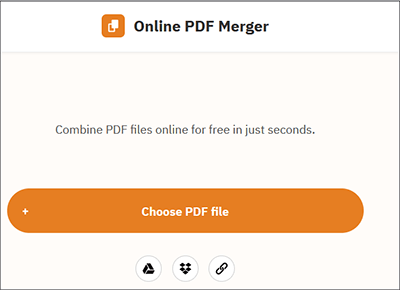 Features of PDF Converter:
Encrypt files for the security of information.
Merge PDF documents quickly and efficiently.
Convert files from different operating systems.
Pros:
* Enjoy joining unlimited files for free.
* Sort documents by dragging and dropping them.
* Accept merging PDF and image files.
Cons:
* Combine one document every hour.
Pricing:
* Free plan.
* You can also upgrade the free plan by considering any of their three subscription plans:
The monthly plan goes for $6.
The yearly plan goes for $48.
The lifetime plan goes for $99.
Tool 3. Combine PDF
Combine PDF is a free best program to merge PDF files that combines up to 20 files. You also don't have to worry about the safety of your files because the tool erases all uploaded files within one hour.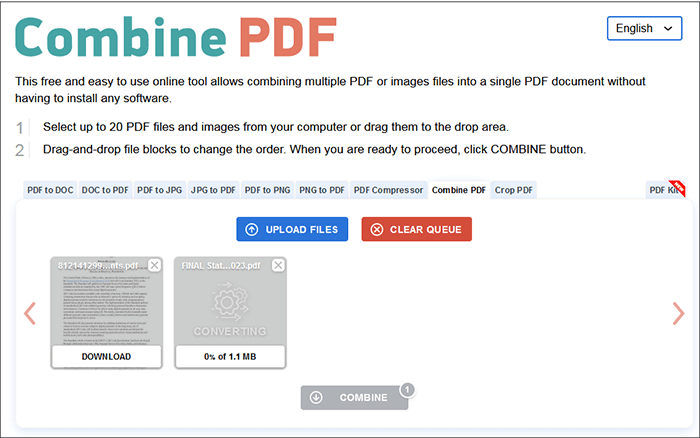 Features of Combine PDF:
Enjoy quick use with a simple, beginner-friendly interface.
Enjoy simultaneous file margining without any quality issues.
Merge files safely with auto deletion of combined documents.
Benefit from faster document processing as all the processes happen online.
Pros:
* Combine several documents regardless of their file format.
* Merge up to 20 documents simultaneously.
Cons:
* Offer limited functionality.
Pricing:
* Free to use.
Learn More:
How to Merge Multiple PDF Files Like a Pro: Step-by-Step Guide
Mastering PDF Merging: Learn How to Merge Two PDF Files Like a Pro
Tool 4. PDF24
PDF24 tools is another best PDF merger that can be used on any browser. There's a limitation on the number of documents to combine for free, but the great thing is that you can upload the created documents to cloud services and email.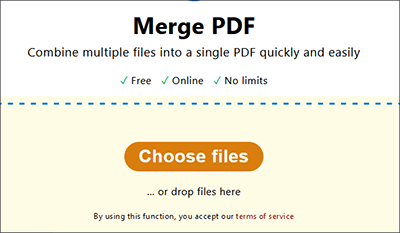 Features of PDF24:
Enjoy efficient use across different operating systems.
Benefit from the safe and secure merging of documents.
Attach merged files to email or upload to cloud services.
Enjoy unlimited joining of documents.
Take advantage of the varied functionalities, including splitting, compressing, etc.
Pros:
* Join multiple documents without losing quality.
* Sort uploaded documents quickly.
* Merge PDFs documents within a short time.
* Free to use without any restrictions.
Cons:
* An Internet connection is necessary for joining documents.
Pricing:
* It is free to use.
Tool 5. PDF PRO Merger
PDF PRO Merger is the best PDF combiner that allows quick, safe, and efficient joining of files. Using this online software application is straightforward. You need to click the upload button to select files from your computer. You can also drag and drop the documents you want to be merged, re-arrange them in your preferred order, and save them locally on your computer.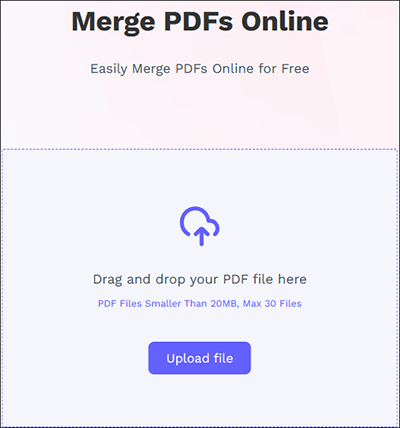 Features of PDF PRO Merger:
Create, convert, and merge PDFs with a comprehensive tool suite.
Sort different PDF pages in your preferred order.
Resize PDF pages to your liking.
Pros:
* Flatten images and removes annotations for faster attachment to emails.
* Secure your documents, as files are auto-deleted after 24 hours.
* Merge an unlimited number of PDF files without restrictions.
* Benefit from quick merging across different operating systems.
* Quick uploading of documents, as no sign-up is necessary.
Cons:
* Slightly higher pricing plan.
Pricing:
* Free to use.
* If you're to enjoy the PDF PRO's advanced features, there are three plans to choose from:
The monthly plan costs $15.
The annual plan is charged at $5 per month ($60 per year).
A perpetual license (lifetime plan) is going for $192.
Also Read:
Simplify Your Workflow: How to Merge PDF Files in Minutes
How to Combine Documents with Merge PDF Online Free Tools
Conclusion
Learning how to combine files is valuable if you regularly work with PDFs. This guide has highlighted some of the best PDF merge software online and offline you can use. If you're working with large documents and want to use something other than online applications with limited functionality, you'll find the Coolmuster PDF Merger useful.
It is the best way to merge PDF files. It's safe, secure and has a user-friendly interface, making the merging process quick and easy. Download and enjoy using the Coolmuster PDF merger for free today.
Related Articles:
On-the-Go Solution: Word to PDF Converter Offline for Quick Conversions
How to Combine JPG to PDF Files Offline & Online [Windows/Mac]
Simplify Document Management: Adobe Merge PDF in Action [Updated]
How to Combine PDF Free Effortlessly: Easy Steps and Solutions
Effortless PDF Integration: How to Combine Multiple PDFs into One
PDF Combiner Free: Your Key to Easy and Efficient File Merging