When Microsoft announced the release dates for its Windows 10 operating system there was so much excitement about the prospective features it would offer computer users around the world. However, one thing that seemed to grab the attention of everyone is a totally brand new feature dubbed the Microsoft Windows 10 Cortana. But what exactly is Cortana? You know that there are so many things you can do on your PC, ranging from performing calculations, setting reminders, sending emails, searching the Internet and getting the most current information on any subject. Doing all these can be quite challenging especially if you are a very busy person. That is why you need a high performance virtual assistant such as Cortana to help you perform different tasks.
What is Microsoft Cortana? And How to Active Coratana on Windows 10/11?
Cortana is a very advanced voice-activated Microsoft's personal assistant. Simply put, it is more or less like Siri only that it is meant for Windows. It allows you to find a number of things on your computer. With a simple voice command, you can easily access files, track flights or packages, manage your calendar, set reminders, get weather forecasts, send emails and even search the internet among other things. Fortunately, it is now possible to use Cortana on Windows 10 without having to utilize a Microsoft account. Undoubtedly, the virtual personal assistant is high innovation that makes Cortana a hot favorite for most people and it may as well rival Siri which to be honest has been the major voice activated personal assistant today.
Step by Step Guide to Show You How to Active MS Cortana on Windows 10
To active Cortana, below is the detailed steps:
- Click within the search box which is next to the start menu. Then, the Coratana's Dialogue box will appear on your screen.
- On the Cortana Window that appears, proceed and click on the Menu button on the upper right corner.
- Click on Notebook and then select settings. On the settings menu that appears just Toggle "Let Cortana Respond to Hey Cortana" to ON and click "OK".
After the above settings, you'll now have managed to configure Cortana on your Windows 10. The next time you say "Hey Cortana" on your PC's Microphone, you'll be able to give commands and ask the virtual personal assistant anything. As soon as you utter the words "Hey Cortana", the assistant will answer "What would you like me to do". It is just that simple.
What Can Cortana Help You Do On Windows 10?
Cortana is no doubt one of the most visible features on Windows 10, and there is a lot you can do with this new Microsoft's virtual assistant. Moreover, besides using the voice command, you can also type in a command or question in order to get what you want. So when you have actived Microsoft Cortana on Windows 10, you can use it to do anything on your computer. Now, let's us to see what you can do with Cortana in details:
1. Setting Reminders for Times, People and Places
Cortana has a very powerful built-in reminder, which enables you to do more than just getting reminders at certain times. You can make use of the "Reminders" icon or simply say:"Remind me," in order to get started. You need to create a reminder and let Cortana remind you about it at a particular time, when you talk to someone, get to a specific place.
2. Use of the Natural Language Search
Cortana also supports the natural language search for those files on your computer device. For instance, you can ask it to, "Find documents on Windows" or simply "Find pictures from June" and it will execute your command.
3. Identifying Songs
The assistant is integrated with Shazam and it will listen to any song playing and identify its name and singer.
4. Searching the Internet
Cortana is basically powered by Bing. Therefore, if you ask it for something it does not know how to answer, it will automatically open the default browser then perform a Bing search. However, you can compel it to search via Google or any other search engine with a Chrometana extension for Google chrome. Note that this will only work if you have Chrome as the default web browser.
5. Perfuming Conversions and Calculations
Cortana can also perform quick calculations. The good thing is that if your calculations involve long numbers, you can simply type them in the search box rather than speaking them out loud. You can ask it for answers to mathematical calculations such as "34223 x 34234" or simply enter a unit conversion such as "66 UK pounds to USD". This feature works for currencies and other types of units.
6. Tracking Packages and Flights
It is also possible to track packages/flights by using the tracking numbers or flight numbers. You just need to enter the respective number into the search box in order to check its current status.
How Does Cortana Compare with Siri?
Siri, as the most popular virtual personal assistant, is designed for Apple iDevices and it has been in the market for some times. But how does Cortana compare to Siri? Which among the two is the best and why? Well, below is a basic comparison for your reference: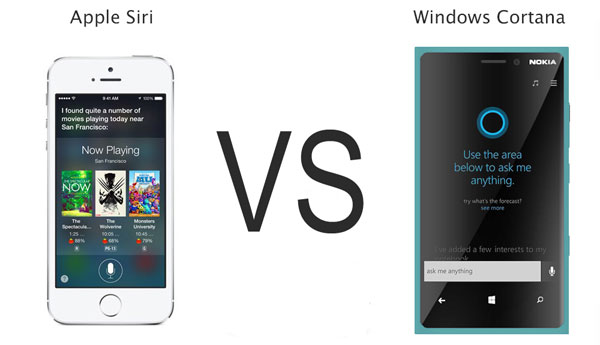 1. Cortana has an upper hand when it comes to the passive voice listening capabilities. The feature allows for hands-free access to the virtual assistant. On the other hand, Siri can be accessed by long-pressing the home button. Its passive voice listening capabilities is activated whenever you plug in your iOS device for charging. Besides this, long-pressing your Ear-pod's center button or any compatible headphone has the ability to fire this assistant.
2. When it comes to the Interface, both Cortana and Siri blend perfectly well with the color schemes and the themes of the operating system. The icons for Siri may appear in the query results as well as the interface of the launched application. On the other hand Cortana mainly has a black theme that is accompanied by white fonts.
3. In terms of accessibility, when setting up alarm with Siri, you can see that the alarm has been set with the toggle switch for turning it off. However, as for Cortana, you will only see that the alarm has been fixed. The same case applies for the reminder. Ideally, Siri has an upper hand here.
4. In terms of the platform availability, Microsoft has plans to invade other mobile platforms by simply introducing the Cortana as an application. In fact, recently Microsoft made Cortana available to Android users in the United States. On the other hand Siri is yet to get out of the iOS-ecosystem.
5. ...
Final Verdict
Although both have numerous functionalities and endless capabilities, Cortana is no doubt the best virtual assistants available. It is available on different mobile platforms, has a good processing speed and can help you with all the reminders that are associated with specific contacts. It has so many advanced features that will make you have fun when using your Windows 10 operating system.
Related:
How to Recover Deleted Photos from Hard Drive