The main parts and accessories in computer is the hard drive. Hard drive is always regarded as the heart of electronics items due to important file being able to store. Especially, in recent years, more and more users prefer to use mobile to take pictures rather than camera. Although certain professional photos need telephoto lens to obtain, common usage for taking pictures in daily workplace is fine enough for mobile to take up. In doing so, photo file are accumulated day by day. On the other side, the problems that occur very often are occasionally deleting files. Almost all users come across such situation of deletion files carelessly in working time. So, the importance to get back photo files becomes the No. one issue for users to practice.
The recovery procedure needs to be carried out by software to implementation. Most of recovery software has been tried in the market. The best one that obtained positive feedback and good reputation with powerful function is Coolmuster Data Recovery. Due to one-way installation, users can access to this software easily and simply. We suggest that user better download the latest version on the computer as its outstanding interface and wonderful functions. Once downloading completely, users can find the small icon on the screen. Users only spend a few seconds installing software at the moment clicking the icon.
Coolmuster Data Recovery Makes Hard Drive Photo Recovery Easy!
Users can go straight way to recovery items as they are urgent to get back their deleted files. There are two type scanning functions for users to make choice in recovery options. One is quick scan and another is deep scan. For most of deleted files, users can recover by quick scan. As long as the FAT partitions are not damaged seriously, this hard drive photo recovery can enter hard drive sectors so as to check the bad tracks. Users even can hear a little sound in the recovery processing come from hard drive. But if the deleted photos cannot be recovered fully such as half page of picture can be get back but another half are still in black in some circumstance. Coolmuster Data Recovery need to scan one more time with deep scan function, which can lead software checking in FAT files and all partitions.
In addition to photos on hard drive, your can also use Coolmuster Data Recovery to restore lost videos, music, documents and other files from any storage device like USB drive, mobile phone, computer, laptop, MP3/MP4 and so on. Just give it a try by clicking on the download buttons as below:
Steps to Retrieve Deleted/Lost/Formatted Pictures off Hard Drive
Step 1. Install and launch the Hard Drive Photo Recovery
After downloading the software on your computer, install and launch it directly. To get started, you should choose a recovery option at first. Just choose the "Deleted Recovery". If failed, you can try the "Raw Recovery" instead.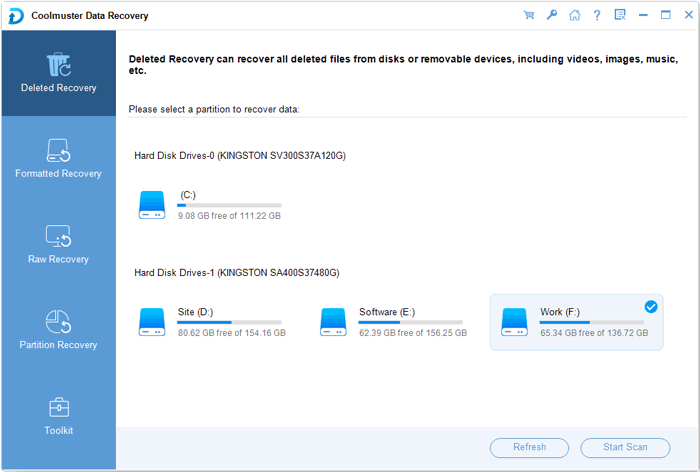 Step 2. Scan the hard drive and find target photos
Click the button of "Next" and the program will detect all the partitions as well as drive letters available on your computer. Select the drive where you lost the photos and press the "Scan" button to scan all files on the drive.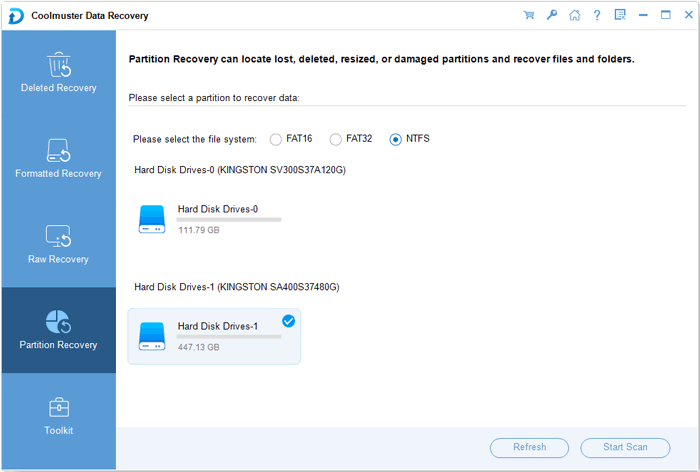 Step 3. Preview and start Hard Drive photo recovery selectively
Preview the obtained photos one by one in list or thumbnails, mark those you want to get back and click the big button of "Recover". Then, you can choose an output location to save the recovered photos.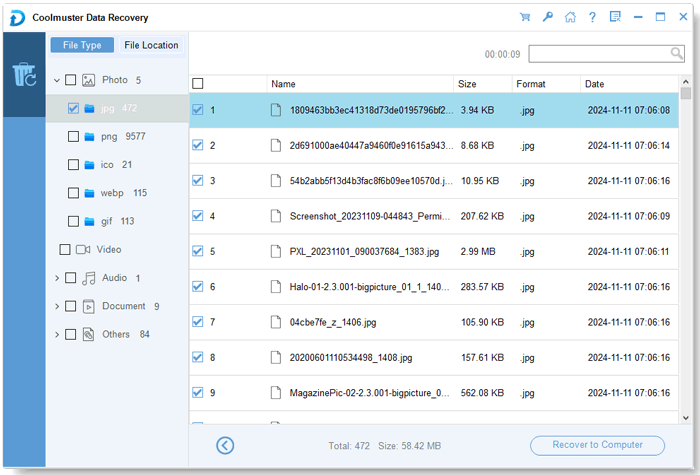 Note: Be sure the output folder you select has enough space to store the exported pictures. And we kindly remind you not to save the recovered files to the original place where you lost them, in order to prevent the data from being overwritten.
Related Articles:
Recover Deleted Files from Digital Camera Memory Card