Users are getting used to fixing common problems in computer system operation nowadays. The main partition of hard drive divides into four parts in most of user's computer. Recently, with hard drives capacity are getting larger and larger, the extended partition set by users are no longer limited by four as previous did, which can be extend to "Z". What we mentioned above is FAT table. However, it may be worth nothing that MBR is generated by MBR such as Fdisk.exe in DOS and there may be different content code in the sector in different system. While their functions are same which aim at making one of activity partition under control so as to start system working normally.
Best Data Recovery Software for FAT and NTFS:
But for some complicated matters including recovery data, users are not familiar with when partition checking is explained by engineer. But what is relationship between partitions and recovery software such as Coolmuster Data Recovery when the data is lost suddenly? Most of users confused how to recover NTFS data from hard drive and have no idea of which software can work well for get back data as soon as possible. With help of data recovery software, as we suggest Coolmuster Data Recovery here, lost data can be checked entirely in main boot record and disk partition table so that coolmuster can check whether partition table is correct and judge which one can be bootable partition.
Moreover, to call for memory storage to performance when program ends up. By taking this approach, this software can access almost of all hard disc damaged seriously and recover reliable NTFS files from FAT table. It is very simple to operation and high performing during data precise recovery processing. Besides recovering FAT and NTFS files, equipped with excellent characters, Coolmuster supports WindowsXP, Vista and Windows8 and is able to deal with problematic disc, flash memory and SSD drive. It can provide exact location in partition and restore lost data and deleted files and rebuild folder structure with original files and damaged disc with folder frame. In operation, as the famous software, Coolmuster is better to keep in users CD or install on other computer instead of their own computer.
Free download the trial version of Coolmuster Data Recovery from the below buttons:
Step-by-step Guide to Retrieve Deleted Files from NTFS/FAT Drive
Step 1. Launch the program and choose a recovery mode
To start with, launch the installed Data Recovery on the computer. From the main interface of the program, you can see there are four recovery modes available for you choice. To recover files from NTFS/FAT drive, you need to choose the "Raw Recovery". Click the "Next" button on the right bottom to continue.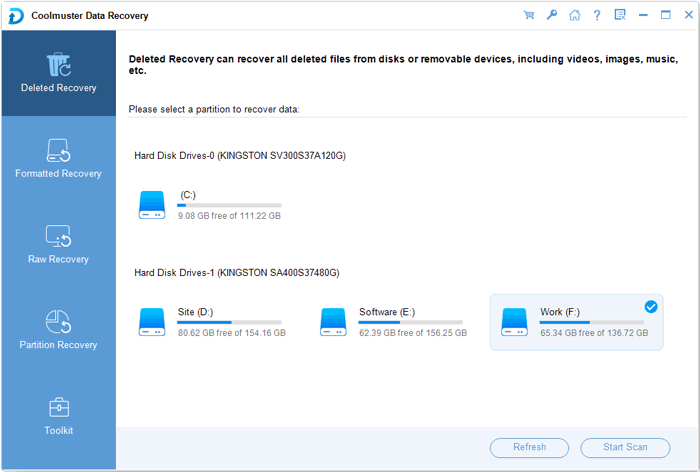 Step 2. Scan for the lost NTFS and FAT files
Let the program detect all the partitions as well as drive letters available on your computer. Choose the drive of NTFS and FAT files and click the big "Scan" button to scan all the existing and lost files on it. After the scan, all of the data, including the lost files will be scanned out and displayed in categories.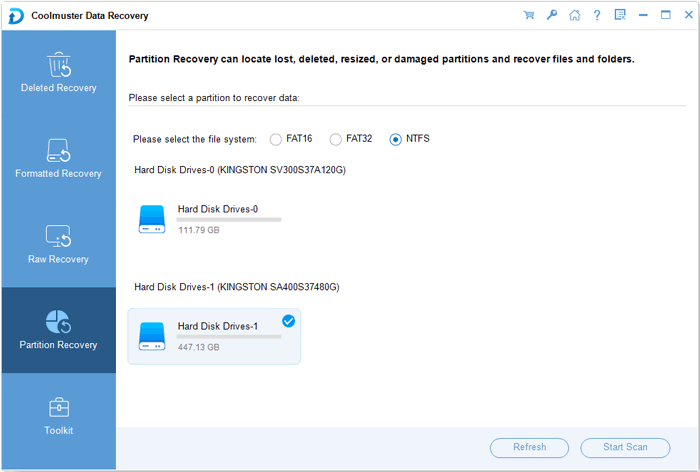 Step 3. Preview and start the NTFS/FAT recovery selectively
Browse and locate the MP4 files you deleted from the SD card, preview them on the right window and find the ones you want to recover. Mark those you need and then you can click on the "Start" button to bring out the Path choosing dialog. Specify an output folder on your computer to save the recovered files, click "OK" to process the recovery task!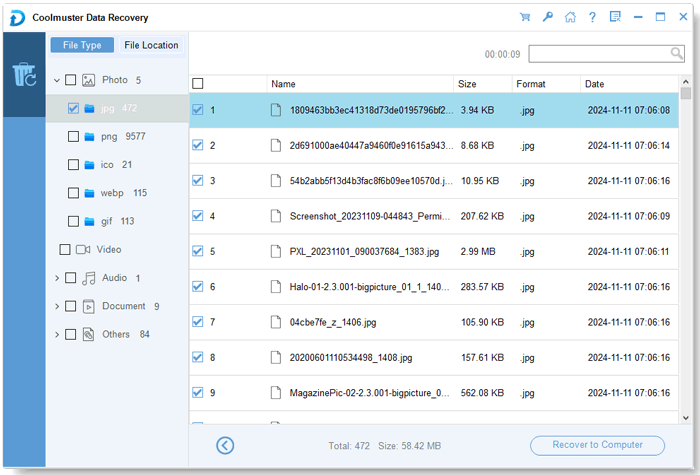 Summary
Meanwhile, besides retrieving NTFS and FAT files, Coolmuster Data Recovery can also recover many other storage midea, such as memory cards, USB drive, mobile phones, digital cameras and so on. In short, please consider Data Recovery immediately if you need to get back the deleted or lost files you want back.
Related Articles:
Recover Deleted Files (Photos, Videos) from Kodak Camera