A memory card, sometimes also called a flash memory card or a storage card, is a small electronic flash memory data storage device used for storing digital data, such as text, pictures, mp3 files, videos, etc. It is widely used in a host of small, portable or remote computing devices, including digital cameras, mobile phones, laptops, video game consoles and so on. What's more, it can easily retain data without power. There are many types of memory cards on the market, like SD card, CF card, Memory Stick, and so on. Just like hard drives or other storage devices, memory card may face data loss, like mp3 files, which is a common audio format used for transfer and playback of music on digital audio players. If you are a music lover, you must have stored some favorite MP3 files on your memory card or other devices.
What causes your MP3 files lost from a memory card?
However, MP3 files may be deleted due to all kinds of reasons, such as system corruption, accidental deletion, virus infection, formatting and so on. For instance, you wipe some of your MP3 files into the computer recycle bin and then deleted them by mistake. Suddenly, you lose your mp3 files and can't have access to those data. It does not matter if you can regain those mp3 files easily. However, you probably will feel frustrated, regret and depressed if those accidental lost mp3 files are pretty important and memorable to you and you have no chance to get them back. Have you ever experienced the pain of losing you favorite and precious mp3 files by error? Is it possible to retrieve deleted MP3 files from memory card by an easy way or using some effective tools? Go through this article and you will get the answer.
What is the best MP3 recovery software?
Have you ever experienced the pain of losing you favorite and precious mp3 files by error? Is it possible to retrieve deleted MP3 files from memory card by an easy way or using some effective tools? Luckily, you can go for Coolmuster Data Recovery to help you recover and restore them. As a matter of fact, data recovery is s pretty powerful tool which enables you to retrieve deleted MP3 files from your memory card safely with ease. Apart from recovering MP3 files, it can also retrieve a host of other popular audios, videos, photos, documents, etc. from computer, memory card, mobile phones, MP3/MP4 players and other storage devices.
Accidentally deleted your precious MP3 audio files from your memory card? Don't panic! Just go to Coolmuster Data Recovery for help immediately. Own this powerful software by downloading the link provided by the following download buttons and then follow the Windows based guide as below. The operations are also appropriate for Mac users.
Use MP3 Recovery Software to Restore Deleted MP3 Files on Any Memory Card
Step 1. Connect memory card to PC and launch the program
In the very beginning, connect your memory card from which you deleted the MP3 files to your computer via a card reader. Wait until the card appears as a removable hard drive on your computer and then you can launch the installed Data Recovery on the computer. From the main interface of the program, you can see there are four recovery modes available for you choice. Just select the mode you need.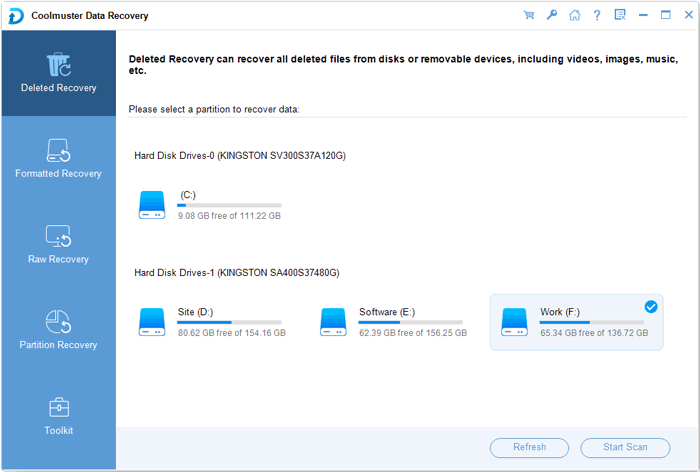 Step 2. Scan the memory card for the lost MP3 files
Choose the mode you need and you can click the button of "Next" to let the program detect all the partitions as well as drive letters available on your computer. Choose the drive of your memory card and click the big "Scan" button to scan all the existing and lost files on it. After the scan, all of the data, including the lost MP3 audio files will be scanned out and displayed in categories.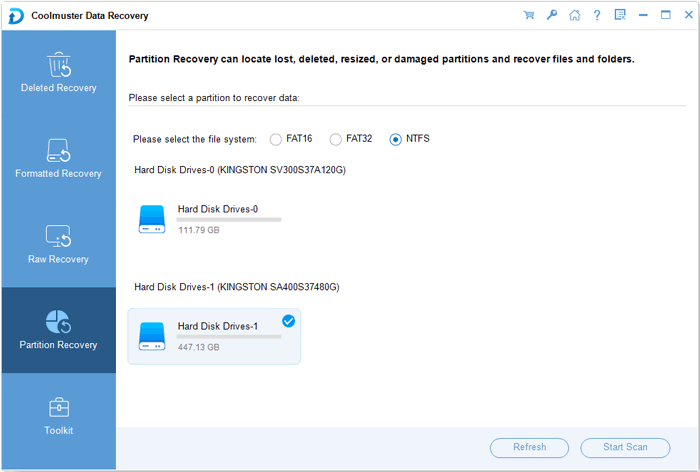 Step 3. Preview and start MP3 recovery selectively
Choose the folder where contained your wanted MP3 files, preview them on the right window and find the ones you want to recover. Mark those you need and then you can click on the "Start" button to bring out the Path choosing dialog. Specify an output folder on your computer to save the recovered MP3 files, click "OK" and the recovery task will begin at once!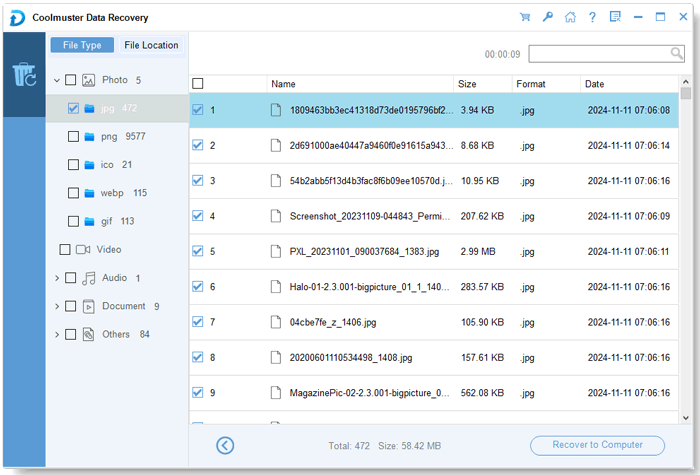 In the End
You'd better save the recovered data on your computer or another storage media in stead of the original memory card, for safety consideration. Coolmuster Data Recovery guarantees 100% successful recovery. Just give it a try!
Related Articles:
Optimal Way to Recover Deleted Data from A CF Card