As there're an increasing number of people using various kinds of digital cameras, CompactFlash cards are extensively used to store photos. My friend Daniel is an avid amateur photographer who owns a single-lens-reflex camera and loves to take pictures of everything interesting or intriguing. There was a time when he pressed the wrong key and erased his photos by mistake, which drove him crazy. Have you ever come across any similar situations where your pictures' being deleted upset you a great deal? You might have made a mistake as Daniel, or the deletion might have been caused by errors of the system, such as when the CompactFlash card was formatted, when the disk was initialized as the card was connected, when the card was inserted into or drawn out of your digital camera while the device was on, when viruses attacked the card, when the computer crashes during the transfer process of the photos, or when there was corruption of the file system inside the card. Under such circumstances, if you can find no way to recover your photos, then you'll lose those valuable ones taking you ages to shoot as well as those capturing the greatest moments of your life.
Never lose hope to get back lost photos on a CF card
The good news is that you can restore them with the help of some software, since they haven't actually been erased. When you press the delete button or the system errors lead to deletion of the photos, the photos simply turn invisible and inaccessible instead of being truly deleted, and the space occupied by the wiped ones will be marked as reusable. When new data enter, the deleted data will be overwritten by the new ones, and the space taken up by the deleted ones will be covered, creating no chance of recovering the erased ones. As a result, in order to retrieve your deleted photos, remember to stop shooting any new photos with your digital camera first.
Then turn to Coolmuster Data Recovery, a convenient and powerful recovery tool helping to restore deleted data, whether deleted intentionally, mistakenly or systematically, promptly without losing them and keep their quality as original. This piece of software applies to CompactFlash cards of different brands, and isn't limited to this kind of memory cards and image files only. It can also recover videos, music and other files, and on a lot of other memory cards used in digital devices. If you want your photos back, don't hesitate, use Coolmuster Data Recovery and enjoy the convenience it brings to you!
Below is the Windows-based guide showing you how to recover lost, deleted, corrupted or formatted photos from CompactFlash card by using Coolmuster Data Recovery. Mac users can process with the similar operations. Firstly, you should get the program downloaded and installed for free on your computer.
Follow The Guide to Recover Deleted Pictures from CompactFlash Card
Step 1. Run the program and choose a recovery mode
After downloading and installing the CF card photo recovery software on your computer. Hook up your CompactFlash card to computer using a card reader and wait until it shown as a drive letter in Windows Explorer. Then, you can run the installed program and choose one of the four recovery modes provided by this application, according to your own needs.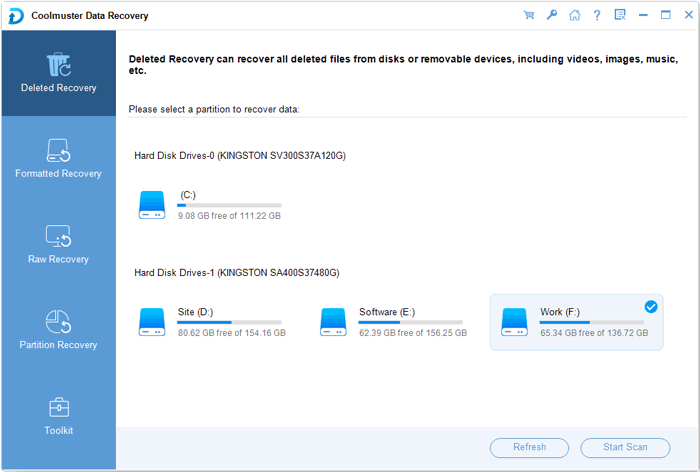 Step 2. Scan deleted photos from the card
Click the button of "Next" and the program will detect your computer and show all the partitions as well as drive letters on the main interface. Choose the drive for your CF card and turn to the right bottom corner to click the big "Scan" button to start the scanning. After the quick scan, all contained files will be found and put into different folders.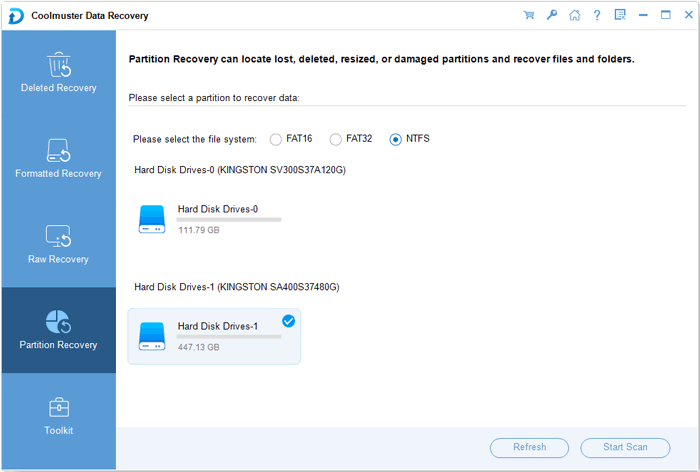 Step 3. Preview and start the recovery process
When the scanning process finishes, all the recoverable files on your CF card will be presented to you on the left by categories. Preview and select the photos you want to retrieve, finally click "Recover" to save them on computer.
Done!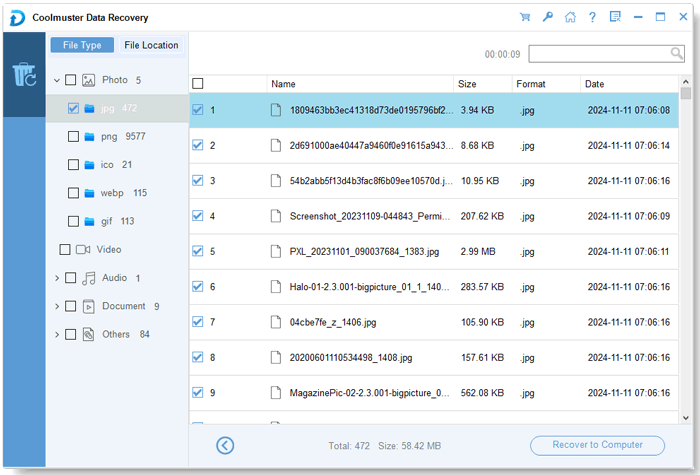 Tips: The recovered photos are suggested to put into other storage places instead of the original CompactFlash card where they lost, in order to prevent they from being overwritten.
Why people prefer the CompactFlash card?
Despite the fact that CF (Compact Flash) cards are of a comparatively large volume, they're chosen by most digital cameras as the preferred storage medium. These cards are one type of memory cards that possess a huge storage capacity, are compatible with plenty of digital devices, and are at low costs. CompactFlash card are a stable storage solution employing the flash memory technology, and do not require a battery to maintain the data stored therein. To the data, such cards provide more safety, protection and reliability than traditional disk drives. Besides, their power consumption is only 5% of those small disk drives.
Related Articles:
How to Recover Deleted Files from An MMC Card