We're surrounded by a dazzling array of portable digital products today that are in use in many a respect of our life. Inside a device, there's always a storage medium called memory card, which can be of various kinds, including SD card, memory stick, PCIe flash card, CF card, and MMC (MultiMedia Card) that is claimed to be the world's smallest flash memory memory card. In spite of the fact that MMC has been replaced by SD cards by degrees, it can be used in a host of multimedia products supporting memory cards all the same. Users can transfer their photos or videos shot with their digital camera that uses an MMC to a computer with ease via an MMC reader for backup. But what if the files are erased before you back them up?
What causes your data lost from an MMC card?
The deletion can result from a variety of reasons. It's possible that you have wiped them by accident when you were in fact trying to perform some other operations, or they may have been deleted by someone else deliberately. The image files might also have been erased on account of systematic problems, such as when the MMC is formatted, or damaged and corrupted for being exposed to static electricity, magnetic field or corrosive substances, when the files are attacked by unknown viruses, when there're fluctuations in the power supply images, and when the MMC is inserted or pulled out all of a sudden without turning the device off. Losing the pictures and videos can be a big headache for you, as among them may be ones of great account, which record the unforgettable moments in your life and you'll never get a second chance to shoot. Given the circumstances, there's a crying need for an effective way to retrieve the digital files.
When you delete a multimedia file from an MMC, it isn't actually erased as it appears. Most of the cameras do not cover the space occupied by the deleted files simply given a simple delete command. Instead, just the corresponding space is marked as reusable. But take notice that there's a prerequisite for this, which's that you cannot have any single file in, meaning no new photos or videos should be shot. Because once the new files take up the space occupied by the wiped ones, the latter will be overwritten, leading to no distinct possibility of restoring. In this case, as long as you prevent new data from coming in, you'll be able to retrieve the lost ones.
What is the best MMC card recovery software?
Coolmuster Data Recovery is a safe and convenient tool that can come to your assistance in an instant. It scans your MMC and helps recover the deleted files easily with the original quality and without losing them. Not only can you restore your photos and videos with this powerful recovery software, but you can restore your music files as well. Don't miss the chance of getting your significant multimedia files back. Just take one minute and see how Coolmuster Data Recovery becomes your magic helper!
First of all, you should free download the trial version of the recovery tool from the download button as below. Both Windows and Mac users can follow the step-by-step guide in the next part.
Guide: 3 Steps to Restore Lost Data from Multimedia Card
Step 1. Connect MMC card to PC and launch the program
In the very beginning, plug-in your MMC card to your Mac or PC via a card reader. Wait until the card appears as a removable hard drive on your computer and then you can launch the installed Data Recovery on the computer. From the main interface of the program, you can see there are four recovery modes available for you choice. Just select the mode you need.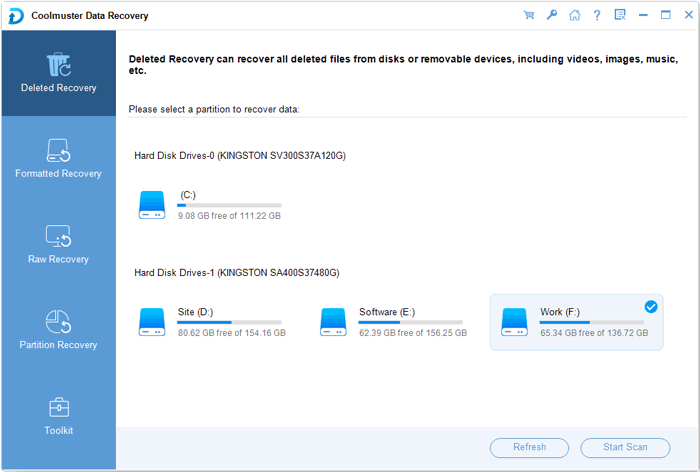 Step 2. Scan the MMC card for the lost data
After choosing your wanted mode, you can click the button of "Next" to let the program detect and show all the partitions as well as drive letters available on your computer. Choose the drive of your Multimedia card and click the big "Scan" button to scan all the existing and lost files on it. After the scan, all of the data, including the lost ones will be scanned out and displayed in categories, including videos, music, pictures and more.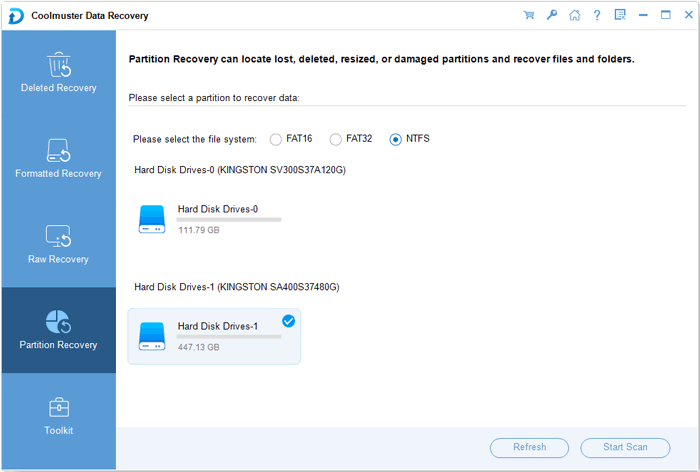 Step 3. Preview and start recovery selectively
Preview the scanned out files on the right window and find the photos, videos and other files you want to recover from the MMC card. Mark those you need and then you can click on the "Start" button to bring out the Path choosing dialog. Specify an output folder on your computer to save the recovered files, click "OK" and the recovery task will begin accordingly!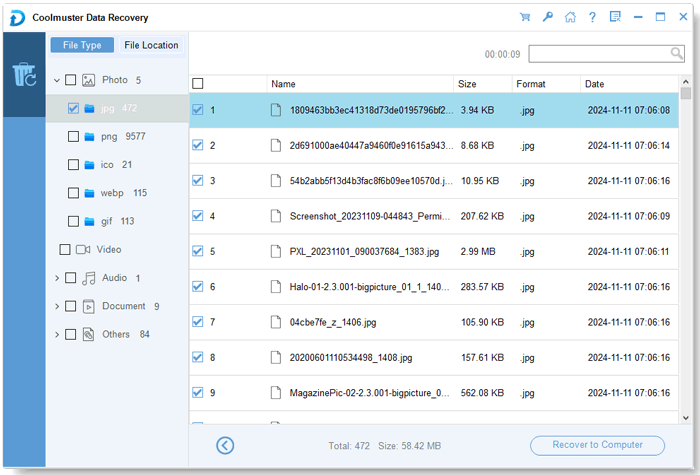 The Bottom Line
You'd better save the recovered data on your computer or another storage media in stead of the original MMC card, for safety consideration. Coolmuster Data Recovery guarantees 100% successful recovery. Just give it a try!
Related Articles:
Optimal Way to Recover Deleted Data from A CF Card