Recently computers play very important role in people's daily life, work and entertainment, especially brand computers such as HP, Dell. But it is inevitable to lost data from a computer due to wrong operation, attached by virus or disc failure. There are so many uncertainty factors that would happen to your computer that data loss problem is just unavoidable. My friend just told me yesterday that his HP laptop became blue screen in a sudden. When he restarted it, a picture folder on the E: drive was disappeared. He did not know what was wrong but I really needed those pictures. Well, if you encounter the same problem, it is no need to worry about it because lost, delete and formatted files are still here in your computer, but just be marked as inaccessible and invisible. It is quite possible to recover those files with professional data recovery software.
As delicate performance software, Coolmuster Data Recovery is the one of excellent data recovery software that we would like to strong recommend to users. Although it is not for daily usage, it is wise for users to keep it as the necessary tools in their computer. As the professional recovery software, Coolmuster Data Recovery supports almost all file formats which can be up to 8.4GB hard drive, as well long filename. It is able to restore data completely when partitions are damaged and hard drives are formatted unexpected. With great scanning function, it can recover most of data with independent of file construction system. Such outstanding characters help users take easy actions to get back lost data from computer and any other file storage devices, including USB drive, memory card, camera, mobile phone and so on.
For example, with easy operation interface and excellent design, after installing it on the computer, users just click the button on the right corner to open it and choose the file in the drive. As we know, this software supports sectors which users can preset in advance. The lost data only take a few seconds to be retrieved. When files have been deleted mistaken, files lost in FAT table, attacked by virus, files formatted accidentally or even physical damage occurs, this software can directly scan targeted disc and extract file from segments so as to restore data. Moreover, data retrieved from damage partitions can be located properly by the software program so that users can check and relocate these files accordingly. Furthermore, when lost files have been covered partially by new data, coolmuster professional version can restore the rest of damaged data as well.
The outstanding HP data recovery software also comes with Mac version, which can perform the same function on recovering lost files like photos, videos, music files, documents, emails and many more from any Mac based devices. Now, download the free trial version of the HP Data Recovery and follow the guide to go through the data recovery process on your HP computer.
Quick Start on How to Retrieve Deleted/Corrupted Files from HP Computer
Step 1. Choose a recovery mode to get ready
After downloading and installing Coolmuster Data Recovery on your HP computer. Launch it and and you will see there are 4 recovery modes are provided. You can try "Deleted Recovery" at first. Click "Next" to continue.
Note: Do not install the data recovery program on the partition where you lost files.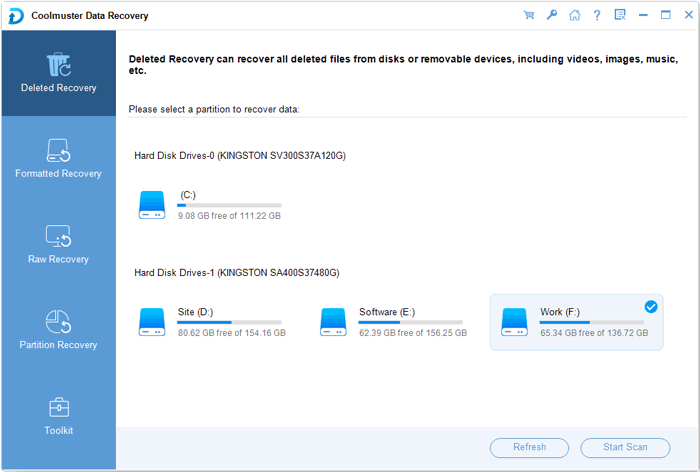 Step 2. Scan partition on your HP computer
All the partitions on your HP computer will be detected and displayed on the interface. Select the one that your files were lost from and click Click the button of "Scan" button to start the scanning for lost files. After the quick scan, all files that are contained in the partition will be found and put into different folders.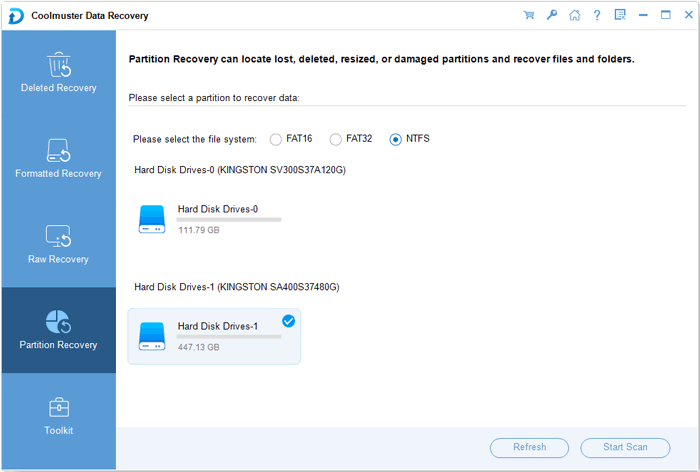 Step 3. Preview and start to recover data selectively
View these images, audio and video files and find the data you need. Select the files you need and you need to give a click on the "Recover" button to bring out the Path choosing dialog. You can save them back to your HP computer, but do not keep them to the original location so as to avoid the data from being overwritten.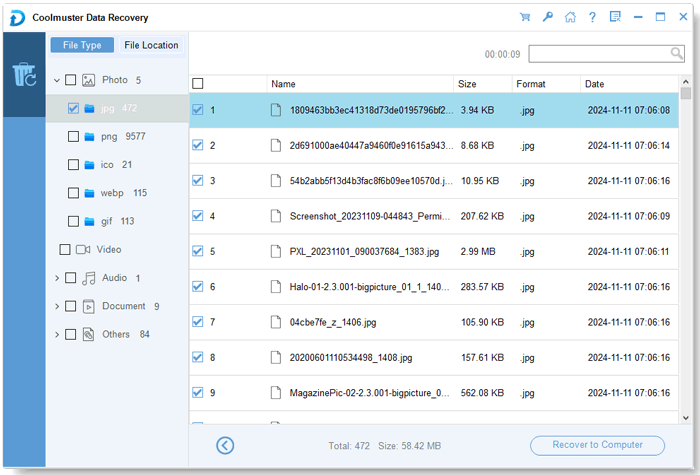 Related Articles:
How to Recover Deleted Files from An MMC Card