What's A CF Card?
As one of the various types of memory cards inside portable electronic devices, compact flash cards revolutionarily used flash memory. It utilizes a variety of low-power flash technologies because of its built-in controller, and as a consequence consumes far less power than flash cards of any other kind. The CF interface has been widely used in PDAs, laptops, digital cameras and many more devices including PCs. Today CF cards are still the standard of the mainstream professional digital cameras, with the main features of obtaining the largest capacity with the lowest price and possessing a comparatively flat memory card adapter of the interface. As a storage device, not only can it store pictures, but it can also store video and music files.
Frequent Data Loss Issue on CF Card
I have an acquaintance that once formatted his digital camera accidentally and lost all his files. He was terribly anxious to recover them but had no idea what to do. Have you had such experiences that you intended to delete some of the photos or videos which were considered not well taken from your camera but you deleted all of them by mistake, or you have erased the wrong ones? Did you have your files wiped when turning your camera off while it was working, putting the CF card in or pulling it out while your camera was on, or using the same CF card in different digital devices? Were there any serious viruses that infected your card? Or was there any damage done to it? In any of or any outside the cases, you'll surely be discouraged and will be in urgent need of getting those valuable moments recorded back by retrieving your erased files as soon and as many as possible. Fortunately, it's possible to restore them under certain conditions by some ways and means.
It's unknown to quite a lot of users that when a file is deleted from a CF card, it's merely renamed to be "Deletion". As a matter of fact, the file is marked as "invisible" and the space taken up by it prior to the deletion is marked as "reusable". It hasn't been erased completely and truly. Due to the fact that it's kept intact on the CF card as before, it can be recovered. However, there's one point you should always keep in mind: whenever your files are wiped, you'd better remove the CF card from your camera and put it aside, preventing new digital files from overwriting the erased ones, making them less likely to be retrieved. If you shoot a few new photos or videos, the remaining ones can still be restored, but those overwritten cannot.
Best CF Card Data Recovery Software
Coolmuster Data Recovery is a risk-free tool providing great help to recover deleted files from different memory cards, including CF cards, in a flash without requiring any specialized knowledge. With this useful and powerful software, you can get your fantastic moments recorded or significant files stored on your CF card back with ease. Don't worry, your data will be kept complete and the quality of them won't be damaged. Try it and you'll soon find yourself getting tremendous satisfaction from it!
Download and install the free trial version of the data recovery software to get ready and then follow the guide below to go through the steps of recovering lost data from a CF card. Mac users can also refer to this Windows-based tutorial.
How to Retrieve Files Deleted from A Compact Flash Card?
Step 1. Connect CF card to PC and launch the program
First of all, insert the CF card into a card reader and connect the card reader to the computer. Once the connection is successful, run this CF card recovery software and you will get its main interface like below picture shows, there are four recovery modes available for you choice. Just select the mode you need.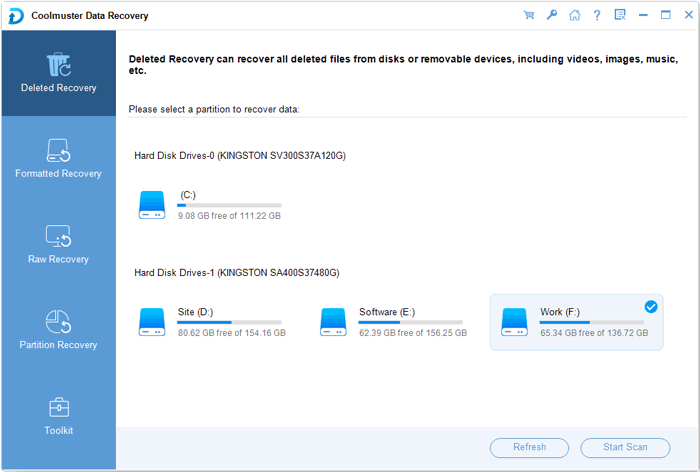 Step 2. Scan the files you want to recover
Click the button of "Next" and the program will detect all the partitions as well as drive letters available on your computer. Just choose the drive of your compact flash card and click the big "Scan" button to scan files on it. After that, all of the data, including the lost ones will be scanned out and displayed in categories, including videos, music, photos and more.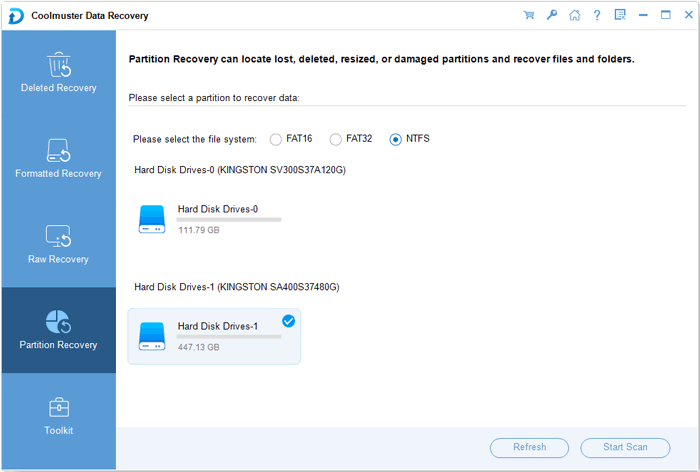 Step 3. Preview and start recovery selectively
Left-click to open the corresponding category and preview the contained files in list or thumbnail in the right preview window. Select the photos, videos and other files you want to recover from the CF card and then you can click on the "Start" button. There will be a Path choosing dialog pop-up, asking you to choose an output location to save the recovered files. Just choose an output folder on your computer, click "OK" and the recovery task will begin immediately!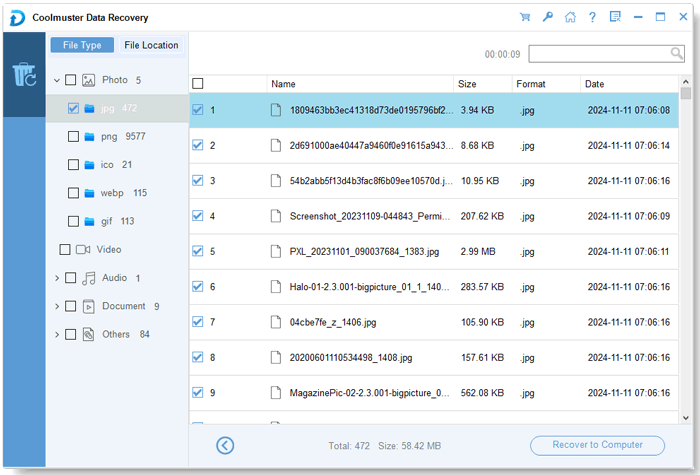 The Bottom Line
Have you learnt it? It can't be easier more to recover deleted data from a compact flash card by using Coolmuster CF Card Data Recovery. Want to experience it by yourself? Just get it by clicking the buttons below:
Related Articles:
Recover Deleted Files from Digital Camera Memory Card