As we all know, Handycam is a Sony brand to market its camcorder devices and it is used to emphasize the "handy" palm size of the camera, which is made possible because of the new miniaturized tape format. The Sony Handycam features a host of advanced functions, such as extended zoom, steady shot, full high definition, superior sound and optically superb Sony G or Carl Zeiss lenses and so on. Different from traditional digital zoom technology, you can use the device to enjoy a wider shooting range from wide to telephoto due to the extended zoom. With its full high definition, you can enhance image quality. With Zoom Microphone technology and Dolby Digital 5.1 Surround Sound, you can capture the soundtrack to your life easily. With the advanced functions and technologies in Sony Handycam, you'll figure out that shooting and sharing the memorable moments in life better and easier than ever before.
Despite of these advanced features, there are still some chances you may accidentally lose your precious videos from your Sony Handycam before uploading or restoring them on your computer or other devices because of various reasons, such as low battery, formatting, viruses interfere and so on. For instance, you use Sony Handycam to record your child's precious birthday party and intend to give your child the video as your child birthday present. However, you are so busy in the party that you have to pass your Sony Handycam on to your friend and ask him to help you continue to record videos. Unfortunately, your friend accidentally clicks the "delete" button while previewing. As a consequence, all precious videos are suddenly deleted, and then you will feel pretty frustrated, disappointed and sad without the precious present to cheer your child up.
Is it possible to get those precious data back? Actually, those indexes are just seemingly invisible and still placed in your Sony Handycam. As a matter of fact, you can find out an effective and powerful tool to retrieve those deleted precious data. Coolmuster Data Recovery is exactly the right tool. However, you'd better not use your Sony Handycam after erasing those precious videos, or those important indexes will be overwritten and then totally deleted. You just need to plug in your Sony Handycam via USB cable to connect your device to a computer, and then run the data recovery software to scan and display all the internal and external Volumes. As a result, those lost data will be easily found and be retrieved. Last but not lest, please keep in mind not to shoot videos when your device is running of battery and try to quickly go for data recovery next time you realize that you have deleted your precious videos from Sony Handycam!
The Sony camcorders recovery software provides you with free trial version, with which you can scan out and preview your wanted videos and other more files like photos or documents you deleted from your Sony Handycam.
How to Retrieve Videos Deleted from Sony Handycam Camcorder?
Step 1. Run the Sony Handycam video recovery software
First of all, get the recovery program downloaded and installed on your computer (Here we take Windows as example and the operations are also suitable on Mac). Before running it, connect your Sony Handycam to the PC via a digital cable and once the connection is successful, you can run the program you will see four recovery modes are provided by this application. Choose the "Deleted Recovery" directly and click the "Next" button to continue.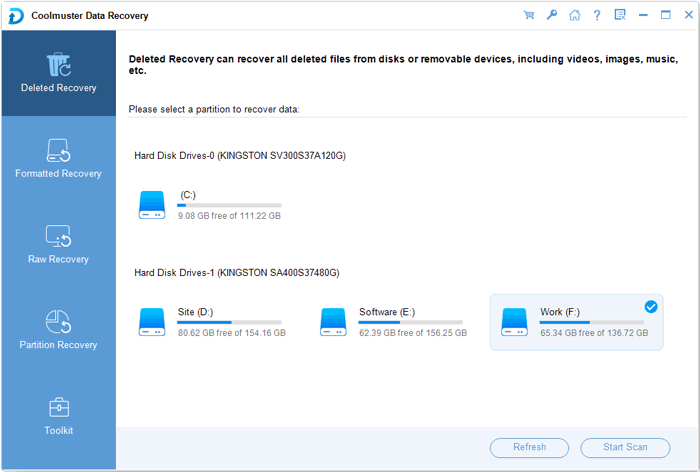 Step 2. Select your Sony Handycam camcorder and scan it
Follow on, all the partitions as well as drive letters available on your computer will be detected by this program, and your camera will also be displayed as a drive letter on the program window. Choose it and click the big "Scan" button to start the scanning for the deleted photos. After the quick scan, you can preview and check if the videos you want have been found.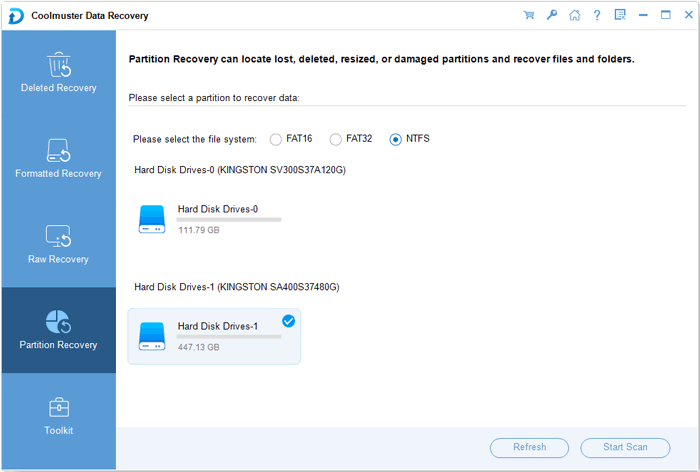 Step 3. Start to recover target videos selectively
Check the video files you want to recover and click the "Recover" button to get them back with one click. You are allowed to customize an output folder on your computer to save the recovered videos.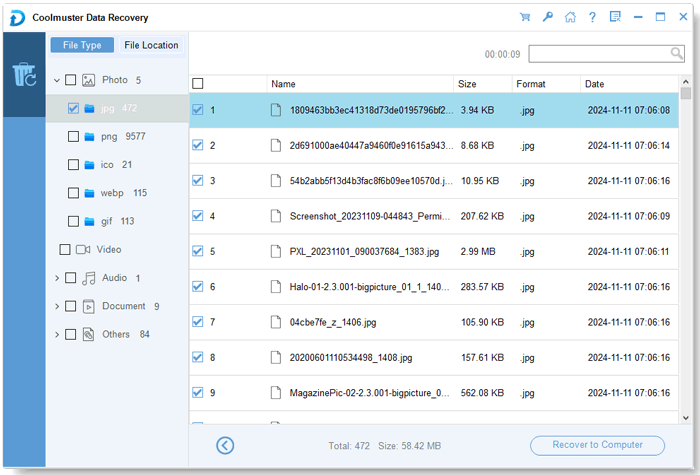 Attention: Keep in mind that never saving the recovered data on your Sony Handycam or its memory card again. Just find another place to save them, like on your computer or other external storage devices, in case of accidental data loss.
Related Articles:
How to Recover Deleted Files from An MMC Card