For most lost images, thumbnail icon can be recognized from improper display on the computer. As long as Thumbs.db contains data, thumbnail icon can be shown completely. If the images appear in gray, lost data should be happened. One of example is that pictures are displayed properly in the camera, but once they are copied to the computer, some of them cannot be reviewed. Are you a professional photographer who has captured and saved hundreds of JPG photos in your photo collection? In this situation, most of users prefer to copy all images from camera to computer one more time. But unexpected, we can image that pictures are damaged further by rewriting. From this, we can recognize that the file header has been broken down so what we can do is to manually repair it. For most recovery software, image subject is able to recover end to end file only instead of file subject of images. Obviously, those in gray is image subject which is impossible to be recovered properly.
Various data loss scenarios happen on your SD card:
Among recovery software, Coolmuster Data Recovery is specialized in image restore program not only for JPG, but also other image format like PNG, BMP, TIFF, GIF and more. It adopts developed pick-up algorithm to open most of images in JPG format with caused by various elements. As well it support Windows XP, Windows Vista, Windows 7 and Windows 8 and run with stable status. Please pay attention to close antivirus program software when Coolmuster Data Recovery is running because there may some misinformation prompted on the interface when disorder files are extracted. But there is a important matter needs attention that you should stop using your storage medium to store new data in order to prevent overwritting the deleted JPG and you will lose the chance to get them back.
So far, according to the users of Coolmuster Data Recovery, the software is a reliable tool for recovering deleted or lost JPG files from any type of storage device, such as hard disk, memory cards and more. Most of JPG images can be successfully restored on the computer. By the way, easy operation interface is as well one of advantages which adopts guide wizard. It is benefit for common users to gain professional data recovery effect. Want to know how does this data recovery software works? The following step by step guide is going to tell you the details.
First of all, please download the free trial version of the JPG recovery software. Just choose the Windows or Mac version according to the computer system you are using.
Step-by-step Guide to Retrieve Deleted JPG/JPEG Pictures
Step 1. Connect external storage device to PC
If you lost JPG images from external storage device, you should connect the device to your computer via a card reader. Once the card appears as a removable hard drive on your computer. If you lost JPG files from your computer, you can launch the installed Data Recovery on the computer directly. From the main interface of the program, you can see there are four recovery modes available for you choice. Just have a try with the first Deleted Recovery.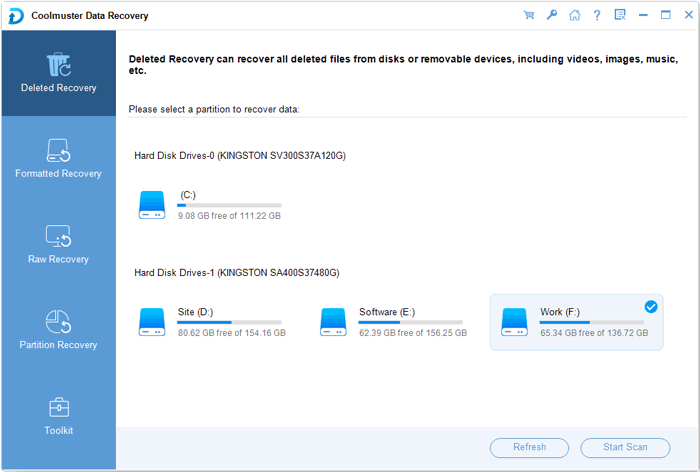 Step 2. Scan the storage device for the lost JPG files
Press the button of "Next" after you choosing the recovery mode. Let the program detect all the partitions as well as drive letters available on your computer. Choose the drive of your storage device or the computer partition where you lost the JPG images and click the big "Scan" button to scan all the existing and lost files on it. After the scan, all of the data, including the lost JPG files will be scanned out and displayed in categories.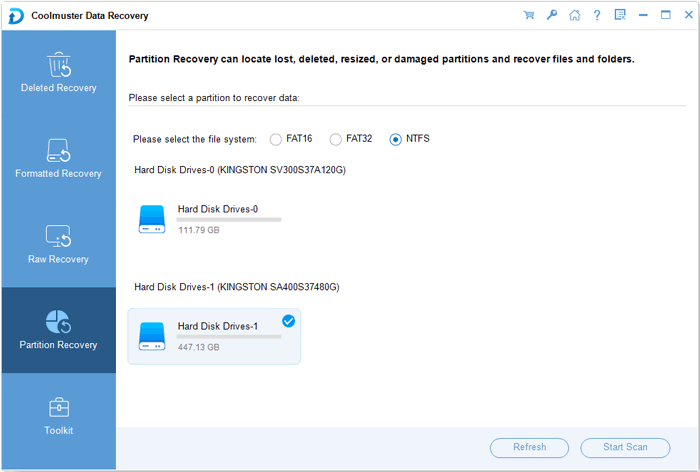 Step 3. Preview and start JPG recovery selectively
Find the lost JPG images and mark those you want to recover. Then, you can press the "Start" button to bring out the Path choosing dialog. Specify an output folder on your computer to save the recovered JPG files and click "OK" to begin the JPG recovery on your computer. Wait for a while, you will get your lost JPG files back without any quality loss.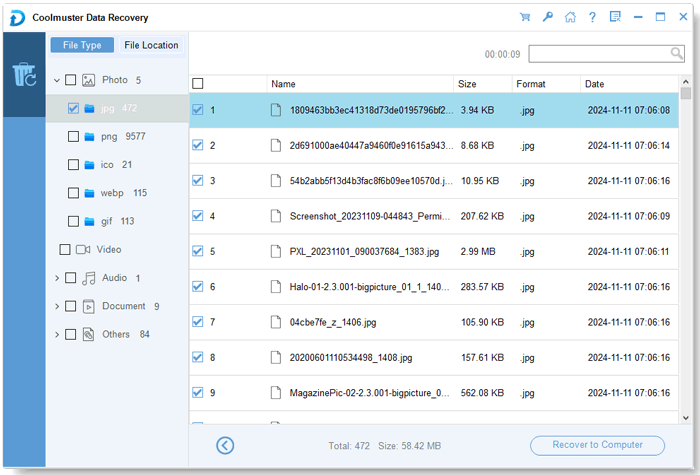 Words in the End
Meanwhile, besides retrieving JPG images, Coolmuster Data Recovery can also recover many other files like videos, audio files, photos, documents and more from digital camera, mobile phones, memory cards and more storage devices. In short, please consider Data Recovery immediately if you need a backup to retrieve your accidentally deleted JPG files.
Related Articles:
Recover Deleted Files (Photos, Videos) from Kodak Camera