Information about Sony Memory Stick Pro Duo
Initially developed by Sony from Japan, memory sticks are mobile storage media used in Sony's PMP, PSX series of game consoles, digital cameras, digital camcorders, notebooks, as well as Sony Ericsson cell phones, which are equivalent to the hard drives of computers. Other than Memory Stick Pro and Memory Stick Micro, Sony Memory Stick Pro Duo is also one of the several types of Sony's memory sticks. With a maximum capacity of up to 32GB, Sony Memory Stick Pro Duo can record richer broadband networks, including DVD-quality moving images and 3D games, and can achieve high-speed transmission of plenty of HD digital photos and other files. Besides, the MagicGate copyright protection technology guarantees the safety of storing personal and confidential data, which attracts a huge number of consumers.
So useful and reliable as Sony Memory Stick Pro Duo is, digital camera users might have stored hundreds of photos inside. It's possible that the photos may get lost or deleted on account of a variety of reasons. You might have experienced unintentional data deletion due to pressing on "Delete All" mistakenly or your kid's erasing the photos naughtily when you were away. Or the removal could have been caused when the memory stick got corrupted, corroded or damaged, when it was formatted accidentally or was put in or taken out of the device suddenly without turning it off, when the Read/Write process was interrupted, when the file system of Pro Duo was corrupted, when unknown or serious viruses attacked, or when the same memory stick was used in a few devices.
No matter which reason the deletion resulted from, the photos can be retrieved by some means. As a file is erased by a delete command, errors of the file system, or problems of the memory stick, its contents are still kept on the stick, just the name of its corresponding entry is altered, and the space occupied before the deletion is marked reusable. As long as new data come in, the removed ones will be overwritten and its reusable space will be covered. As a consequence, in order to ensure that your files can be restored, make sure you stop taking any photos and keep your memory stick in a safe place. Go for Coolmuster Data Recovery, a convenient and powerful tool helping you retrieve the deleted photos intact from your Sony Memory Stick Pro Duo by extracting them through scanning the file system thoroughly. It does not only apply to this memory stick, but plenty of others of different brands and various memory cards of los of digital devices. Having no idea how to get your precious photos or other important files back? Coolmuster Data Recovery is the best choice that provides immediate help at hand!
Perform Photo Recovery for Sony Memory Stick Pro Duo on PC
Step 1. Selecting a mode to recover images from Sony memory stick
Download and set up the program on your computer. Hook up your Sony Memory Stick Pro Duo to computer using a card reader. When it appears as a removable drive in Windows Explorer, you can run the installed program and choose one of the four recovery modes provided by this application, according to your own needs. Firstly, you can give a try of the "Deleted Recovery". If failed, you can try the "Raw Recovery" instead.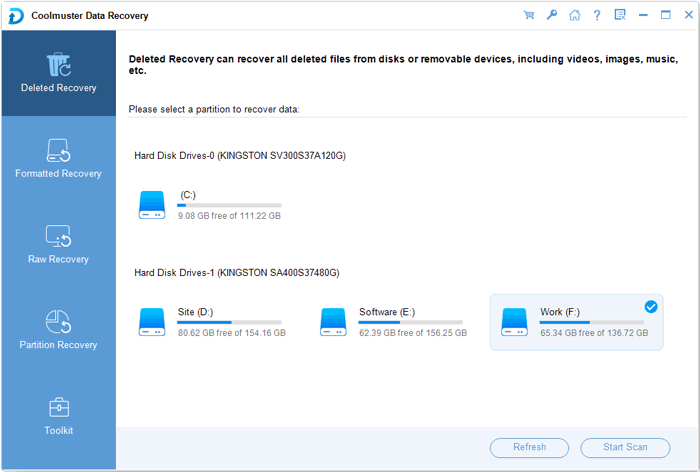 Step 2. Scan Sony memory stick for your lost pictures
Click the button of "Next" and the program will detect your computer and show all the partitions as well as drive letters on the main interface. Choose your Sony memory stick from it and hit the "Scan" button on the bottom right to scan the drive for your lost photos. After the scan, all the files contained in the Sony memory stick can be found.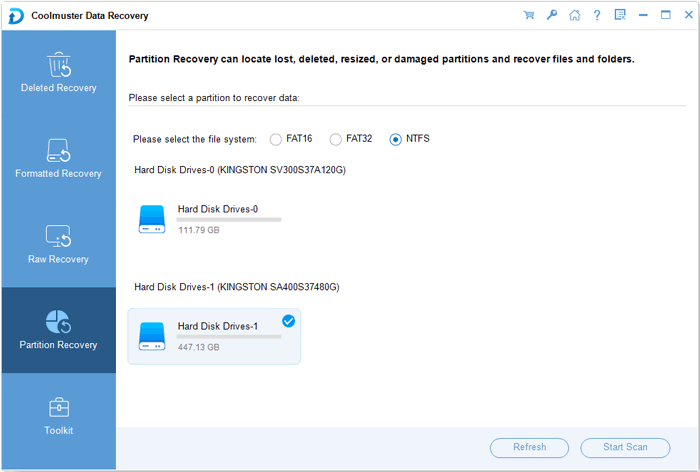 Step 3. Preview and retrieve photos from Sony memory stick
Now we are arriving at the final step. You can see all the scanned out files are displayed in categories with their original names. Open the "Photo" folder and preview these pictures in thumbnails. Then, check the photos you want to recover and click the button of "Recover" to save them to a new folder in your computer.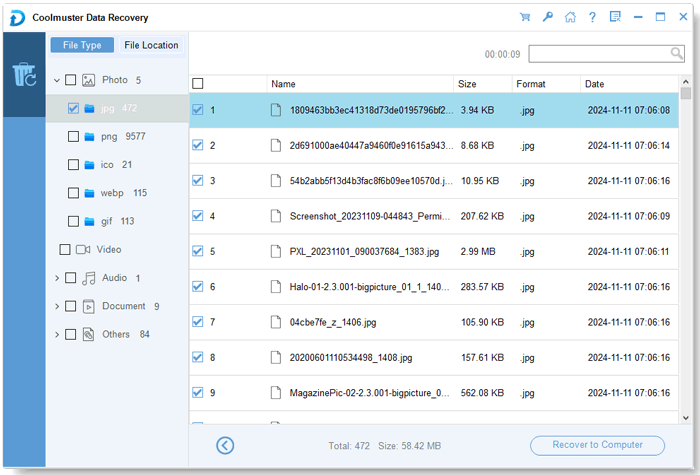 Tips: You can also use Coolmuster Data Recovery to recover deleted or lost videos, music, office files, documents and more from external hard drive, USB memory card, MP3/MP4 player, Android mobile phones and so on.
Related Articles:
Restore Deleted Files from Pen Drive