With the development of technology, a lot of electronic products have been made by people. These devices, not only help people in their work, but also make their life more convenient and easier, as well as more brilliant. Hard drive, something designed for storing important files and data, are being used by more and more people nowadays. However, it is wrong to see only one side of the thing, we also need to realized that we have to know something to tackle with problems occurred to such hard drives. As users of hard drive of a very famous band, LaCie, you also should learn something in case some unexpected problems happen. For example, when you found that all of your files or some of them stored in your Lacie hard drive have been lost, you should take prompt actions.
Related: What if Files Were Lost from Pen Drive?
Why files stored in a LaCie hard drive lost?
There are many situations that can cause files in a LaCie hard drive lost. Generally speaking, wrong operation, storage medium inner mistake and accidental deletion are common causes of files lost in such a hard drive. These things are inevitable and maybe not all your falut. Still, we can not give up. As there are always some means we could adopt. Read on to get the solution for how to recover deleted, lost or formatted data from a LaCie hard drive.
They say they can retrieve lost files from a LaCie hard drive, are they telling a joke?
No matter what your response may be, there are some people say that they are able to retrieve lost files in a LaCie hard drive. Do not be hurry to deny them, as they are not people who want to sell you something by telling you a fake story. Technologically, retrieving data from such a hard drive is completed possible. Don't know why? This is possible because the lost data have been marked into some track of the storage medium which is invisible rather than having been totally erased from it. As long as they haven't been overwritten by new data, you still have a big chance to recover them back.
Learn More:
* How to Recover Deleted Files from External Hard Drive
* How to Recover Lost Photos from Formatted SD Card
Coolmuster Data Recovery: A magic tool for finding your lost files previously stored in a LaCie hard drive
Nevertheless, you can not just make your lost files in your LaCie hard drive by just calling their names, this is not a magic technology way, but a black magic mean! To make back your lost files like photos, videos, music, documents and more, your need a professional data recovery program, like the Coolmuster Data Recovery that has been recommended by many people. By using such a tool, you will first detect for the lost files, and then locate them. After that, you will execute your "magic power" to retrieve them back. Of course, this process will not last long by using this data recovery software. As many people described, "I thought it would be long, but it took me very little time." This tool can help finding many types of files from both LaCie hard drives and many other types and brands of storage devices. For people who live or work depending or hard drives, the skill of retrieving files back from hard drives like LaCie hard drive is very crucial.
Download the free trial version of the LaCie Drive Recovery. Then, follow the guide to go through the data recovery process.
Quick Start on How to Retrieve Files from LaCie Hard Disk
Step 1. Run the program and choose a recovery mode
After downloading and installing the program on your computer. Connect your LaCie hard drive to this computer and wait until it shown as a drive letter in Windows Explorer. Then, you can run the installed program and choose one of the four recovery modes provided by this application, according to your own needs.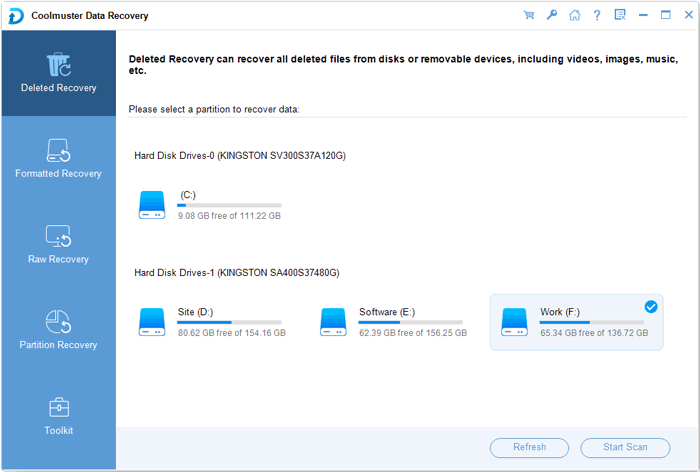 Step 2. Scan for your lost data
Click the button of "Next" to let the program detect and show all the partitions as well as drive letters available on your computer. Choose the drive for where you lost the data and turn to the right bottom corner to click the big "Scan" button to start the scanning. After the quick scan, all contained files will be found and put into different folders.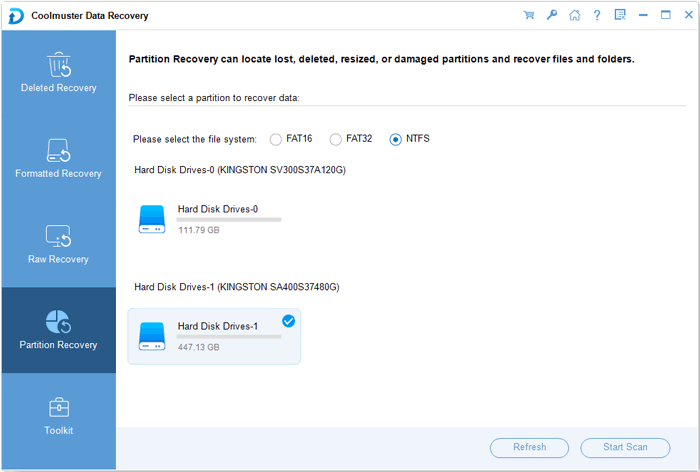 Step 3. Preview and start to recover Canon pictures
Check the scanned out files and find the data you need. Then, you need to give a click on the "Start" button to bring out the Path choosing dialog. Specify an output folder on your computer to save the recovered data and click "OK" to restore them to your Mac or PC computer.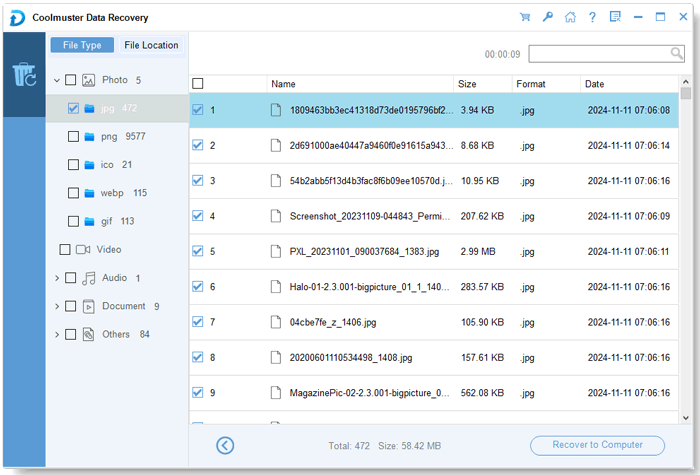 Words in the End
See, only within 3 simple steps, along with several mouse clicks, you can get back what you want without any hassle. To recover more from more other storage media, Coolmuster Data Recovery would be your right-hand tool!
Related Articles:
How to Recover Deleted Files from An MMC Card