In leisure hours, people like watching movies, playing games and doing something like that. Most of apps, images and videos saving in SD card on smart mobile phone become more and more options for users. But now that we can see the subsequent problems are much trouble bringing in with the data lost when SD card is damaged suddenly. There are no more pictures, videos and friend contacts once memory card is broken. Users always feel the world is full of malice. Users do not know how to deal with such situations and some of them give up the lost data. To the greatest extent, we suggest users to try Coolmuster Data Recovery to recover data easily.
The first aid measurement is to install coolmuster on the computer and then connect SD card by card reader. Usually the interface on computer prompts to format operation. It is ok for users to choose cancel key at this moment. In run command, there is "chkdskH:/F", which means that H is your SD symbol and F is the parameters that suppose to recover. Automatically, recovery process runs DOS interface and shut down once recovery procedure is completely end up. Why Dskchk should be omitted is because although curtain data can be undeleted, complex data in segments has no way to recover. After reboot SD card, users may find it works normally and gain the lost data. In the way, mobile can recognize SD card as well when users put it back to the mobile phone.
Without powerful scanning function, most of general software is unable to enclose original catalogues format for lost data. In order to get back original data format, Coolmuster Data Recovery format them once again in partitions so as to scan them entirely. Before rebuilding partitions, it need relocate the special location which is named logic sector number firstly and then check the most important parameters with checking tools such as DBR, FAT, FDT, MFT. The second, the software will modify partitions accordingly after confirmation. The excellent activities is that Dskchk is forbidden by start-up system to prevent computer system is damaged further so as to Coolmuster Data Recovery is surely keep data as perfect as possible.
First of all, you should free download the trial version of the recovery tool from the download button as below. Both Windows and Mac users can follow the step-by-step guide in the next part.
Guide: 3 Steps to Recover Lost Data from SD Memory Card
Step 1. Connect SD card to PC and launch the program
In the very beginning, plug-in your SD memory card to your Mac or PC via a card reader (Here we set Windows version as an example). Wait until the card appears as a removable hard drive on your computer and then you can launch the installed Data Recovery on the computer. From the main interface of the program, you can see there are four recovery modes available for you choice. Just select the first "Deleted Recovery" to have try.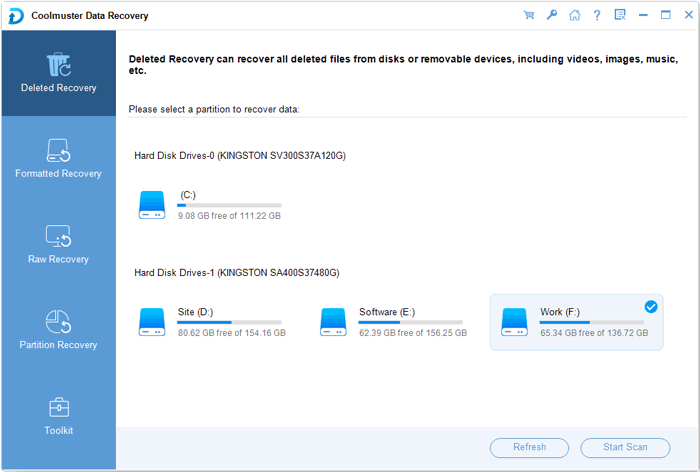 Step 2. Scan the memory card for the lost data
After choosing your wanted mode, you can click the button of "Next" to let the program detect and show all the partitions as well as drive letters available on your computer. Choose the drive of your memory card and click the big "Scan" button to scan all the existing and lost files on it. After the scan, all of the data, including the lost ones will be scanned out and displayed in categories, including videos, music, pictures and more.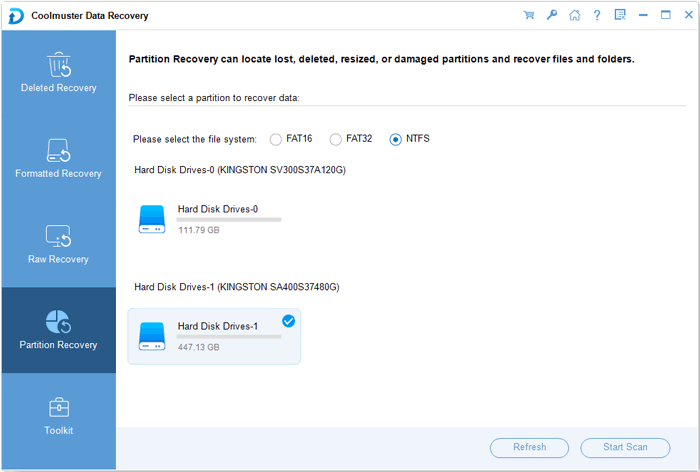 Step 3. Preview and start recovery selectively
Preview the scanned out files on the right window and find the photos, videos and other files you want to recover from the SD memory card. Mark those you need and then you can click on the "Start" button to bring out the Path choosing dialog. Specify an output folder on your computer to save the recovered files, click "OK" and the recovery task will begin accordingly!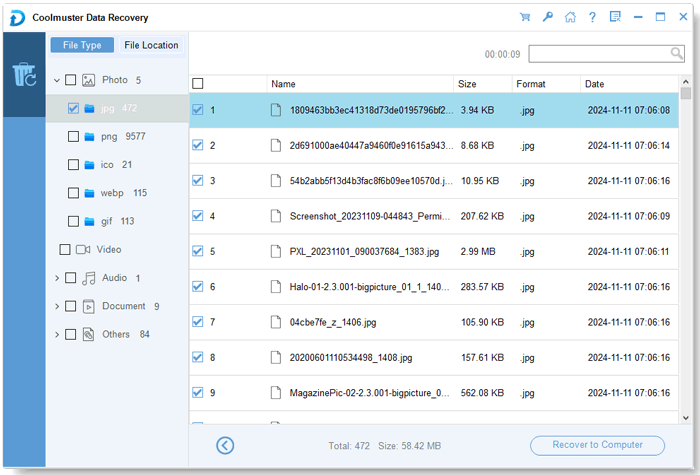 Sum Up
See? It can not be easier and safer to undelete SD memory card by using Coolmuster Data Recovery. After the short time recovery, all your wanted photos, videos, audio files, documents and many more can be retrieved without any quality loss. Why not click the below button to have a try right now?
Related Articles:
Optimal Way to Recover Deleted Data from A CF Card