SD card, Secure Digital Card, is one of the most famous flash memory cards for a host of small portable products, such as camcorders, computers, digital cameras and smart phones for storing data. It is known as a small flash memory card. Meanwhile, with advantageous data speed, excellent reliability and industry-leading flash memory technology, it is designed to offer high-capacity memory in a small size and we can use it to capture high-resolution pictures and HD videos. People prefer to save their important MP4 files, photos, documents and other files on the easy-to-carry card. However, Despite its convenient and advanced features, SD card is not as secure as we think. It is still possible to accidentally lose data (including mp4 files, audio, photos, texts, etc) from SD card due to various reasons.
Various data loss scenarios happen on your SD card:
* Press a wrong button on your digital camera or mobile phone, which gets important files erased.
* Excessive re-write and accretion of junk data make the SD card corrupted that wipe out data saved in the card.
* Have a compelling reason to format the SD card with all stored data disappeared.
* Installed malware on your smart phone and get virus infection on the SD card, which causes the loss of data.
* Power loss and so on.
Easy Way to Recover MP4 from Android SD Card
Is there any ways to recover those precious mp4 files from SD card? Luckily, mp4 files deleted from the SD card is not permanently missing. It is just seemingly invisible and still placed in the device. With this Coolmuster Lab.Fone for Android, you can easily recover lost GIF photos from Android SD card. This is an almighty recovery tool integrating multiple functions in one. With it, you can actually recover any files from Android device, no matter files are saved in the internal memory, SIM card or SD card. As you can see, this is exactly an all-in-one solution for Android data recovery.
And using it is also just a piece of cake. Below is the step-by-step user guide:
- Open the installed software on the computer and then link Android phone to the computer via the USB cord. (Note: Make sure the SD card is inserted into your device.) Choose the Android SD Card Recovery option to continue the process.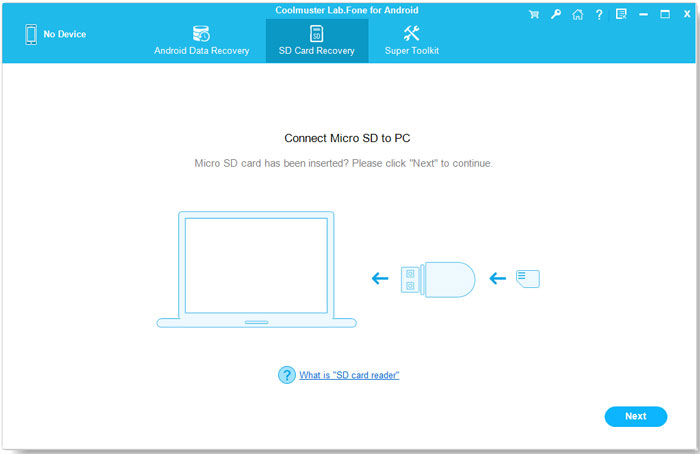 - Select the right SD card and then hit the Next option to continue the process.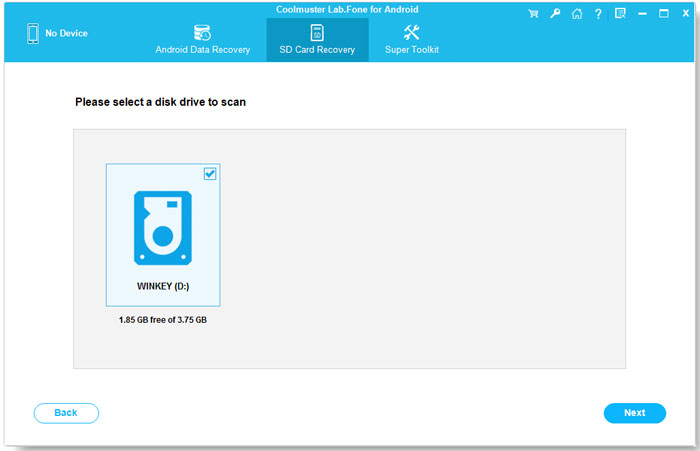 - Now, you will see the main interface as pictured in the below. All different file tabs are arranged on the left panel and you can then enter the Photos tab to preview more detailed file information. All photos are displayed on the right window including GIF photos. Tick out the GIF photos that you want to get back and hit the Recover option to continue the process.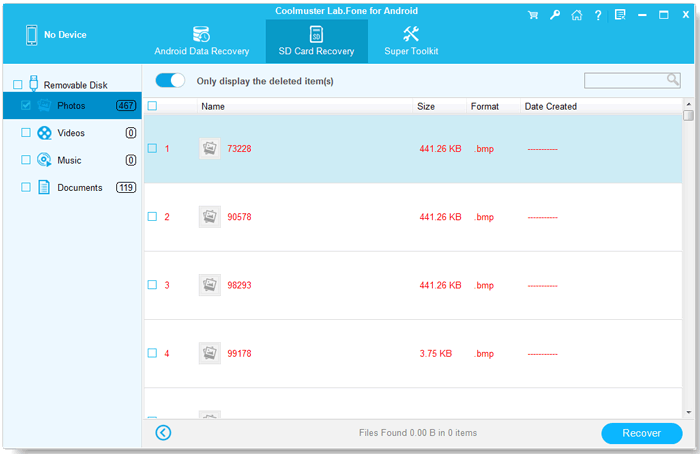 Till now, all you need to wait patiently for the process to get completed within a little while.
Related: How to Recover Files from Android Tablet
Of course, the software mentioned in the above is not the only way. This Coolmuster Data Recovery. As a recovery tool, Data Recovery is easy to use and it offers effective method for users to retrieve their deleted mp4 files.
With humanized design and strong ability of recovering data, it offers customers excellent recovering with ease. You just need to put you SD card in your camcorder/camera/ mobile phone, connect it to your computer via USB cable or SD card reader, run the Data Recovery and scan to start the recovering process. As a result, you can easily preview the files and find those precious and memorable mp4 files mistakenly deleted. Below is the detailed tutorial showing you how to get back deleted or lost MP4 files from SD card on various devices. The tutorial is based on Windows platform, but the operations are also appropriate for Mac users.
Step-by-step Guide to Retrieve Deleted MP4 Files on SD Card
Step 1. Connect SD card to PC and launch the program
To start with, you should connect your SD card to your computer via a card reader. Once the card appears as a removable hard drive on your computer, you can launch the installed Data Recovery on the computer. From the main interface of the program, you can see there are four recovery modes available for you choice. Just have a try with the first Deleted Recovery.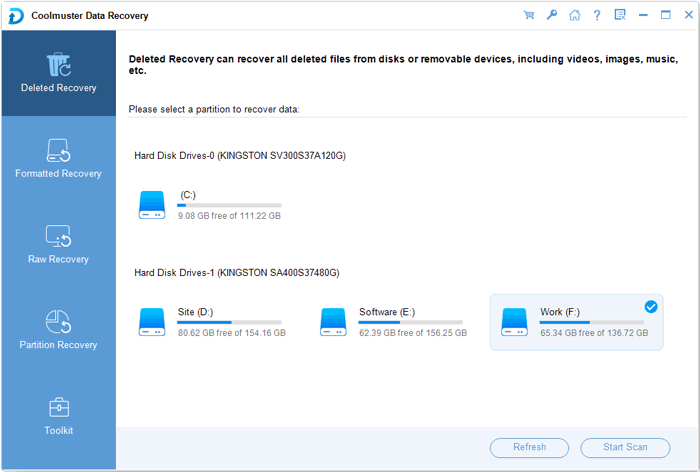 Step 2. Scan the SD card for the lost MP4 files
Press the button of "Next" after you choosing the recovery mode. Let the program detect all the partitions as well as drive letters available on your computer. Choose the drive of your SD card and click the big "Scan" button to scan all the existing and lost files on it. After the scan, all of the data, including the lost MP4 video files will be scanned out and displayed in categories.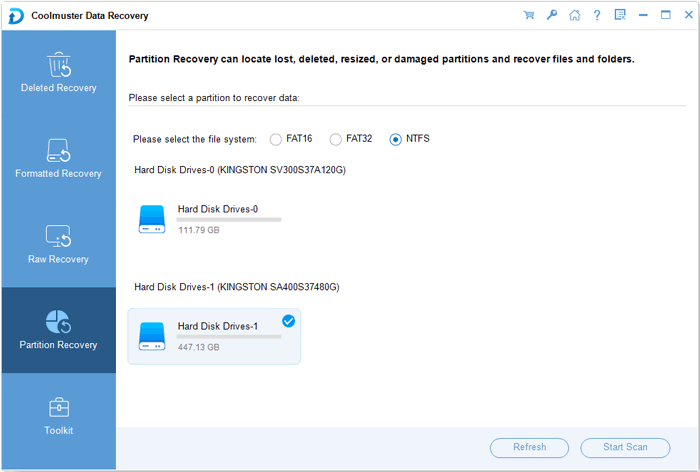 Step 3. Preview and start MP4 recovery selectively
Browse and locate the MP4 files you deleted from the SD card, preview them on the right window and find the ones you want to recover. Mark those you need and then you can click on the "Start" button to bring out the Path choosing dialog. Specify an output folder on your computer to save the recovered MP4 files, click "OK" to kick off the recovery task!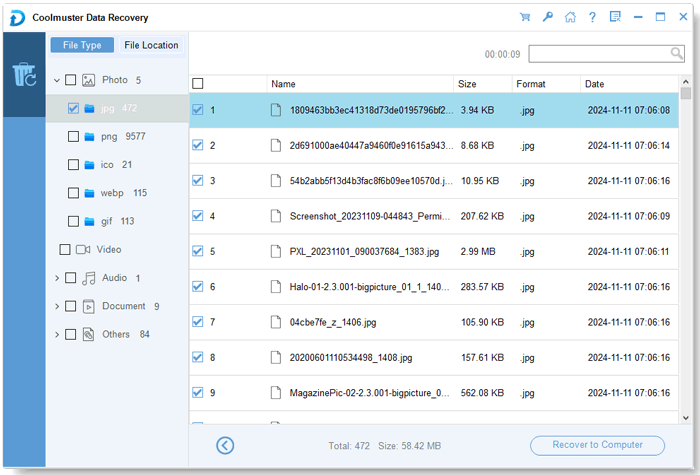 Summary
Meanwhile, besides retrieving SD card, Coolmuster Data Recovery can also recover many other memory cards and storage devices, like MicroSD, SDHC, Memory Stick, USB flash drive and so on. In short, please consider Data Recovery immediately if you need a backup to retrieve your accidentally deleted MP4 files.
Related Articles:
Recover Deleted Files (Photos, Videos) from Kodak Camera