Top Related FAQs
(1) Connection
What Can I Do if My iDevice Fails to Connect?
Details about Trust or Untrust A Computer on iPhone, iPad or iPod
(2) Use
How to Fix When the Product Freezes or Crashes?
How to Fix Undersize Font in 4K/High-DPI Display?
What to Do If Coolmuster Software Fails to Detect Your iTunes Backup Files on Mac?
Failed to Export or Delete iPhone Photos with iCloud Photo Library Enabled? [Solved]
Other FAQs You May Also be Interested in
1. What to do if there is nothing in the output folder?
A: You can find the files on our transfer program, but you can't find any files in the output folder after you exported successfully. There might be several reasons:
1) Your Apple device may be not connected well or disconnected before transfer.
2) The files may not exist on the Apple device.
You can try the following suggestion:
1) Try to reconnect your device and click Refresh button on the program to reload the device's information.
2) Check your Apple device and see whether the files recognized by our program are existed or not. If they are existed and can be opened, then please contact us.
2. What kind of data can it export?
A: Multiple file types can be exported, such as contacts, SMS messages, cameral roll, photos, music, movies, TV shows, podcasts, eBooks, audiobooks, voice memos, ringtones and playlists.
3. Free trial version V.S. full version, what is the difference?
A: Both versions are the same product, the only difference is that the full version allows users enjoy all functions of this product, while the free trial version only allows you to export files 15 times and you can only export one file every time.
By the way, to get the full version, you are supposed to register the free version software with the license code, which you would receive by email automatically once purchased.
4. How can I transfer the music and movies from one Apple device to another?
A: No, you can't do it directly now. Since it can export data from your iPhone/iPad/iPod to a computer, you can do so and add the files you need to iTunes and then sync to another Apple device.
5. Why the program can't find my eBooks?
A: This may be because that your eBooks are not supported properly. Please make sure that your eBooks are on your iBooks app, not on other eBooks apps, such as Kindle, eBook Reader, etc. Also, ensure that the eBooks on your iBooks app have been downloaded from iCloud and you can read it using iBooks.
6. Why is the exported eBook blank when opened on the computer?
A: If you can open the book on your iPad/iPhone/iPod, but you cannot open it after exporting to a computer, then the book should be protected by DRM. You are not allowed to open it elsewhere.
7. Can this transfer program run on iMac with OSX 10.5?
A: No, this transfer software cannot run on OSX lower than 10.9. It supports OSX 10.9 or higher.
8. Can I export data to the iTunes library on my iPad/iPhone/iPod?
A: Not now. At present, it can only export data from iPhone/iPad/iPod to your computer or to the default iTunes backup location directly. But you can add the files to iTunes by manually.
9. How to use iTunes to backup iPhone?
A: To back up the content on your iOS device, please follow the steps below:
1) Check and ensure your computer has installed the newest version of iTunes.
2) Plug your iOS device to your computer with a USB cable.
3) Choose File > Devices > Back up.
Tips: For iTunes 10.7 or earlier, right-click the device from the list and choose Back Up Now.
To confirm whether your backup is completed successfully, you can open iTunes Preferences and select the Devices tab. If succeeded, you will see the device name and the date and time that iTunes created the backup.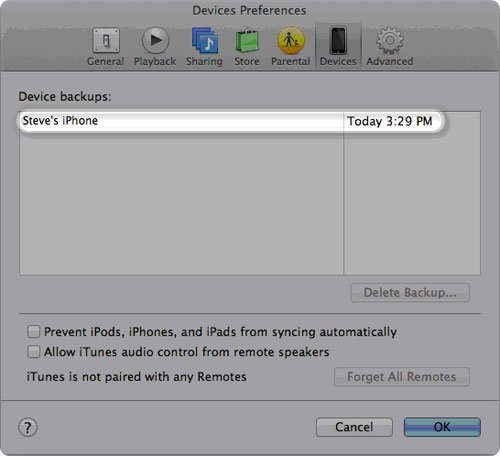 See more details to back up iPhone: https://support.apple.com/kb/ht1766
Related Articles:
Why the websites said I had reached the limit of downloads?
Why was I charged more than the price stated on the websites?
Attention: If you can't find your desired answers in this page, please feel free to contact us via the online feedback function or via email: support@coolmuster.com as you like.