General knowledge about ePub: In order to create your own ePub book, first and foremost, you need to gain a general knowledge of the ePub format. ePub files are more than somewhat like websites that are compressed. They're package documents containing every element of websites. To be specific, an ePub file has a text directory involving HTML (HyperText Markup Language) documents with texts inside, a style directory including CSS (Cascading Style Sheets) that manipulate the text styles, an image directory embodying pictures of JPG format, a TOC (Table of Contents) file, and an OPF (Open Packaging File) depicting how the different parts are combined.
You have to edit each section of your book using these elements. To make your book stand out from a wide range of books, adding an eye-catching cover with a creative picture or bright words on it, making a clearly laid out table of contents, adding a series of relevant or interesting pictures, and choosing a text color which's pleasant to the eyes will be of great help. If you do all of the editing on your own, you'll probably run into some problems or have no idea how to deal with certain items. You may find no way to list the multi-level titles in the table of contents, to add some links, or even video clips. Outsourcing is the most convenient way for you to make an ePub book avoiding those problems, as having a third-party tool to do the job saves you time for focusing on writing the texts rather than process the book technologically, can help transform your Word file into an ePub file easily and guide you with clear directions of every step.
Coolmuster SignPub (for Windows 8/7/XP/Vista) or Coolmuster SignPub for Mac (Mac OS X 10.8 or later) is such a powerful piece of software giving you a hand to editing and publishing your own ePub books. Unlike some tools which require specific knowledge, it's simple to use and provides everything you may need to create the book. Similar to Microsoft Word, you can change the font, size and colors of the words, as well as insert images between the lines. Even you can customize the cover image for your ePub books. With Coolmuster SignPub, the best editor for ePub books, you'll be able to make and publish a perfect book that draws the attention of lots of readers. Let it be your choice, and let it offer you help at hand!
Free download the ePub designer by clicking the download button as below. Then, go through the following steps to see how to realize all the features we listed above in making your own ePub books.
How to Create An Individualized ePub Book with ePub Maker?
Step 1. Open Original ePub eBooks/Files
Here, we set the Windows version as an example. First of all, download and install the program on your PC. Launch it and you will see its clear and user-friendly interface showing like below. Directly click the "Open File" option to locate and open the ePub eBooks you want to edit. Or, you can drag and drop the source ePub to the program directly.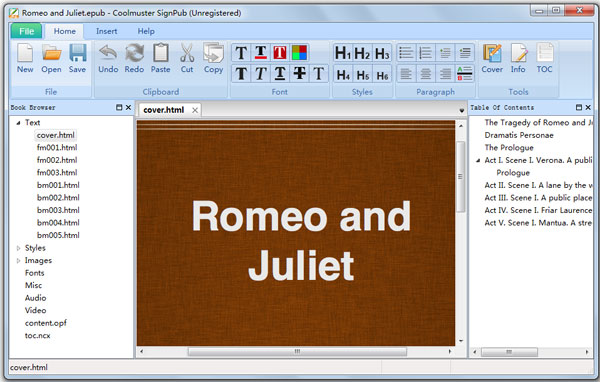 Step 2. Make Editings as Need
Once loaded the ePub eBooks or files successfully, you can see there are various editing tools available on the tool bar, with which you can add text, insert images, check spellings, change cover image, and enjoy more ePub editing functions in this program. Just edit the ePub files and create your own ePub books as your needs.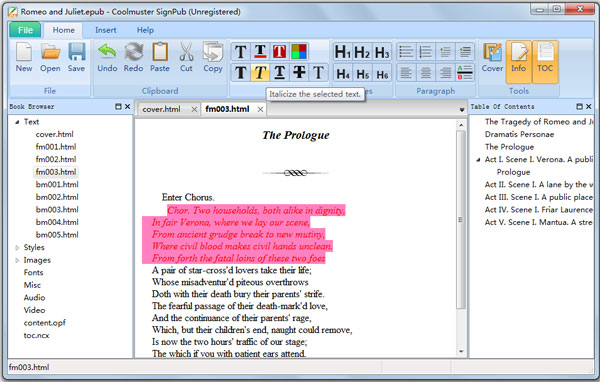 Step 3. Save ePub Editing
After all the necessary editings, you can then click Save or Save as option to confirm the editing you've made for the ePub files. There will be an output choosing dialog pops up, asking you where you want to save the edited ePub eBooks. Just specify an output folder from your computer and the software will put the newly created eBooks here.
Extra Knowledge: PDF vs ePub
Although PDF is a commonly used file format for e-books, it cannot be opened and read on all mobile devices. There are many times even when it can, the texts will either be much too small or too big for reading, since PDF is an image that remains static instead of variable. If you intend to make an e-book of your own, ePub, the most universal file format of e-books currently, will be the best choice, as it works to resize the contents so as to fit screens of any device, which's considered superior to PDF by numerous readers. Due to this reason, ePub books are greatly popular with those who are specially keen on e-reading.