While encrypting your PDF files is sometimes necessary, unlocking them can be a hassle. Perhaps you lost or forgot the password. Or what if entering passwords every time you assess PDFs seems daunting? You've probably received an encrypted PDF and wondered how to decrypt it - that's when you'll need a reliable PDF security remover. With just a few simple steps, unlocking all PDF passwords is possible.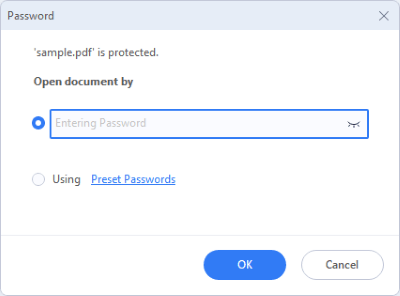 Part 1: FAQs About PDF Passwords
Here're some of the most frequently asked questions about PDF passwords. Check them out:
1.1 What Are the Types of PDF Passwords?
Before diving into available PDF password remover tools, you must understand a crucial point - What are the 2 types of PDF passwords? Open passwords and owner passwords.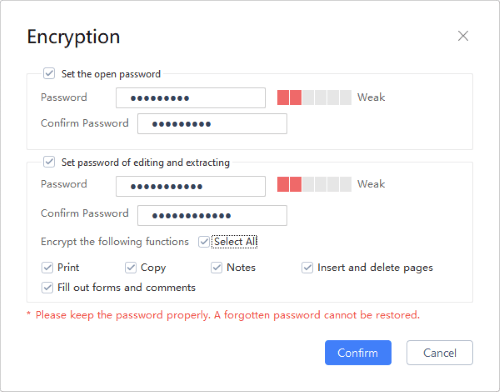 The former is what is commonly referred to as the user PDF passwords. Unlocking PDFs needs technical software.
When it comes to the owner passwords - also known as the permission passwords, you must seek owner permission to use the document in any way as printing it or editing it. Unlocking owner passwords is made easy with the Coolmuster PDF Password Remover.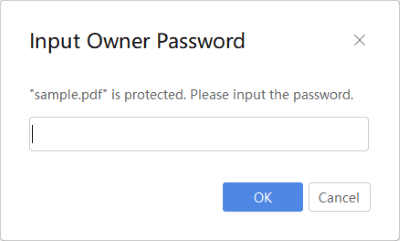 1.2 What Is the Best Way to Password-Protect PDF?
There are many tools that would help you password-protect your PDF file - as a matter of fact, most PDF viewers on the software market now have been implanted with a PDF-encrypting tool (Although the encryption process might be quick and easy, the encryption feature might need a Premium version).
For instance, if you're using WPS Office, simply open your PDF file in the WPS Office and head for Protect > Encrypt options. You can then set your user/owner passwords.

However, if you merely want a PDF encryption tool instead of a large PDF viewer with piles of tools implanted to solve your encryption problem, this tool - PDF Locker would be the best choice for you.
Part 2: What Is the Best PDF Restriction Remover?
What is the best PDF decrypter? This tool - Coolmuster PDF Password Remover is a simple but powerful software that unlocks user and permission PDF passwords. It is the best PDF password cracker. You can decrypt documents in just a few steps. Coolmuster PDF Password Remover has a feature that unlocks a batch of PDF files simultaneously, saving you time and energy.
To access a PDF with an owner password, you must seek owner permission to view or modify the document in any way. However, you don't need to go all that way. With this PDF protection remover, viewing, editing, copying, or printing restricted PDFs is possible.
Key Features
Remove PDF passwords in just a few steps.
Suitable for both user and owner PDF passwords.
Support batch PDF files password removal.
Remove PDF security without the need for another software.
Copy and paste, edit, and print PDF files.
Pros
Benefit from an efficient and reliable PDF security remover.
Remove security features from highly encrypted PDFs.
Unlock passwords without requiring Adobe Acrobat or Reader.
Easy to extract images, copy, paste, edit, and print text.
Unlock batch PDF passwords at once.
Cons
No free online password remover for PDF files.
Pricing
This PDF-encrypted password remover offers a 3-time free trial. You only need to download the software to your Windows or MAC devices in that regard. To enjoy the unlimited functionality of this software, consider purchasing the following licenses:
1-month license at $9.95 for 1 PC.
1-year license at $19.95 for 1PC.
Business license at $29.95 for 5PCs.
Unlock PDF Files With Coolmuster Password Remover
Here is a step-by-step guide on how to unlock your PDFs.
01Once the program is launched on your device, click Add Files icon to load password-protected or restricted PDF documents.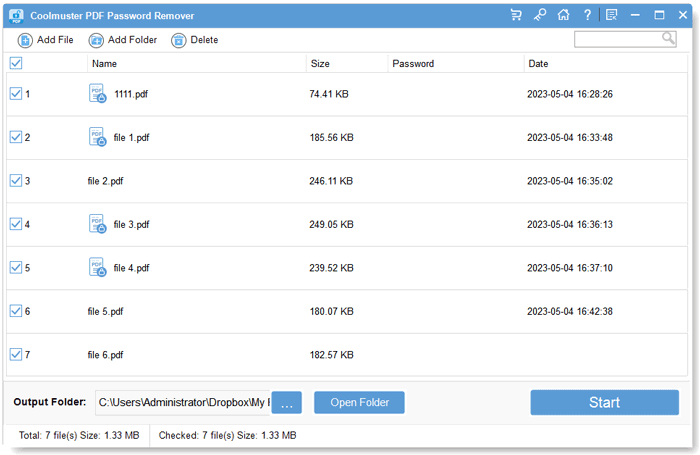 02Select the icon Browse at the bottom to choose the folder to save an encrypted PDF document. Click the Start button to start the decryption.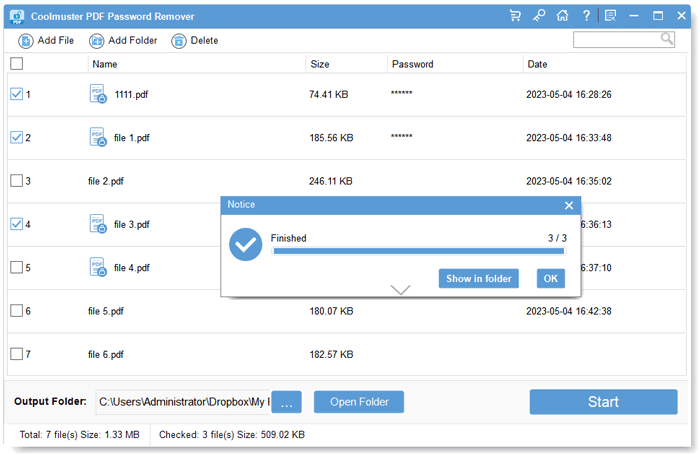 Also read:
PDF Editing Secrets: How to Edit Password-Protected PDFs
How to Convert Password Protected PDF to Without Password: Approved Methods
Part 3: What Are the Alternatives PDF Security Remover Tools?
Alternatives to Coolmuster PDF Password Remover are based on verified features, reviews, and other factors. Here is a list of the best free PDF password remover alternatives.
Tool 1: iLovePDF
iLovePDF is another best PDF password unlocker software that allows you to remove PDF passwords. It is an online tool that helps you view a PDF document that was initially locked.
For iLovePDF password remover, you can choose either a basic or premium plan for your PDFs.
Accessing the basic version software is free but with limited PDF processing. This means you'll need a premium plan to acquire unlimited access to PDF security remover tools.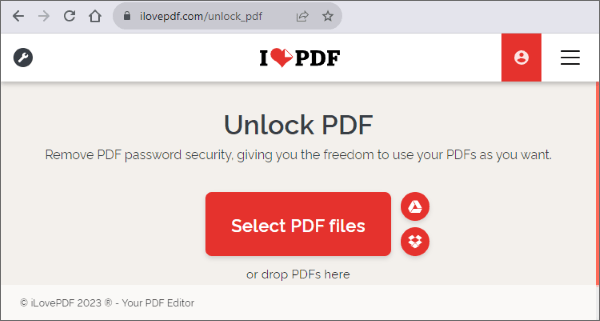 Key Features
Support Windows & MAC systems.
Experience the simple and intuitive user interface.
Take advantage of SSL encryption for accurate data transmission.
Remove PDF security without any installation.
Use the PDF security remover for free.
Pros
Simple and easy to use.
Best PDF unlocker for user passwords.
The basic version is free.
Cons
The basic version leaves watermarks on decrypted PDFs.
Sometimes, the basic version can't remove permission PDF passwords.
Pricing
$4 per month.
Business license pricing is customized.
Tool 2: Smallpdf
Smallpdf is an easy-to-use online PDF password remover tool that works on all devices. Whether you're using Windows, Linux, MAC, or iOS, this browser-based PDF security remover is for you. Once the security features are removed, you can use the document in whichever way you want.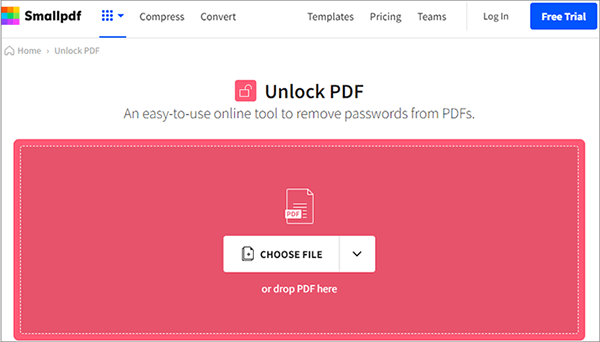 Key Features
Experience a PDF password remover with a user-friendly interface.
Remove PDF passwords and restrictions for free unless you go premium.
Enjoy affordable premium packages.
Process all PDFs in cloud servers for more privacy.
Pros
Work on all devices.
Ensure the security of your file.
Unlock owner passwords.
Cons
Functionality limited.
Prove difficulty when uploading complex files.
Pricing
$9 per month for one user.
$7 per month for a team.
See also:
How to Create Watermark on PDF Files?
Breaking the Lock: How to Print Password-Protected PDFs
Tool 3: Weeny PDF Password Remover
Weeny PDF password remover is also commonly referred to as PDF password remover. It is a free offline tool that helps you crack PDF passwords and restrictions, including printing restrictions. This software, however, supports only user PDF password removal. As such, you must have the original PDF password to use this tool.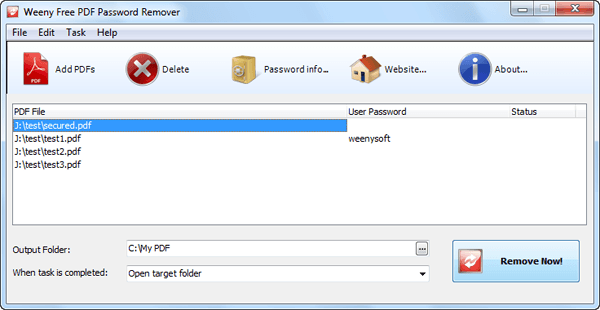 Key Features
Remove restrictions from PDF files.
Edit, copy, and print PDF files.
Use a user-friendly interface PDF security remover.
Work independently, you don't need any additional software.
Pros
Support batch PDF file decryption.
Support the use of multiple PDF passwords for each file.
It does not replace the original document once decrypted.
There is no need for any additional software.
Cons
Lost PDF passwords cannot be retrieved.
It does not warn when importing unprotected PDF files.
Pricing
Tool 4: Soda PDF Password Encryption Remover
Soda PDF offers simple tools that can be accessed via any web browser on any device. It has security features such as password and permission settings that allow it to easily crack PDF passwords. When you use Soda PDF to unrestrict your PDFs, the file is modified in such a way that you can share the PDF without using your password.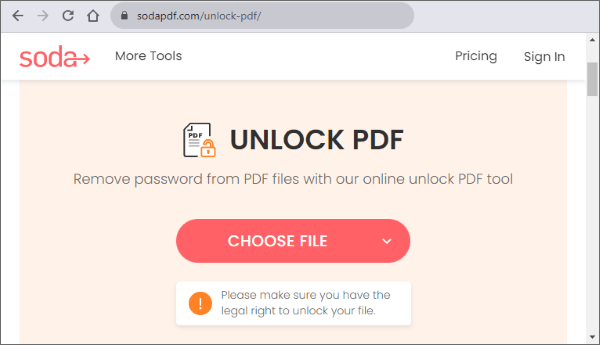 Key Features
Encrypt and decrypt PDF files alongside other services.
Edit, convert, compress, split, e-sign, and merge PDF files.
Enjoy a free online PDF security remover.
Modify the permission after password remover from PDFs.
Pros
Simple to use and understand.
Cons
A free trial can only support three password removal from PDF files.
Tool 5: PDF Password Genius
PDF Password Genius is another great PDF security remover software that allows you to remove user passwords. You, therefore, need to know the user's PDF password to remove restrictions on editing, copying, printing, and other functions. This software incorporates different methods like dictionary attacks and brute-force to crack the passwords open.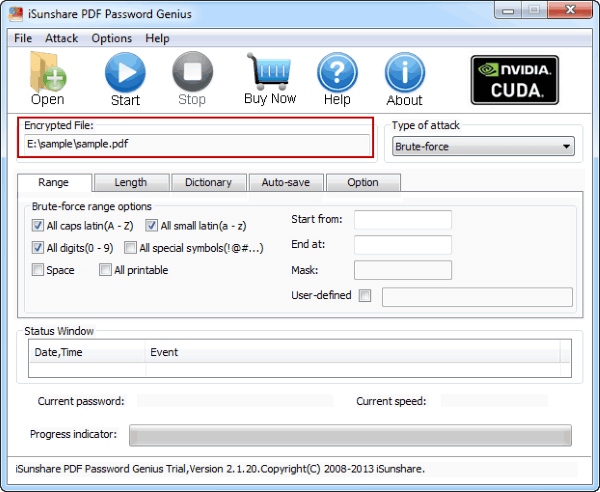 Key Features
Remove PDF passwords and restrictions in seconds.
Operate on Windows, Linux, or Mac devices.
Unlock Adobe Acrobat PDF-protected files.
Edit, copy, and print encrypted PDF files.
Enjoy a simple and intuitive user interface.
Pros
It uses different methods like dictionary and brute-force attacks to remove passwords.
It works with PDF files created in all versions of Adobe Acrobat.
It is compatible with Windows 10/8/7 and Mac operating systems.
Cons
The efficacy of this software is determined by the strength and length of PDF passwords.
PDF Password Genius is unlikely to remove a strong password.
Pricing
$29.95 for the standard version.
$39.95 for the professional version.
$69.95 for the advanced version.
$129.95 for the raid version.
Tool 6: aJoysoft Password Remover
aJoysoft is a simple PDF password remover app that quickly helps crack PDF passwords. It's suitable for all types of passwords and users of different knowledge levels. With aJoysoft PDF security remover software, you can remove PDF restrictions effortlessly for viewing, editing, copying, or printing.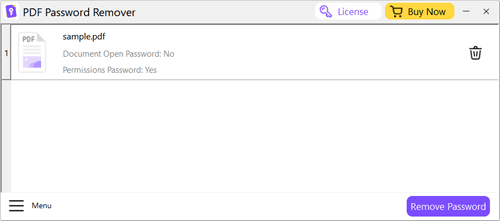 Key Features
Enjoy free PDF document viewing.
Remove restrictions for PDF copying, editing, or printing.
Decrypt batch PDF files in one go.
Pros
Efficient and straightforward to use.
Edit, copy, and print from encrypted PDF files.
Batch PDF password remover.
Cons
It's not available for PDF files that are user password-protected.
Pricing
Perpetual License at $19.99.
More office solutions:
Beyond Locks: Effective Ways to Save PDF Without Password
No More Limits: How to Copy Text from Protected PDF on Mac and Windows
Conclusion
Unlocking password protection from your PDF files is just a one-click task. We've furnished you with the best PDF password remover tools to enable you to open PDFs easily. Whether on Windows or Mac, we highly recommend removing security restrictions with Coolmuster Password Remover as it is an all-in-one PDF reader, viewer, editor, and converter.
Related Articles:
Top PDF to Word Converter Free Offline: Converting PDF to Word Made Easy
A Practical Guide on How to Edit a PDF in Word Effectively
PDF Fusion Perfected: The Quest for the Best PDF Merge Software
From Text to Interaction: How to Make a Fillable PDF in Word
How to Easily Merge PDF Offline & Online? Find the Method That Suits You