Using the Samaung tab is more convenient than using the PC and more enjoyable than using mobile phone. But you may do not know how to root Samsung Tab in a simple way. Here you may feel confused that why should you root it, right? Because after rooting your tablet, you can uninstall the preinstalled software that installed by the manufacture to free much space and freely manage those applications that requires the device be rooted. Moreover, the battery's life will also be longer. You can freely control your tablet as you like.
Before the rooting process, something you need to do:
First of all, you need to find a professional rooting software as your Android assistant. Here, iRoot could be an ideal option for you.
Secondly, make sure all your important files is backed up in case that your data may be lost in the process. To achieve it, you can take the Coolmuster Android Assistant into consideration.
Thirdly, fully charged your tablet in case of the accidents, for example the power is cut suddenly.
Steps to Root Samsung Galaxy Tab Freely
First of all, make sure that you have the drivers for the Tab installed on your computer. If you don't, they can be downloaded from the Samsung support site.
Then, open the USB debugging on your device under the "Settings". After that, you can use the USB cable to connect the Tab to your PC and start the iRoot, then the software will detect your tablet. Just click the Users Agreement and hit the "Root" button on the interface.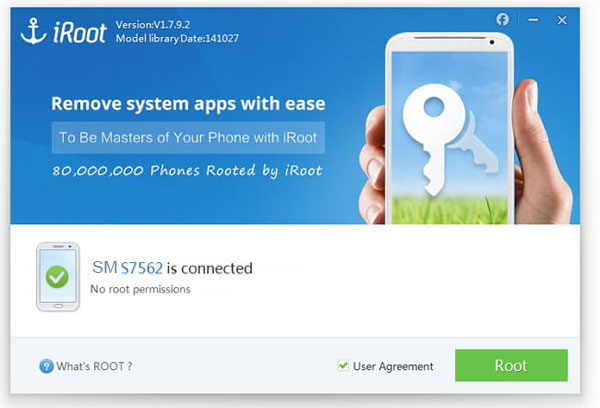 At last, you can just wait aside and reboot your tablet after the program finish rooting your Android tablet.
Now, you can install various apps or uninstall pre-installed apps from your Samsung Galaxy tab easily. And if you find something lost, you can also use the Coolmuster Lab.Fone for Android to get them back.