Most people have encountered problems when transferring SIM cards to their new iPhones. Since a SIM is a very important item that allows us to get the network connectivity on the device, you should transfer it to your new iPhone when you decide to switch. The process is very simple, and you might as well move your contacts with the SIM card. To learn how to transfer SIM card to new iPhone, read this article till the end.

Part 1. What Is SIM Card? Do You Need to Transfer SIM Card to New iPhone?
Do you need to switch SIM cards when changing iPhones? Yes - because they contain important information you were using on your older device. SIM cards not only help for communication purposes and using carriers but also keep important information such as phone numbers and security data. You can use a SIM card of any size and insert it into your device. But make sure it matches your device's model. Adapters are also available to help insert the nano SIMs into micro SIM cards or the normal SIM slots.
The different types of SIM cards available are micro SIMs, Nano SIMs and eSIMs.
Micro SIM: This SIM card is smaller than the original SIM cards. The actual chip is just the same size as the original SIMs, with only the area around it smaller. It was first used in the iPhone 4.
Nano SIM: This SIM card is smaller than a Micro SIM card. It is called the 4FF, the fourth SIM card generation. It's a fraction of the original SIM card and very small than the second SIM card generation. It debuted on the iPhone 5.
eSIM: This SIM card allows one phone to have phone numbers.
Read more:
How to Bypass iPhone SIM Not Supported Issue? (Top 11 Methods)
The Ultimate Guide to Transfer Your SIM Card from Android to iPhone
Part 2. What Should Be Considered Before Switching SIM Card to New iPhone?
If your device is new or you have been using it for a while now, you should check for some crucial things to ensure the iPhone data does not get lost while switching. Here is what to do:
Tip 1. Check If iPhone Is Carrier Locked
Before changing your iPhone's SIM card, you should check if the device is locked to a network. You should do so because some of these iOS devices are always locked to a service provider, which makes it impossible for the users to use the SIMs on another network on the same device. You can check if the device is carrier locked by doing this:
Step 1: Open Settings on the iPhone and click General. After that, choose About.
Step 2. Scroll down the About page until you reach the Network Provider Lock and check for the device's carrier network lock status.
Remember, a carrier-locked iPhone must be unlocked. You can do that with the help of a third-party app or by contacting a network provider shop.
Tip 2. Transfer the Contacts on SIM to iPhone
While changing SIM cards on iPhone, it is advisable to transfer all contacts that are saved on SIM to an iPhone. This will make it easier to access the contacts saved on the SIM card on the other iPhone.
Tip 3. Ensure the SIM card Is Compatible with the New iPhone
iOS devices are only compatible with nano SIMs. Therefore, if you are looking for a SIM card other than a Nano, you will not use it on your new iPhone. You should check the type of your SIM card before buying.
Part 3. How to Move SIM Card to New iPhone [Direct]
Moving SIM card to new iPhone is pretty simple. But you shouldn't try moving it without the SIM card ejector tool. Usually, the ejector tool comes with the phone when purchasing it, or you can use a pin instead. Here are steps to putting an old sim card in the new iPhone:
Step 1. Take your old phone and switch it off. Find where the SIM is located and use the ejector tool to remove it from the device. Clean the SIM using a cotton cloth.
Step 2. Next, take your new iPhone and find the SIM tray. Use the SIM ejector tool to press in the small hole on the side of the iOS device. The SIM tray will be removed from iPhone.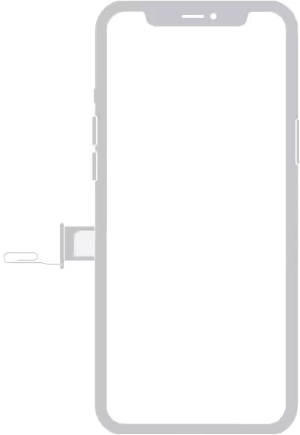 Step 3. Now place your SIM in the correct positions on the SIM tray, then insert it into your iPhone. Wait for the SIM card to be detected, and you'll see the network displayed on top.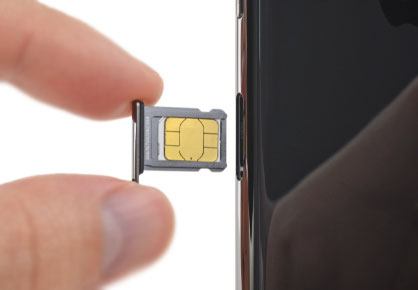 As said earlier, while switching the SIM card to a new iPhone, the SIM card should be compatible with the new device. The latest iPhone models use nano-size SIMs, which are smaller. If your original SIM card is standard, you can use a SIM cutter to cut it to a nano size.
See also:
How to Activate iPhone Without SIM Card (The Last One Is The Easiest)
Unlock AT&T iPhone? One Passage to Answer Your Questions!
Part 4. How to Transfer Contacts to New iPhone
Below are two different ways to move contacts to your new iPhone:
4.1 Transfer Contacts to Your New iPhone [Professional]
Transferring SIM card to new iPhone does not guarantee that all your contacts will be transferred. In such a case, Coolmuster Mobile Transfer is here for you. This is the best software that can easily move contacts between devices operating on different platforms.
It is simple and faster to share your contacts across devices. It is the best solution for phone-to-phone transfers. Even if your old phone is Android, you can transfer various types of files from it to the iPhone without effort.
Key features
Support transfer of contacts, documents (PDF & ePub) from Android to iOS.
Need no internet connection to transfer files.
Easier to use, and all your contact files will be moved in minutes.
Supports most Android and iPhone devices.
Here are the steps to move contacts to your new iPhone:
01Install the program on the computer. Run it, and you'll see its primary interface. Click on the Mobile Transfer.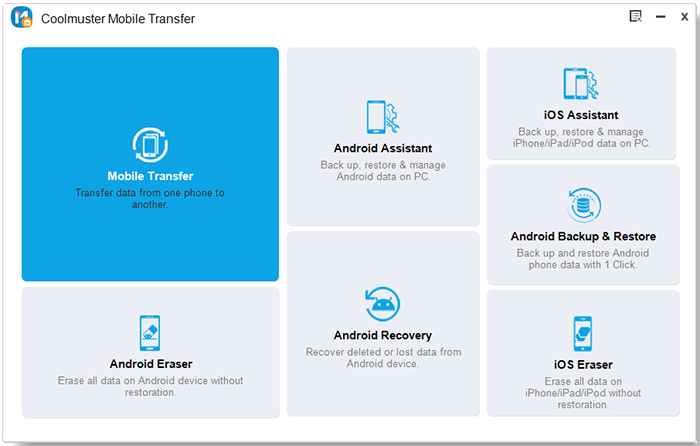 02Link the devices to the computer with USB cables. Hit Trust on iPhone and enable USB debugging on Android. From there, both your devices will be detected by the tool and show up on the screen. Make sure the new iPhone is in the Destination position. If not, click on Flip to switch the devices.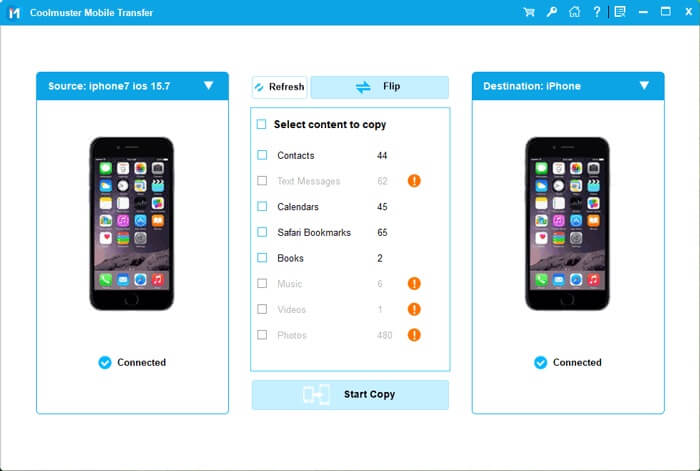 03Choose the Contacts option from the list of files on the screen and hit the Start Copy tab to start transferring your contact files to the new iPhone device. Wait for the transfer process to finish; it might take some minutes to finish depending on the size.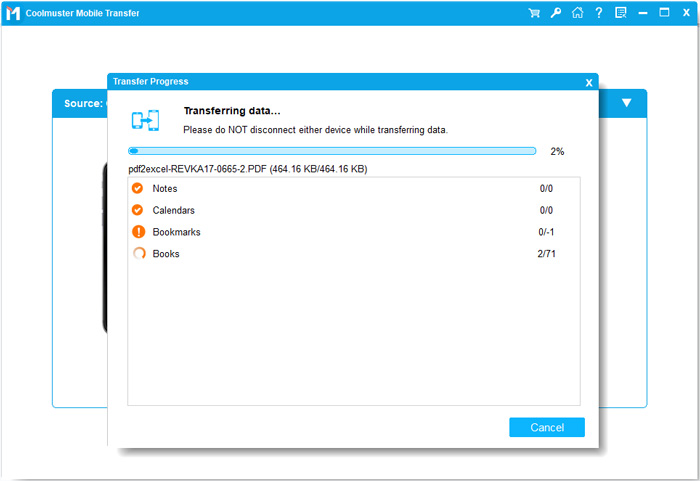 4.2 Export Contacts from SIM Card to New iPhone
An alternative method to transfer a contact list to a new iPhone is through the use of your SIM card. Depending on the type and capacity of the card, your SIM card can accommodate up to 250 contacts. This convenient approach allows you to effortlessly migrate your essential contacts from one iPhone to another, saving you time and effort.
Here's how to do it:
Remove your SIM card from your old iPhone and insert it to the new one, and head to Settings > Mail, Contacts, Calendars, and tap Import SIM Contacts. Choose On My iPhone from the pop-up window list.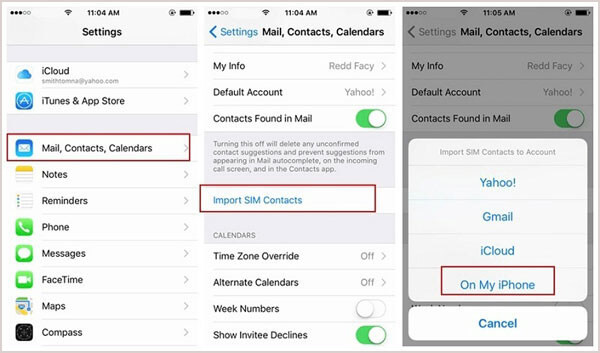 Summary
That's all for putting old sim card in new iPhone. The process isn't a complex one as long as you know the size of your old SIM card. If it is a standard SIM card, cut it to a nano size to fit in your new iPhone.
The best way to move contacts to your new iPhone is to use Coolmuster Mobile Transfer. You are assured that all your contacts will safely move to the new iPhone without a hitch. The process is smooth, secure, fast, and reliable.
Related Articles:
[3 Ways] How to Transfer iBooks from iPhone to PC
[Fixed] How to Transfer Photo Albums from iPhone 14 to PC with Ease?
How to Transfer Music from iPhone to Mac? (Top 4 Ways)
How to Transfer Music from iPad to Computer? Top 3 Ways You Can't Miss
[Solved] How to Print Text Messages from iPhone/Android for Court?
[Simple Guide] How to Install Apps on iPhone without iTunes?