If you're changing an email service or want to regularly back up Outlook data, it's imperative to transfer all details for your contacts without failing. One easier way to import contact files to other apps is by exporting the Outlook contacts to an Excel file. But how to export Outlook contacts to Excel? It is a simple process that only takes a few moments. This article provides an easy way to transfer Outlook contacts to Excel conveniently.

Part 1. Can I Export Outlook Contacts into Excel?
Of course. Exporting Outlook contacts to Excel is possible. Besides, it is an easy process that does require you to have tech skills.
Believe it or not, saving Outlook contacts in Excel is very important. This way, you can make the contact info easily accessible through CSV format, one of the simplest ways of sharing contacts between programs.
Nowadays, most people, as well as businesses, are using Outlook as a primary mail service you can use to manage contacts and files. However, it is not an efficient service for many contacts. Due to this, you may want to save the contacts to Excel so that you can access them whenever you want or share them with other apps.
Luckily, this guide will enlighten you on how to export contacts from Outlook to Excel. So, read on to learn these tricks!
Part 2. How to Export Outlook Address Book to Excel
An Outlook Address Book is basically a virtual location that keeps all Outlook contacts and allows users to check them without exporting them to another location. But you can still export it to Excel without any difficulty with just a simple trick.
Below are steps to export addresses of Outlook to Excel:
Step 1. First, tap on File, then choose the Open & Export option. After that, choose the Import/Export option on the right side.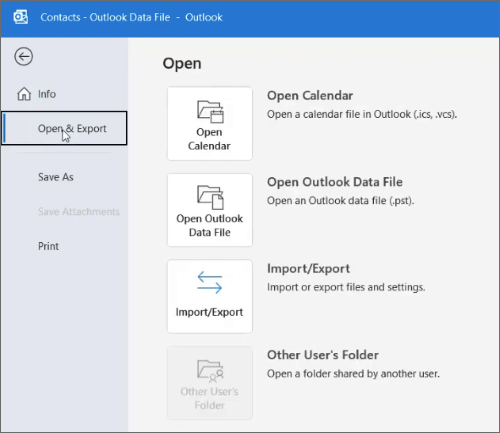 Step 2. On the Import and Export Wizard window, choose the Export to a file option, then hit Next. When you reach the Create a file of type: step, choose the one that you want and hit Next.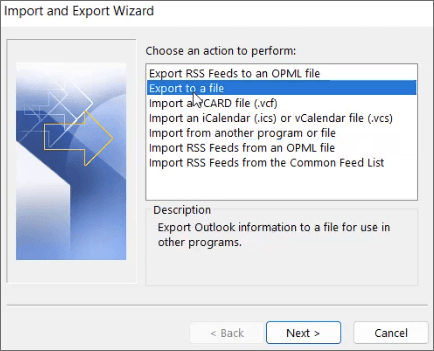 Step 3. Choose Contacts as your wanted folder to export. Then hit Next.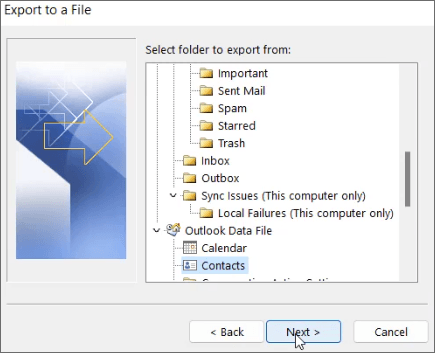 Step 4. You can then choose a destination folder to export the contacts. After choosing the saving place, hit Next > Finish. Your contacts will soon be exported automatically, and you will be able to locate the folder and open the .CSV file in Excel.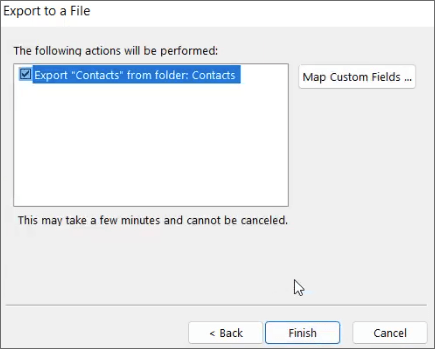 More relevant guides:
Full Guide to Import CSV Contacts to Android Phone in 2023
Fleetly Back Up Outlook Contacts with Practical Methods [Tested]
Part 3. How to Export a Contact Group from Outlook to Excel via Copying & Pasting
In addition, you can also export your Outlook contacts by copying and pasting them to Excel directly. This is one of the simplest ways to export contacts from Outlook.
Here are steps to export the contact group from Outlook to Excel:
Step 1. First, open your Outlook application on the PC. Then locate the People View option at the lower left corner and tap on it.
Step 2. Locate the List option from the Current View section, then tap on it. Choose those contacts you wish to copy and tap CTRL+C from the PC to copy all of them to the clipboard.
Step 3. At last, open the Excel app on the computer and hit Create new workbook to paste the contacts there.
Part 4. How to Download Contacts from Outlook in Outlook Web
Outlook provides a simple export-import option where you can easily export and import your contacts. It lets you export Outlook contacts to Excel from the web. It's a simple process since Outlook's web version doesn't have complex features. Below are steps on how to export contacts from Outlook 365:
Step 1. Visit Outlook web on a web browser on your computer. Tap on the People button in the left section to open contacts.

Step 2. Tap Manage Contacts from the drop-down list at the right section of the contact list. Choose Export contacts to open an Export contacts box.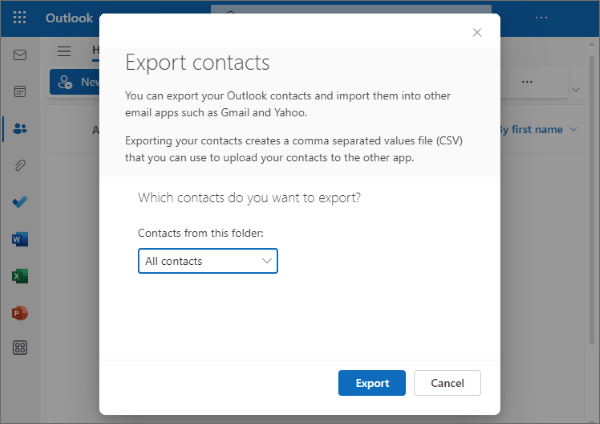 Step 3. From this dialog box, select All contacts or particular contacts. Tap on the Export button. You can then choose the destination folder to export.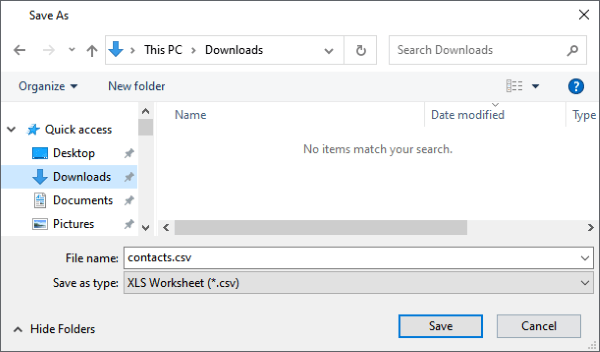 Step 4. Excel files will begin downloading, and you will get your contacts in Excel.
Are you also wondering:
How to Transfer Outlook Contacts to Android? (Up-to-date Methods)
How to Back Up Android Contacts to Outlook [100% Working]
Part 5. How to Transfer Outlook Contacts to Android Using Coolmuster Android Assistant
Coolmuster Android Assistant is your all-in-one tool that has the capability to sync Outlook contacts with your Android device. You can transfer contacts from Outlook to Android or export the contacts to Outlook.
This tool gives users the power to export and import contacts to and from Outlook and computers effortlessly. Apart from that, you can add or delete contacts and backup them up on your computer.
Top highlights ofCoolmuster Android Assistant
Export contact addresses from Android devices to Outlook.
Import contacts list from Outlook to Android.
Allows backup and restoration of Android contacts to PC.
Let users transfer contacts, photos, call logs, SMS, and more between computers and Android.
Intuitive interface.
Edit contact info, and remove unnecessary contacts from a computer.
Support almost all Android device brands.
Install and uninstall apps directly on a PC.
Below are simple steps to transfer Outlook contacts to an Android device:
01Launch the program on the computer and launch Android Assistant.
02Plug in your Android to the computer using a USB. Make sure USB debugging is activated on the phone. After establishing a connection between the computer and Android, you'll see the primary interface.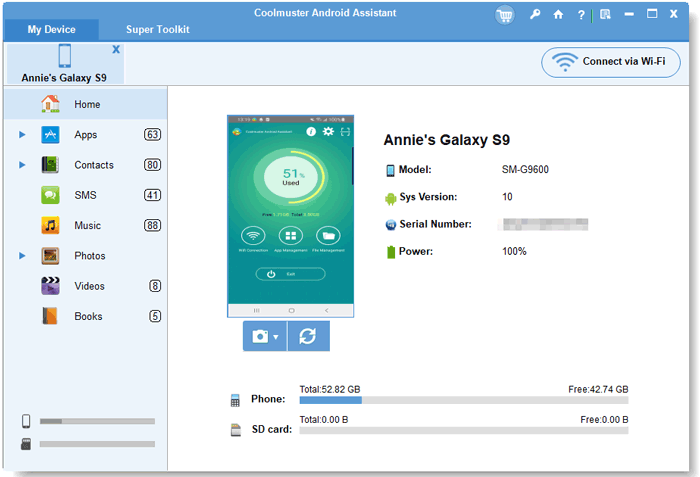 03Select the Contacts option from the left panel and tap the Import and Import from Outlook options from the drop-down menu. Choose the location folder and transfer them to your phone.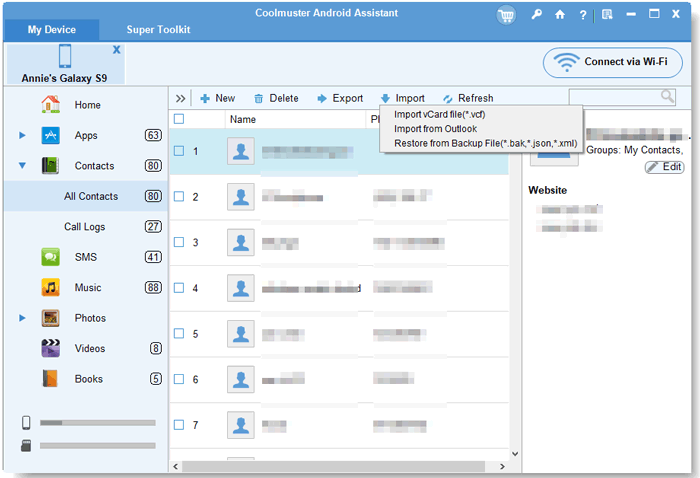 Final Word
This article illustrated how to copy Outlook contacts in simple and quick ways. With these little workarounds, exporting contacts from Outlook should be plain sailing. However, we recommend using Coolmuster Android Assistant to export contacts from Outlook to Android. With just a click, all your contact lists will be transferred over to the phone without a hurdle.
Related Articles:
5 Easy Ways to Sync Outlook Contacts with iPhone Without Trouble
4 Useful Ways to Transfer Contacts from Samsung to PC
How to Export Android Contacts to Excel Format (CSV or XLS)
How to Export Contacts from iPhone? 5 Ways for You Here
Top 6 Ways Focusing on How to Transfer Contacts from Android to Computer