Undoubtedly, iPhones have great features and functionalities. One outstanding feature that can't go unnoticed is the screen, which offers top-notch resolutions while making the device's operation seamless. But, most users encountered iPhone screen flickering issues after updating their devices. This affects the device's functionalities and reduces its performance.
Screen flickering happens when the iPhone screen flashes on and off, shows intermittent brightness, or blacks out. This problem prevents you from having fun with your device. That is why you may look for an effective solution to this screen flickering iPhone problem. If you are staring at a flickering screen right now, don't be disturbed since fixes are readily available for these hitches. Keep scrolling to learn more.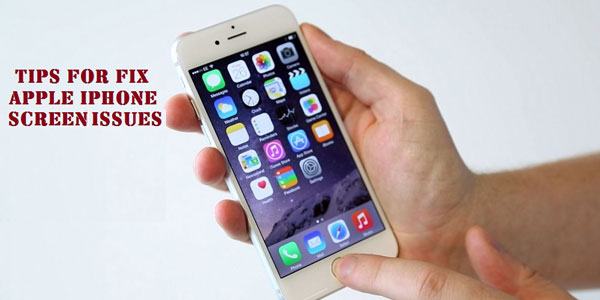 Part 1. Why Is iPhone Screen Flickering?
The iPhone screen blinking on and off doesn't just happen; there is a reason. Here are some of the reasons:
1. Memory problems: If an iPhone has insufficient storage space, you may find its screen flickering, has an unresponsive display, or is operating sluggishly.
2. Water damage: Perhaps your phone has been covered with water for a long time. In this case, it will have a flickering screen, and not to mention, a touch screen may fail to work completely.
3. An issue with iPhone software: If the software update isn't successful, your iPhone screen will flicker.
4. Hardware issues: Maybe you dropped the phone without noticing any issue instantly, which harmed your device's hardware. It might cause the screen to flicker.
Part 2. How to Fix Flickering Screen iPhone Issue Easily
These are the solutions to fix an iPhone device with a flickering screen.
Fix 1. Remove iPhone Glitches in a Few Clicks - Best
Suppose your iPhone screen is flickering because of water damage or an unknown reason. In that case, you can get use iOS System Recovery, a professional software mainly designed to troubleshoot iOS system-related issues.
No matter the state of your iPhone, you will easily fix it to normal with the help of iOS System Recover. As long as it can enter the DFU mode, you can effortlessly solve the iPhone screen glitch problem completely. You don't need any technical skills; it is easy to use, even for starters.
Key features:
Here's how to fix iPhone screen flickering after drop via iOS System Recovery:
01Run the software on the PC and connect iPhone to PC with USB. Click on "iOS System Recovery".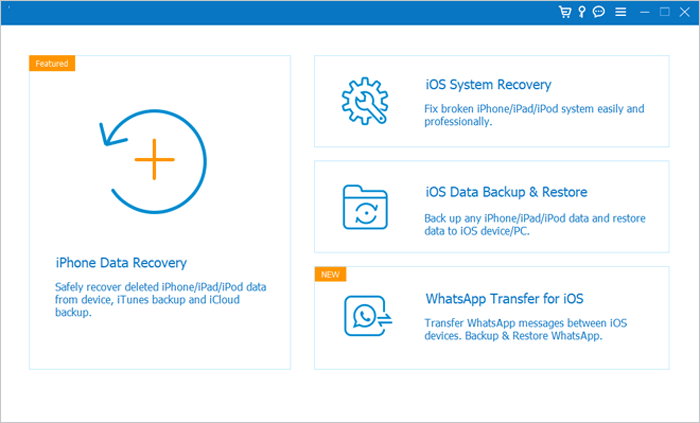 02Tap the "Start" tab and enter the device into DFU mode following the onscreen instructions.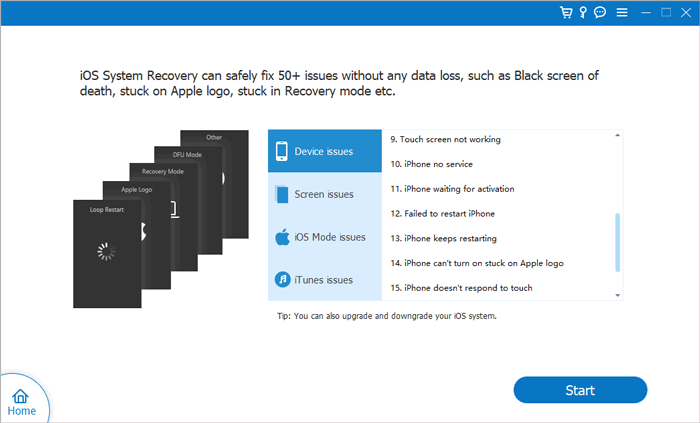 03Click "Repair" to install the right iPhone firmware. After installing the firmware, iOS System Recover will fix the screen flickering problem and return the device to normal.
Read More:
How to Fix Green Lines on iPhone Screen? Proven Solutions Are Here
iPhone Touch Screen Not Working or Responding? Here's The Fix
Fix 2. Force Restart the iPhone
If your iPhone is flickering nonstop, then try force restarting it. It could help resolve the problem and make the phone work normally. Here are steps to do that:
iPhone 8/SE 2nd Gen and later:
Step 1. Press and quickly release "Volume Up" key. Do the same with "Volume Down" key.
Step 2. Press the "Side" key and release it when you see the Apple logo.
iPhone 7/7 Plus:
Step 1. Long press the "Volume Down" and "Side" keys simultaneously.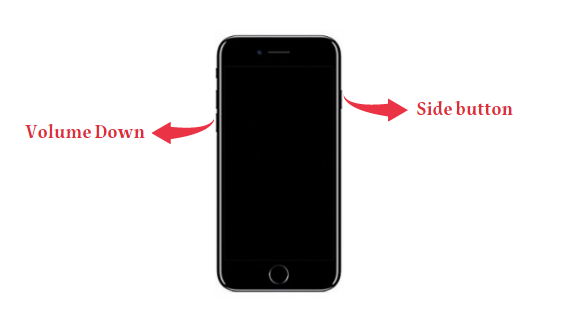 Step 2. Release them when you see the Apple logo on your phone.
iPhone 6s/SE 1st Gen:
Step 1. Long press the "Side" key and the "Home" key simultaneously.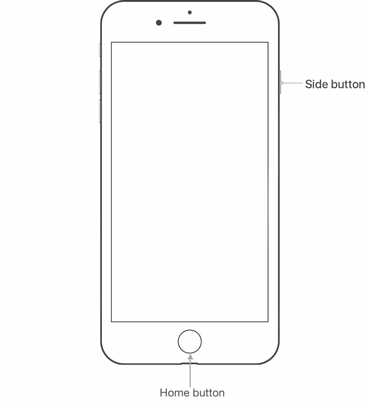 Step 2. Release them when the Apple logo shows on the screen.
See Also: Is your iPhone water damaged? Don't worry, you can check How to Recover Data from Water Damaged iPhone (with or without Backup).
Fix 3. Check If There's Enough Memory and Storage on iPhone
If you find the screen is flickering in green color, it could be considered a performance problem related to your iPhone's memory. For a new iPhone, a user will say that there is enough storage space. Then it means a downloaded application is causing the issue by taking a huge amount of storage. Ensure you check the memory and storage on your iPhone. Here are the steps:
Step 1. Open the "Settings" app on your iPhone, then click on "General" > "iPhone Storage".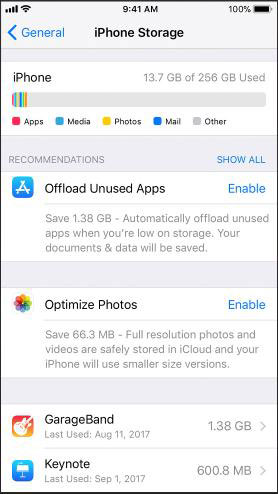 Step 2. Click on the option to check more information about the storage used by apps and the available memory. You can remove the application you aren't using if the storage space isn't enough.
Fix 4. Deactivate the Auto-Brightness Feature
Another solution for flashing iPhone screen issue is to disable the auto brightness function. This is like a tweak that has proved to work for most users. Therefore, it will be ideal if you give it a try. Here are the steps:
Step 1. Open the "Settings" menu of the iPhone and head to "General" > "Accessibility" > "Display Accommodations".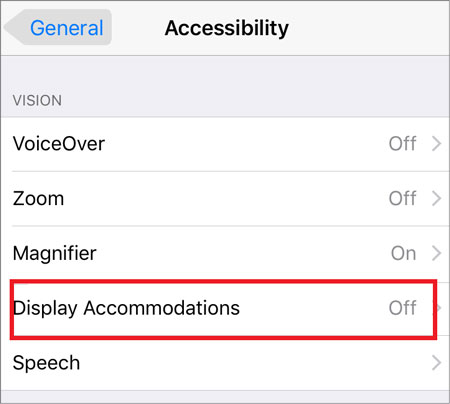 Step 2. Toggle the slider to turn off the "Auto-Brightness" option. Also, you may drag this slider in the control center to increase/decrease your screen's brightness.
Further Reading: iPhone with a broken screen? You may need to learn How to Control iPhone with Broken Screen Effortlessly.
Fix 5. Turn On Reduce Transparency Feature
At times, your phone's background could lead to problems with the screen leading to a shaky iPhone screen. You should try enabling the reduce transparency feature in the device's settings to resolve this. Here are the steps:
Step 1. Head to "Settings" and tap on the "Accessibility" option.
Step 2. From there, head to "Display & Text Size".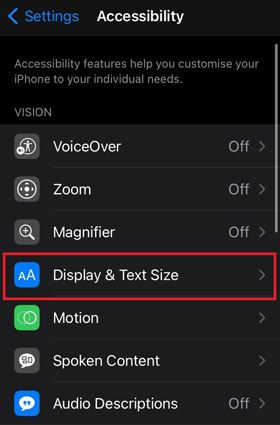 Step 3. Tap on the "Reduce Transparency" option.
Fix 6. Update iPhone
An outdated iOS is also another reason for the shaking iPhone screen problems. Make sure you update the phone's software when an update is available. Here's how to do that:
Step 1. Head to the "Settings" menu and click on "General".
Step 2. Tap on "Software Update" and click on "Automatic Updates". Enable "Download iOS Updates".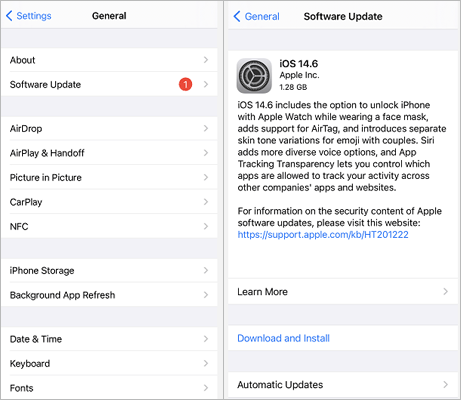 Step 3. Click on "Install the iOS Updates", and the latest iOS version will update on your phone automatically.
Can't Miss:
How to Fix iPhone Purple Screen of Death? 4 Easy Solutions
How to Unlock iPhone with Unresponsive Screen? [Full Guide]
Fix 7. Remove the App Causing the Screen to Flicker
Sometimes when you install an application from the App Store, you'll find the screen unresponsive, and it may start to glitch and flicker uncontrollably. In such a case, the only solution you will have to do is uninstall it. Here are the steps:
Step 1. Find the application on the Home screen.
Step 2. Long press on the application icon.
Step 3. Click on the "X" icon at the top of the application icon.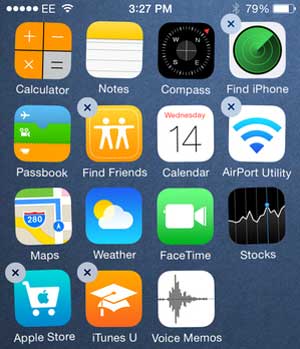 Step 4. Click "Delete".
Fix 8. Boot iPhone Into DFU Mode
DFU mode, also known as Device Firmware Update, is a state where you can put the iPhone into troubleshooting for issues like blue screen, white screen, black screen, grey screen, etc. It may also upgrade/downgrade your firmware to the latest version.
It boosts the iPhone to be in direct interface with your iTunes, thus enabling you to easily access the repair features. This mode was designed as a tech expert function but is still pretty easy to use. Follow these steps to put the iPhone into DFU mode:
Step 1. Launch the iTunes application on the computer and switch off the iPhone.
Step 2. To put the iPhone into DFU Mode, hold the "Volume Up" + "Volume Down" buttons. Next, press the "Side" button. Hold these three buttons for about 10 seconds till your phone's screen turns black.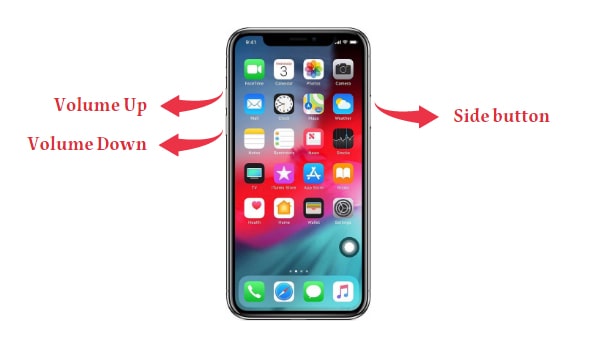 Step 3. Now press only the "Volume Down" key while holding the "Side" button for 5 seconds.
Step 4. Release the "Side" button and keep pressing the "Volume Down" key for 10 seconds.
May Like:
iPhone Blue Screen of Death? Here are 7 Easy Ways to Fix
Troubleshooting the Bottom of iPhone Screen Not Working - 2023 Update
Fix 9. Contact Apple Supports
The reason why you are getting the iPhone X screen flickering and the unresponsive problem might also be due to the iPhone's hardware. Though it is common to have a device with a hardware problem, especially after using a newly released device for some time, still it's rare.
Apple's focus is always on making quality mobile phones. However, if you get screen flickers and glitches on your iPhone and are sure it's not software problems, then the issue lies with the device's hardware. You may reach out to Apple support or a retail store where you purchased the device. They will help repair your iPhone.
Wrap Up
The world of mobile phones is so vast, and due to technological advancements and features, problems are bound to happen. Some of the problems can be easily solved, while some can be tricky, and you may have to live with it. With the methods mentioned above, you can resolve iPhone screen flickering issues. However, nothing can beat the iOS System Recovery. It doesn't matter the situation; iOS System Recovery can fix your iPhone to normal.
Related Articles:
How to Solve It When iPhone Keeps Crashing? 9 Easy Tricks
How to Fix the iPhone Stuck on the Emergency SOS Mode Issue?
9 Best iPhone Repair Software to Fix All iPhone System Problems with Ease (2023 Review)
iPhone Screen Keeps Going Black | Useful Tricks Help You Fix It
What If My iPhone 14/13/13 Pro/12 Screen Is Yellow? Here's The Fix!
How to Transfer Data from Broken iPhone to New iPhone? (4 Ways Out)