I accidentally dropped my Samsung Galaxy S7 down from stairs and the phone screen was broken and totally black. Fortunately I can hear responses from the phone when I press the volume buttons. Now, I want to know if I can view call logs on the broken Samsung because I missed a very important call from my client. Is there any way that I can check call history on a broken Samsung? And if the answer is YES, how?
Well, accessing and recovering data from a Samsung phone with black or broken or locked or dead screen is a commonly asked question and really disturbing many users. When coming to viewing call history on a broken Samsung phone, you can use a mobile data recovery program to recover data from the broken device. Then, you can recover not only call history, but also other important file types from your broken Samsung Galaxy handsets.
Broken Android Data Extraction is just such a desktop program to rescue call logs, contacts, text messages, photos, videos and other more data from Samsung Galaxy phone with a broken or unresponsive screens, system malfunctions and failures, black screens, screen stuck on booting or download mode and so on. This broken Android data recovery software currently supports recovering data from broken Samsung Galaxy S8/S7/S6/S4/Note 5/4/3/Tab Pro 10.1.
If your Samsung phone is supported by the program, you can follow the the steps in the below to check your call logs on your broken Samsung device. Before that, you should click the following button to get the program downloaded on your computer.
Steps to Check/Recover Call Logs on Broken Samsung Galaxy
Step 1. Launch the Broken Samsung Data Recovery software on your computer and use a USB cable to connect your broken Samsung phone to the computer. Choose the "Broken Android Phone Data Extraction" option on the bottom left part of the interface.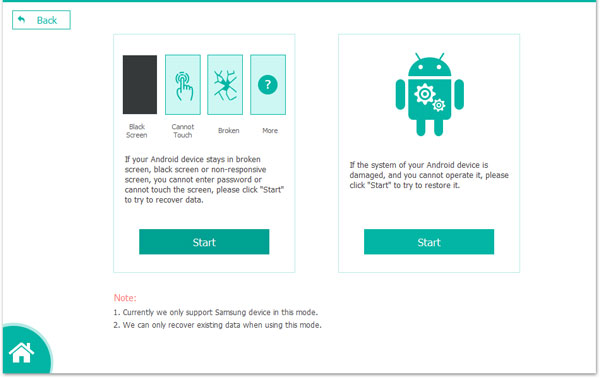 Step 2. Click "Start" button to recover data from the broken device. Then, confirm your phone's name and model and click the question mark for instruction.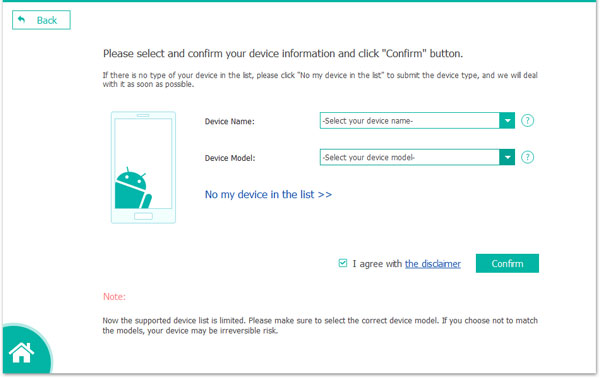 As your Android is stuck at booting we have to select the "Fix Device" option. You will be presented multiple options showing causes of Android malfunctioning. Choose the "Stuck in the Startup Screen" option which is the leftmost.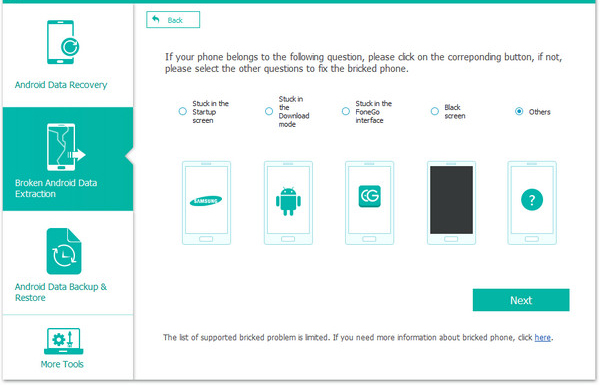 Step 3. Now just do as the software prompts to enter the download mode on your Samsung. Then hit "Start" to automatically search for firmware to resolve the booting problem.
Step 4. Now you will see all your Samsung data are scanned out in different categories. You can tick off the "Call History" if you only want to check call history. Then, click "Recover" if you want to save the call logs on your computer.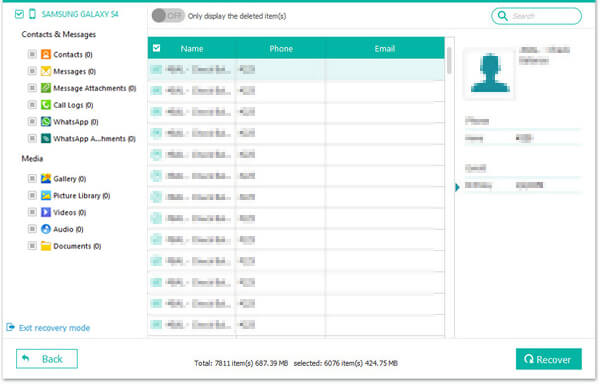 Now, you can install the broken Samsung recovery software to have a try by yourself.
Check Supported Devices of Broken Android Data Extraction
Samsung Galaxy Note:
Note 3: SM-N900, SM-N9002, SM-N9005, SM-N9006, SM-N9007, SM-N9008 SM-N9008V, SM-N900S
Note 4: SM-N9100, SM-N9106W, SM-N9108V, SM-N9109W, SM-N910C, SM-N910F, SM-N910G, SM-N910H, SM-N910K, SM-N910L, SM-N910P, SM-N910R4, SM-N910S, SM-N910T, SM-N910U, SM-N910V, SM-N910W8
Note 5: SM-N920C, SM-N920G, SM-N920I, SM-N920K, SM-N920L, SM-N920P, SM-N920R4, SM-N920S, SM-N920T, SM-N920W8
Samsung Galaxy S:
S4: GT-I9500, GT-I9505, SCH-R970, SCH-R970C, SGH-I337M, SGH-M919, SPH-L720
S5: SM-G900F, SM-G900FQ, SM-G900I, SM-G900K, SM-G900L, SM-G900M, SM-G900P, SM-G900R4, SM-G900R6, SM-G900S, SM-G900T, SM-G900T1, SM-G900W8
S6: SM-G9200, SM-G920F, SM-G920P, SM-G920T, SM-G925F, SM-G925P, SM-G925T, SM-G928P, SM-G928T
Samsung Galaxy Tab:
Tab Pro 10.1: SM-T525
Related Articles:
Samsung Galaxy Desktop Manager Software