Retrieve Deleted Photos/Videos on Xiaomi Phones
Xiaomi is known for creating phones with exceptional camera features. The high-quality pictures and videos taken by a Xiaomi device are a treat for your senses, and your inner photographer relishes in the glory. However, what follows is deep sorrow in case you lose these media files from your device due to some mishap. There are many cases can cause data loss problems on your Xiaomi or Redmi phones, but it is important now to focus on how to retrieve photos and videos on Xiaomi rather than lamenting.
There are a number of ways you can retrieve your lost files on your Xiaomi mobile phone. Quite a number of apps can help you to do this successfully - the most notable one being the Coolmuster Lab.Fone for Android. And if you have ever backed up your Xiaomi phone, either on the phone itself or any cloud service, you can restore deleted Xiaomi/Redmi photos and videos from the backup directly.
Solution 1: Retrieve Deleted Photos/Videos on Xiaomi Phone Directly without Backup (Hot!!!)
Solution 2: Restore Lost Photos and Videos from Xiaomi Backup
Solution 3: Recover Lost Xiaomi Photos/Videos from Cloud Backup
Solution 4: Restore Photos/Videos Deleted on Xiaomi from Google Backup
Solution 1: Retrieve Deleted Photos/Videos on Xiaomi Phone without Backup
Coolmuster Lab.Fone for Android (with its Mac version - Lab.Fone for Android Mac) is a data recovery program allows to recover any lost or deleted photos and videos, as well as contacts, text messages, audio files, call history, etc. both from the internal memory of your device and the external SD card. It makes the process much simpler and less time-consuming that you do not have to worry at all. This Android data recovery software understands your urgency for the retrieval. Not only Xiaomi Android phones, it also works with Samsung, HTC, LG, Sony, Motorola, ZTE, Huawei and many more Android devices.
As one of the best photo recovery apps for Android, the procedure of retrieving deleted photos and videos from Xiaomi phone by using Lab.Fone for Android is simple and you should not get worked up about it. The following guide will tell you how. By the way, we also have a guide tells you how to recover contacts/SMS from Xiaomi phones. We also kindly suggest you back up Android phone on computer, so that you can restore your phone after a data loss issue easily.
Below is the tutorial on how to recover lost photos/videos/audio and other file types from Xiaomi/Redmi, with the help of Lab.Fone for Android software.
Step 1. Launch Xiaomi data recovery software
Your first task is to run the Coolmuster Lab.Fone for Android on your computer successfully. Download it first, and then install it by following the step-by-step instructions that will pop up. After you are done, double click the desktop icon to launch the program. Make sure to enable USB debugging on your phone, and then connect it to the computer via a USB cable or WiFi.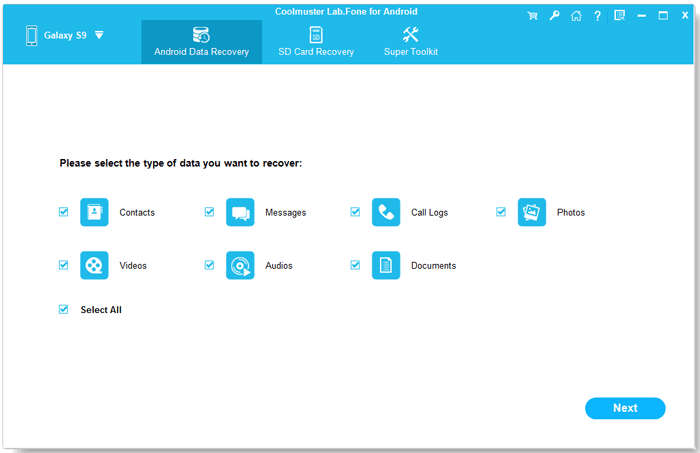 Step 2. Scan Xiaomi for lost photos and videos
Select "Photos" and "Videos" and even "Audio" categories from the main interface, and click "Next" button to let the software scans the internal and external memory of your Xiaomi phone to find out all the lost photos and videos you need.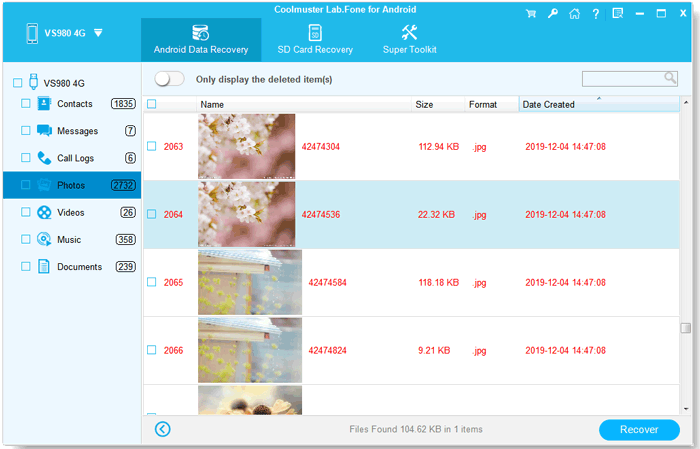 Step 3. Retrieve photos/videos on Xiaomi phones
Preview and choose the media files you want to recover and give a click on the "Recover" button on the bottom right. After that, Lab.Fone for Android will complete the process immediately. Lab.Fone for Android has your back, do not worry about losing your beloved photos anymore!
See Also:
How to Recover Deleted Camera Photos from Android
How to Recover Deleted Photos from SD Card on Android Phone
Solution 2: Restore Lost Photos and Videos from Xiaomi Backup
Xiaomi Mi5/4/3/2 are equipped with their own backup options to help users easily back up and restore data. If your Xiaomi phone has this Backup App, you can always use it and it will save your files for one day. For details on how to do this, you can refer to the following steps:
Part 1: Backing up Your Xiaomi Phone
1. Launch the Backup app on your Xiaomi phone.
2. By default, the Backup app has selected certain items for backup, but you can also customize the applications, settings, and content that you want to back up.
3. When the selection is complete, click the "Backup" button.
4. The backup will proceed immediately and notify you when it is complete.
Once the backup is successfully completed, you can follow the steps below to restore what you want.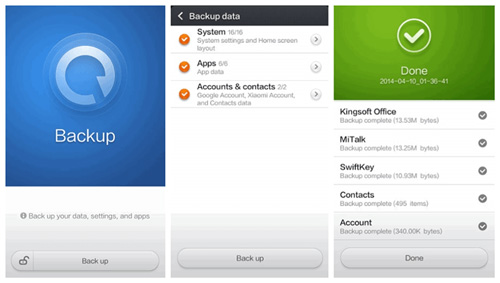 Part 2: Restore Xiaomi Data from Backup
1. Open the Backup app on your Xiaomi device.
2. All backup files will be displayed. Please select the backup file you need.
3. Click on the "Restore" button below and all backups and settings will be restored to this device.
Read More:
SMS and Contacts Recovery for Sony Phones
How to Recover Deleted Videos from SD Card
Solution 3: Recover Lost Xiaomi Photos/Videos from Cloud Backup
Xiaomi once claimed that it is more like a software company than a hardware company, and they have launched their cloud platform called Mi Cloud, so that their users can enjoy safe and convenient backup and restore services. It has 5 GB of free space, allowing you to save or sync all your photos, videos, audio files and more.
Using Mi Cloud to back up and restore your Xiaomi phone data, all you need are a stable network connection and a cloud account. Here are the specific steps:
Part 1: Backup Xiaomi mobile phone to the Cloud
1. Log in to your Mi account on your mobile phone. If you do not have an account, please use your mobile phone number or email address to register your Mi account.
2. Go to "Settings" > "Mi account" > "Mi Cloud" > "Backup Device" and turn on "Mi Cloud Backup".
3. Customize your backup settings by going to "Manage Backups".
After completing the above settings, each time your device is connected to the wireless network, it will automatically be backed up to the Cloud.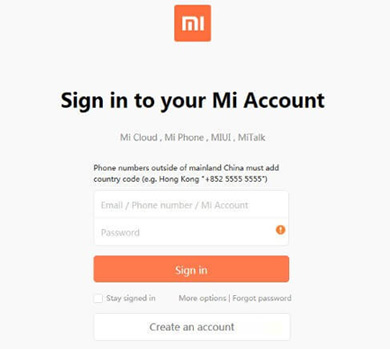 Part 2: Restore backups from the Cloud to Xiaomi phone
1. Log in to your Mi account on your Xiaomi phone
2. Go to "Settings" > "Mi Account" > "Mi Cloud" > "Restore from Backup".
3. Select the backup file you want to restore and click "Restore using this backup".
The backed up files will now be successfully restored to your Xiaomi phone.
Solution 4: Restore Photos/Videos Deleted on Xiaomi from Google Backup
If you've linked your phone to a Google Account before data loss, the necessary phone data will be automatically backed up to Google Drive. Then just follow the steps below and you can recover Xiaomi phone data from your Gmail account.
Step 1: Factory reset your smartphone and reboot it.
Step 2: On the welcome screen, you will be asked to enter your Google account login details to the phone.
Step 3: Make sure to use the same Gmail account that you used to back up your Xiaomi phone data previously.
Step 4: Click on "Restore" option and all of your backup data will be recovered from your Gmail account to your Xiaomi phone.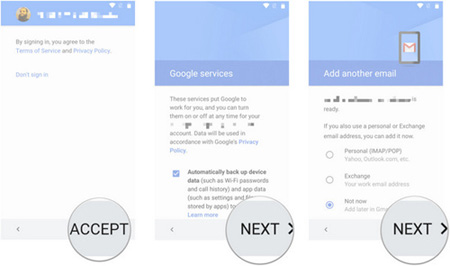 Conclusion
In this tutorial, we just learned how to recover data from a Xiaomi smartphone. In addition to the professional android data recovery software we mentioned in Method 1, the other three methods require you to back up your phone in advance, and the types of files that can be recovered are very limited. The worst part is when the Internet connection is bad. You need to spend hours to complete the file recovery work. Therefore, we sincerely recommend Lab.Fone for Android to help you recover lost Xiaomi data. First, it does not require backup to complete the recovery work. In addition, it supports all Android devices and almost all file types. Easy to use and powerful! I hope you like this article, don't forget to subscribe to us.
Related Articles:
How to Recover Messages from Broken Android Phone
Recover Messages from Android with Black Screen
How to Import Photos from iPhone to Windows 10
How to Recover Call History from Samsung
How to Recover Deleted Contacts from HTC One
How to Transfer Photos from iPhone to Computer without iTunes