You must be worried when your text messages, especially those carrying important information, are deleted on your LG phone, but you have no any backup (click here to learn how to back up LG on computer). At this time, you must want to recover deleted text messages from LG handset. Yes, they can be recovered and you can have them back, because they aren't completely deleted. In fact, when the SMS is deleted, only the boot area is closed, so you can't have access to reading the messages. They themselves still exist in the SIM card or the phone memory. Only when new messages come, they'll be covered.
Thus if you lose your messages, seek for solution as soon as possible instead of sending new messages out. This post will recommend three different methods to help you perform SMS recovery for LG W41 Pro/W41/W31/W11 with or without backup.
Solution 1: Recover Deleted Text Messages from LG without Backup (Hot!!!)
Solution 2: Restore Lost SMS/MMS/Texts from LG Backup
Solution 3: Restore LG Phone Deleted Text Messages From SMS Backup App
Solution 1: Recover Deleted Text Messages from LG without Backup
When stuck in such a situation that you accidentally deleted text messages from your LG mobile phone but without any backup, you'll need Coolmuster Lab.Fone for Android, which helps you recover deleted data from LG easily. It surely enables you to recover the deleted text messages from your LG phone directly without the need of any backup. This tested software provides different kinds of powerful data recovery functions, and text message recovery is one of them. With it, you won't have to be worried about losing your text messages, and no important data will be missing. Andrew should use this useful tool to get his message back, and you should too.
Next time when you encounter such a problem, don't panic, for you've got a great helper here! Lab.Fone for Android can also help you get back deleted LG photos and videos, contacts, call history, videos and more from LG and more other Android phones. Just download it for free via the link below, install it on your computer. Read on the below step-by-step guide to learn how to restore deleted text messages from an LG phone.
Below are several Steps to retrieve text messages deleted from LG mobile phones by using this LG SMS recovery tool:
Step 1. Connect your LG mobile to computer
To begin with, you should get your LG handset linked with the computer via a USB cable. Once the connection is successful, you can launch the installed SMS recovery software for LG and it will automatically detect your plug-in device.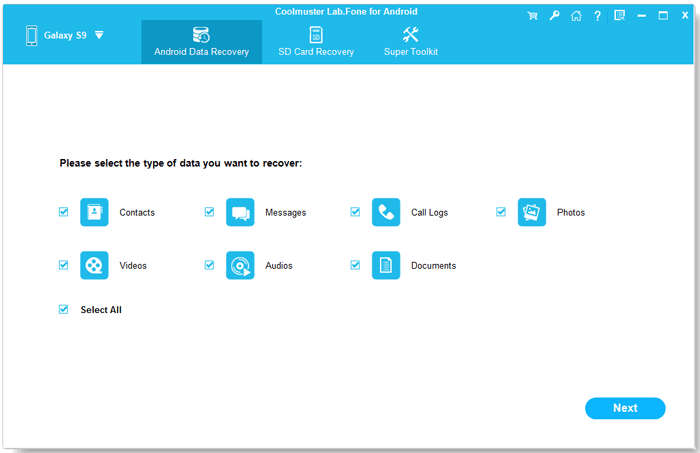 Tips: All LG phones can be supported by this software, including LG Optimus, LG G7/G6/G5/G4/G3/G2, LG Viper, LG Ally, etc. And not only LG mobiles, the software also works on other Android devices, including Motorola, HTC, Samsung, ZTE and so on.
Step 2. Enable USB Debugging Mode on your LG phone (Optional)
In the second step, we need to enable USB debugging on the connected phone. The activated USB debugging is used for synchronizing data between your device and computer. If you have already opened the USB debugging, you can move to the next step. If not, you need to follow the steps below to enable USB debugging mode on your Android phone.
Once the USB debugging mode has been enabled successfully on your phone, click "Allow" on your phone to allow the program super user authorization when an Superuser Request pops up. Then, the launched program will automatically detect your phone and show its parameter information on the main interface.
Step 3. Scan for the lost SMS messages on your phone
Choose the file types you want to recover and click "Next" button to let the software scan your LG phone deeply. Here, you should select the "Messages" tab. After a short waiting time when the scan finishes, all the lost text messages on your phone will be displayed.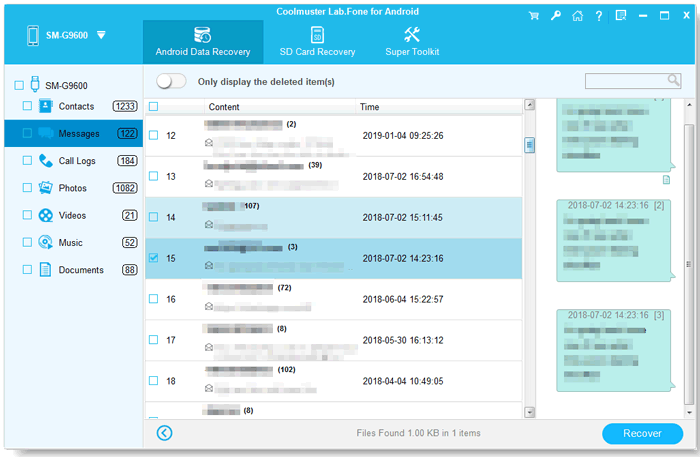 Step 4. Preview and recover the target SMS
Preview the scanned out text message conversations one by one, check those you need to recover and click on the "Recover" button to bring out the path choosing dialog. Just specify an output location from your computer or external storage device for saving the recovered LG text messages and then the recovery process will begin immediately.
After a few while, the SMS recovery will be finished successfully. Then, you can turn to the output location to check the recovered text messages. They are saved in .html format and you can choose to save them on your computer as a backup or you can use Coolmuster Android Assistant to sync them to your LG phone again.
By the way, Android SMS + Contacts Recovery is specially designed to recover lost or deleted contacts and text messages from Android phone.
Video Tutorial
See more:
How to Recover Deleted Text Messages Android without Root?
Top 5 Android Data Recovery Software You Can't Miss
Solution 2: Restore Lost SMS/MMS/Texts from LG Backup
If you regularly back up your LG phone data, congratulations, you can restore lost data from your LG backup without using any tools. Just follow these steps:
Step 1. Open your LG phone, select "Settings" > "Backup & reset", then click "LG Backup service" or "Restore from backup".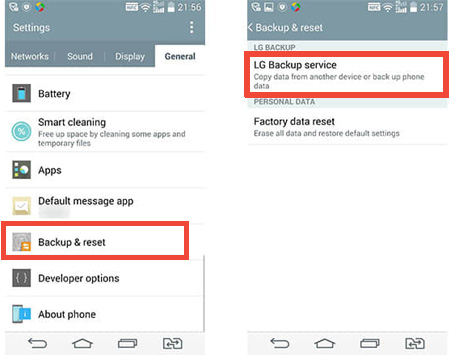 Step 2. Select "Personal data backup", then you can select the type of data to be restored, such as contacts, SMS, MMS and multimedia files. If you only need to restore SMS, then just check "Text Messages" and click "Next" to begin the recovery process.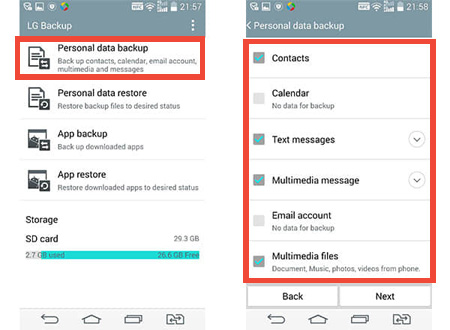 Step 3. When the SMS recovery process for LG is completed, the system will pop up the "Restore completed" prompt. At this time, you can click "RESTART" to reboot your LG phone. After the phone is restarted, the SMS will be successfully restored.
Solution 3: Restore LG Phone Deleted Text Messages From SMS Backup App
You can also use the SMS Backup & Restore App to help you back up your LG phone data and restore deleted files from the backup. The SMS Backup & Restore App is a very handy Android app available in the Google Play Store that can be used to help you back up and restore text messages deleted on your LG device.
Therefore, if you have used the SMS Backup & Restore App on your LG device to back up deleted text messages, you can see the "Restore" option in this app. Just click on the "Restore" option and all deleted text messages will be restored to your phone from the backup. It's that simple.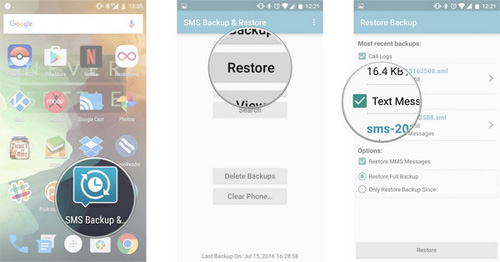 Words in the End
Honestly, you can find a lot of ways on the web to recover your LG mobile phone text message, but we insist on using this Android data recovery application - Coolmuster Lab.Fone for Android, because it is very simple to use. With just a few mouse clicks, your lost LG SMS is back. In addition, you can also use it to recover more types of Android phone data. By the way, get a new iPhone and want to transfer all the data on your old LG phone to it? We have a special article on how to use a phone transfer app to transfer data from LG to iPhone. If you are interested, you can click on the link to see the specific instructions.
Related Articles:
How to Recover Lost Data from Sony Xperia?
Motorola Android Phone Recovery - How to Recover Deleted Files Easily
Ultimate Guide on How to Recover Deleted Camera Photos from Android
Recover Deleted Contacts from Samsung Galaxy/Note
How to Recover Call History from Samsung