Top 3 Android Repair Software in 2017
There are more than a handful of Android system issues that could arise at any moment, including system slowdowns, unresponsive startups, hanging errors, frozen interface, stalled text messages, application crashes, among others. Fortunately, there is Android repair software to make them issues of the past once and for all. There are three, in particular, that are being the talk of the town due to fixing issues from the root, numerous positive reviews, and for being 100% free.
Part 1. What Should You Do before Using Android Repair Software
Part 2. Top 3 Free Android Repair Software for Your Choice
Part 1. What Should You Do before Using Android Repair Software?
Before you start to choose one of the repair software in the below to fix your Android system, you'd better backup your Android data in advance in case of data loss. To backup and restore your Android phone data easily, we kindly suggest the Coolmuster Android Assistant, which can help you backup all content from Android to computer, including contacts, text messages, photos, videos, music, apps, etc. and restore them to your Android device with one click.
Free download the Android Assistant from the buttons below and see how to use it to backup and restore Android device:
Step 1: Using a USB cable to connect your Android phone to your computer. Launch the Android Assistant and it will detect the phone at once. To backup Samsung, you can click on the "Super Toolkit" option on the top. You will see two options: "Backup" and "Restore".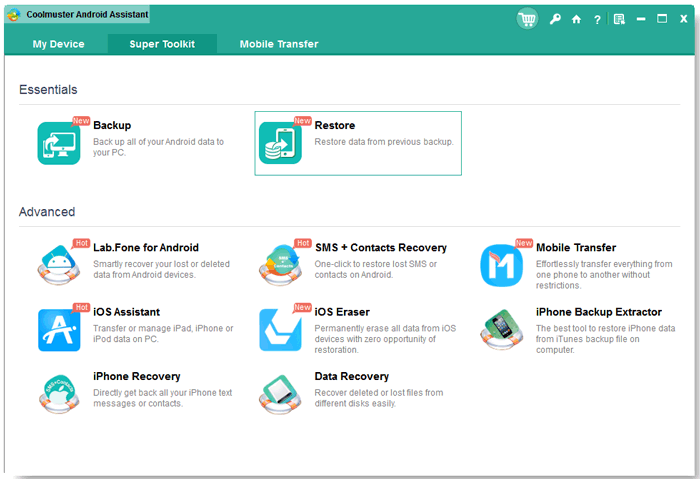 Step 2: To backup Android to computer, you should click "Backup" option, choose the content that you want to back up and select the destination folder where it needs to be saved. Then tap the option "Back up" at the bottom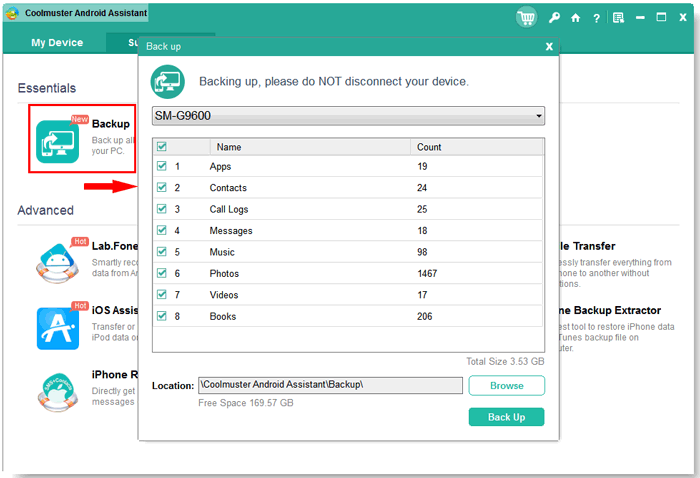 Step 3: To restore backup file to your Android, you should click "Restore" option, select the backup file you want to restore and tap the option "Restore" at the bottom.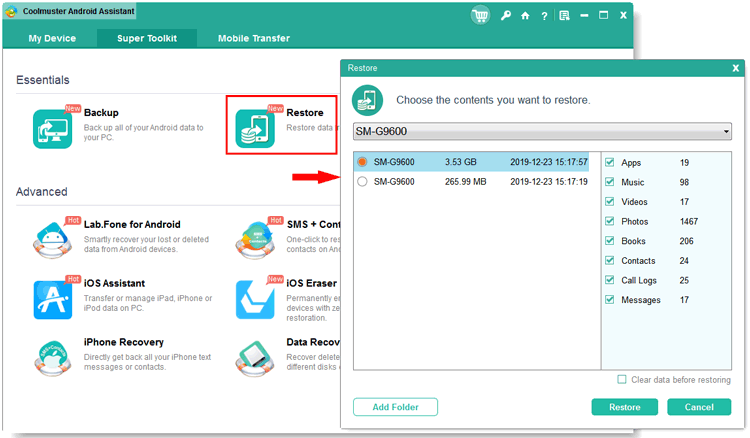 Read More: Top 5 Android Backup and Restore Software
Part 2. Top 3 Free Android Repair Software for Your Choice
1. System Repair for Android
Download URL: https://play.google.com/store/apps/details?id=com.systemrepair2016.cgate.systemrepairforandroid2016&hl=en
Features: This software provides your device with the maximum stability and performance. It undertakes the task of checking your system in order to find and then combat the matter at hand. It is a reliable solution that functions upon your order. More than one million individuals around the globe have already taken advantage of it. It has recently been updated and thus provides a faster service.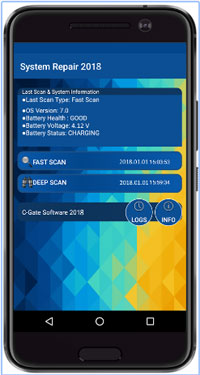 User Reviews:
- On December 26, 2017, on Google Play Store, Anne L. posted "Worked for me, as it was able to fix a stuck headphone-mode problem. I give it 10/10 stars".
- On December 21, 2017, Javed M. posted "My pixels were somehow damaged, but thankfully, this application was able to fix it. Thanks! Keep up the good work with the updates!"
Read More: Top 5 Android Desktop Managers
2. System Repair for KitKat
Download URL: https://play.google.com/store/apps/details?id=com.kitkat.cgate.systemrepairforkitkat&hl=en
Features: The creators of this software really like taking into account the reviews of people who have utilized it; therefore, they are not afraid to update their software in order to meet the preferences of as many people as possible. This is an action that not a lot of software creators undertake, being of the main reasons why System Repair for KitKat has been growing in popularity in the last few months. It is now more stable and functions faster than before. If your device is having root issues, works slows, and/or you often notice 'stopped responding' messages, this solution can get you right on track within a timely fashion manner.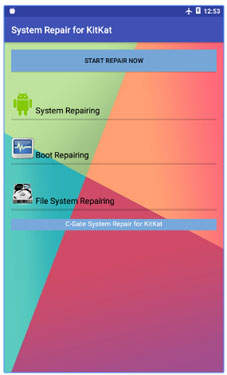 User Reviews:
- On August 22, 2017, on Google Play Store, Dimply K. posted "It is working so fast. I like this application. At first, I believed this application was fake, but once I used it, I realized it is not a fake application. Well done. Thanks a lot."
- On December 13, 2017, Kazi A. posted "I was facing a loop problem, but this application was able to help me resolve it. I do not know how it works, but it simply works . . . really works!"
3. Dr. Android Repair Master
Download URL: https://play.google.com/store/apps/details?id=com.tabpagetry.cgate.drandroidrepairmaster
Features: This tool is being regarded in several reviews as one of the top solutions to solve even the nastiest Android system errors. We have to say that the creators of it really knocked it out of the park! It delivers as promised every time you need it to come to the rescue. It can check your entire system in a matter of minutes and resolve any matters present so that you can go back to utilizing your device with peace of mind that your device is in good shape.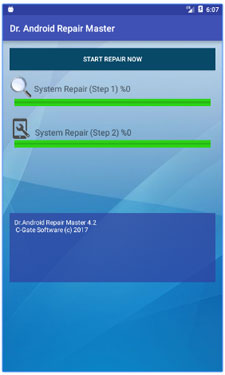 User Reviews:
- On July 10, 2017, on Google Play Store, Haryanto S. posted "At first, this application was silent, making me think that nothing was happening. It thought it was fake, but it does work! This application was able to solve my system errors. Love it.
- On September 5, 2017, Bibi K. posted "This is a very good application. 100% good! It was able to repair my device! Great job, guys. Do not change anything about it!
How to Choose? It Is a Matter of Preference!
By utilizing any of the previously mentioned solutions, your Android system no longer has to come to a halt due to an issue. All of these three options of Android System repair programs are fantastic in what they do. When it comes to choosing one of them, it is just a matter of preference!
Related Articles:
Top 5 Android eBook Readers You Should Know