A recent news that Samsung ranks first in the number of 5G patent licenses has drawn many people's attention. That means Samsung is about to launch 5G mobiles. Admittedly, the coming of 5G era has also witnessed the living conditions of many people. Taking high-definition photos and watching ultra-definition videos and movies are increasingly catching on. Now it is normal for everyone to have a smart phone, and Samsung is undoubtedly a better choice for people throughout the world. People who often use Samsung know that a smart mobile needs to be equipped with a pro Samsung device manager.
In the face of all kinds of Samsung device manager apps, how can you choose from them? Is there any software introduction and usage recommendation? Well, that's a good question. I'll let you trace the answers to your questions.
Part 1. Samsung Device Manager - Coolmuster Android Assistant (Astonishing)
Part 2. Samsung Device Manager- Samsung Kies
Part 3. Samsung Phone Manager - Find My Device (Android Device Manager)
Part 4. Samsung Device Manager - My Phone Explorer
Part 5. Samsung Device Manager App - Double Twist (Multimedia Files)
Part 6. Samsung Device Manager - AirDroid (Mac Only)
Part 7. Samsung Mobile Manager - MobiLedit
Part 1. Samsung Device Manager - Coolmuster Android Assistant (Astonishing)
Have no patience with looking through the manual of your searched software one by one? But don't want to miss a reliable tool? If you are in dilemma, the first part you see now should not be ignored. Because it is the first software that I have tried and managed Samsung phone from PC.
Coolmuster Android Assistant is a green, lossless, and safe Samsung device manager for PC. Admirably, there are millions of regular customers of this tool around the world. It is a professional tool that can improve your work efficiency on PC, for it can seamlessly transfer your chosen files.
You may wonder why so many people choose this app? I think you might get some enlightenment after looking at its features.
Some of the amazing properties of Coolmuster Android Assistant:
> Work well on almost all the Samsung models and other Android phones, including Samsung Galaxy S23/S22/S21/S20+/S20/S10/S10+/S10e/S9+/S9/S8+, Galaxy Note 20 Ultra/Note 20/Note 10/ Note 9/Note 8/Plus/Note 8/Note 7, Galaxy A11/A10/A9/A8, etc.
> Transfer photos from Samsung to PC, and also support other data types like contacts, SMS, music, videos, call logs and so on.
> Take screenshots and send photo library to camera, import contacts, SMS, call logs from PC to Samsung.
> Install apps from PC to Samsung, uninstall chosen apps from Samsung.
> Back up and restore Samsung selectively or in batches and safe, clean and error-free transfer.
> Edit, add, or delete Samsung contacts on your Windows PC or Mac computer.
Download this Samsung device manager to have a try:
Simple guide on how to manage Samsung data on PC with this Samsung device manager:
1. Connect Samsung to PC via a USB cable and turn on USB debugging on your Samsung for the detection. Then press Allow or OK to move ahead. Your Samsung will be detected in seconds.
2. Select the desired data types from the left sidebar, for instance, you can choose SMS and tap on New, Delete, Export, Import, Refresh or Reset as required to manage Samsung phone from PC.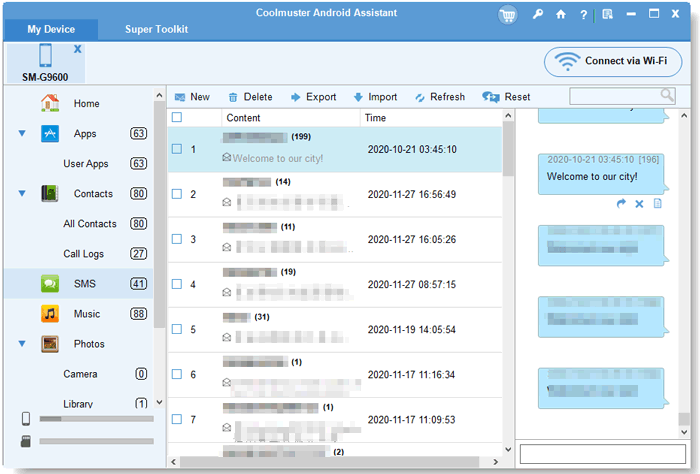 Tips: Want to make a full backup for your Samsung? This tool allows you to Back up and restore Samsung with 1 click.
Part 2. Samsung Device Manager- Samsung Kies
Samsung Kies offers the management of Samsung phones by connecting Samsung to PC. It is the official tool of Samsung based on Android devices and supports Android 4.3 or above. Samsung Kies also allows you to receive and install firmware updates for Samsung and update them regularly (a little bit too often ).
In addition, it allows you to transfer and manage files such as contacts, call logs and calendars between your mobile device and Mac. If you are a Microsoft Office user, Samsung Kies can help you synchronize Microsoft Outlook content on your computer with Samsung phone.
What's more, it is also a useful backup solution to back up localized data on Samsung devices, including bookmarks, settings (like general settings or Wi-Fi lists), notifications, contacts, music, videos, or photos. However, it's unable to back up DRM protected multimedia.
Pros: support to set up automatic synchronization and synchronize your data to Mac or Window PC.
Cons: unable to detect some Samsung devices and difficult to synchronize them.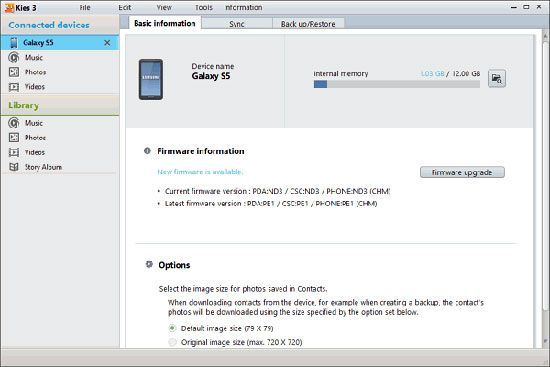 You May Want to Know:
How to Restore Samsung Kies Backup to Android?
Samsung Kies Cannot Detect My Phone. How to Fix?
Part 3. Samsung Phone Manager - Find My Device (Android Device Manager)
Find My Device (also known as Android Device Manager) is a web application that enables you to find your lost Android device and erase the missing mobile data remotely.
To eliminate all the complexities of trying the program, you must link your commonly-used Google Account to your Samsung before using this tool. Then it will automatically start extracting info. After connecting, the software will display all currently connected devices for management, therefore you don't have to worry about the misplacement of your Samsung. All data operations and tracking display will be completed by this tool.
In addition to helping you trace your phone that is missing or misplaced, it can reset your screen lock and delete all phone data for security reasons as well. And if you are looking for other free alternatives, there will appear installation steps and antivirus tips simultaneously.
Pros: compatible with your Android watch too.
Cons: not as feature-packed as other similar programs, and GPS cannot be switched on remotely.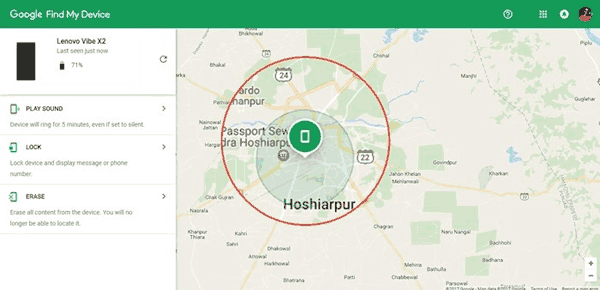 Part 4. Samsung Device Manager - My Phone Explorer
If you have a My Phone Explorer, you can manage Samsung phone from PC. The interface of this tool is smooth, and its package can detect the device when connected with a USB cable, Bluetooth or Wi-Fi. But the installation process is a little complicated (the methods of connection vary from different devices).
When you start syncing, you can access almost everything on your Samsung from your computer. One of the most important features is that it coordinates with your contacts. You can do this simply by clicking on the contacts tab under Samsung or SIM options. Likewise, My Phone Explorer lets you sync directly to Outlook, Outlook Express, Lotus notes, and Thunderbird.
It can also display all information from Samsung in a format that is easier to read than in the device itself. For example, you can access and manage your manager, alarm, message, and settings. What's more, as it has its own cache system, data can be transferred from Samsung to PC quickly.
Pros: support a range of E-mail clients and offer quick file transfer.
Cons: bind with eBay toolbar and slightly complicated installation processes.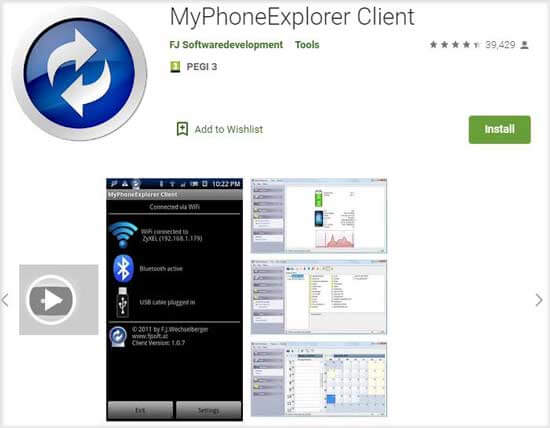 Part 5. Samsung Device Manager App - Double Twist (Multimedia Files)
Double Twist is able to synchronize files such as photos, videos, and music between PC and portable devices, and then store those data types in different devices (media players or Samsung phones). It allows you to synchronize the media content of portable devices, including Android devices, PDAs, PSPs, cameras and MP3 players. And the above functions are also applicable to some iDevices, which may surprise you.
Double Twist owns a clean interface, which iTunes users may be familiar with. Its sidebar on the left allows you to move different data categories in the program, while the main area displays the contents of the selected data types. But it does not support to drag and drop files, and there are not many configuration options to customize how this program works.
It not only allows you to browse media files on PC, but also to play music and view photos without switching to a third-party app. But its most outstanding feature is the ability to share media files with your friends (you need to add them as friends first).
Pros: share files from various devices with your friends.
Cons: some Samsung models are not supported and cannot drag or drop to transfer files.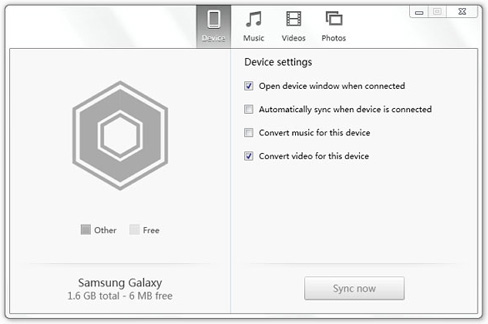 Part 6. Samsung Device Manager - AirDroid (Mac Only)
Aside from managing Samsung files, text messages and call logs, AirDroid can also control your phone remotely. In the beginning, you need a web browser. You don't need to connect your Samsung to Mac via a USB cord before data transfer (your Samsung can also be connected via Bluetooth).
The AirDroid desktop helps you access Android and even apple devices over the Internet. This is similar to how Apple's Airdrop works. For example, It enables you to transfer files, text and reply messages without touching your Samsung, play mobile game on your Mac, and even remote control the camera of Samsung.
When you have devices of different brands, you can always feel free to enjoy cross platform services. Compared with Mac and iPhone syncing via AirDrop, it's slower for PC and Android to connect and manage via this tool. Even so, it's easy to use and very convenient.
Pros: be compatible with different devices and OSes and turn Samsung camera into a spy one.
Cons: remote connection is for premium accounts and fully relies on the Internet connection with security being compromised.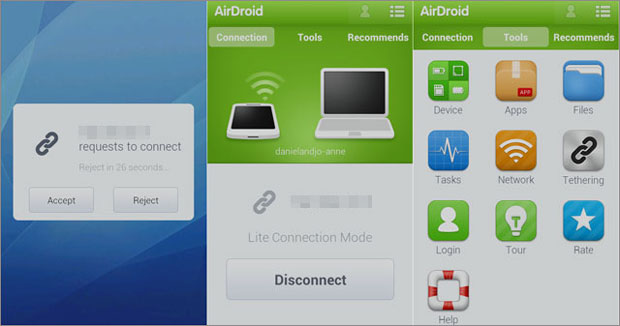 Part 7. Samsung Mobile Manager - MobiLedit
MobiLedit can be connected through cable TV, infrared or Bluetooth between Samsung and PC, and then view the content of Samsung on your computer, conduct full-text search, dial numbers, send SMS, back up data. It's convenient to upload all the info and quickly search and edit contacts.
It has a unique open architecture with phone drivers and installable applications, managing multimedia files stored in your Samsung, such as ringtones, photos, MP3, themes, and Java apps. With its editor, you can quickly search and dial directly on PC. Moreover, it can also sort, read and archive short messages on the hard disk, in case of data loss, as well as playing chess, backgammon and other games on PC.
Pros: SMS can be synchronously displayed through E-mail messages and replied on PC.
Cons: before using, you need to apply for Mobiledit account. After the trial period, you need to upgrade your account.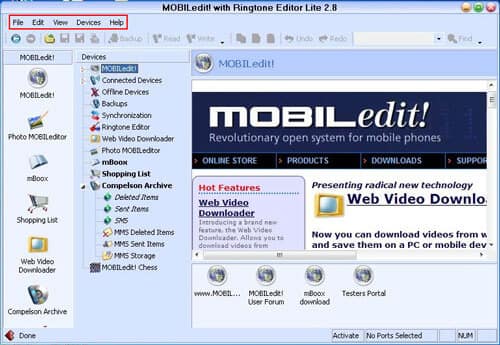 Summary
If you read through this passage at length, you might find that there is something different in describing Samsung device managers for PC. In the introduction of Coolmuster Android Assistant, only its advantages (not the disadvantages), and use guide are introduced, while both the merits and demerits of other tools are involved in the contents. Why would I do that? In fact, after comparing the 7 programs, I found the first one has too many superiorities and almost no defects, while other Samsung mobile manager app have some shortcomings.
Scrutinizing this post, we can find the bases. After all, the functions of the Samsung device manager are only talked about in part. Want to look for more characteristics about it? Please download this Samsung device manager now.
Related Articles:
How to Delete Photos from Samsung Galaxy Permanently
How to Recover Data from Broken or Dead Samsung
How to Transfer Photos from Samsung to Mac for Backup? 4 Ways in 2023
Useful Ways to Transfer Contacts from Samsung to PC
Top 5 Apps to Transfer Files from Mac to Android