Top 5 Samsung Device Manager Apps You Should Know
Samsung Android device manager is an app that is found in smartphones and is developed to allow the user to manage various functions in their smartphone or tablet. The user can enable various permissions therefore allowing the app to run smoothly in the device. There are several reasons why you need a Samsung Android Device manager and for example, using the device manager app, you can be able to track your device in case it is stolen or gets lost and another individual gets possession of it. Every smartphone or tablet holds vital personal information therefore the device manager can help you to track the smart device especially when one connects to the internet or interact with an app that connects to the internet.
In today's world, people rely too much on smartphones and tablets therefore putting themselves at risk of identity theft. Below are top 5 Samsung device managers you need to know about.
Top 1. Coolmuster Android Assistant
Coolmuster Android Assistant (Mac version is here) is a Windows and Mac OS compatible software that is designed and developed to help users manage various components in their smart phones and tablets. The application is compatible with different brands of smart devices such as HTC, Motorola, Samsung, Sony, Huawei and ZTE. Let's have a look at its main features:
* 1-Click backup: Data and information saved in one's smartphone and tablet is important therefore to ensure that you have a copy, you need to utilize the 1-Click back up tool.This will enable you to back up various forms of data and information. This is helpful especially if your smartphone gets lost or is stolen by unknown persons.
* Data transfer: You can transfer photos, videos, music, contacts, SMS, apps and more from Samsung and other Android device to computer, and vice versa.
* SMS & Contacts Manager: The application can help you to manage your SMS and contacts. When using the application, you can group text your family and friends right from the computer. You can also add, edit and delete existing contacts therefore helping to improve the performance of your device as well as increasing the storage space.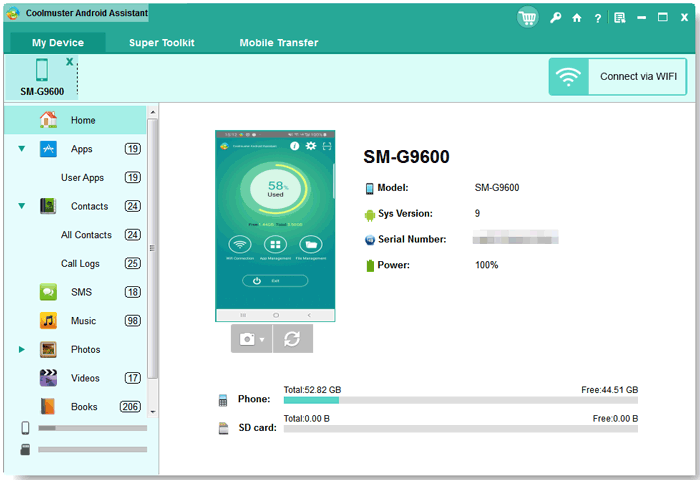 Top 2. ExDialer by Modoohut
If you are looking for a simple app to manage the contacts on your Samsung device, then the ExDialer is the app for you. The app has several useful features which include:
a. It is super easy to use
b. It is fast and smooth
c. It supports around 30 languages
d. It allows the user to make direct calls or send texts to a contact by swiping left or right
e. It is developed with the smart T9 algorithm.
You can download ExDialer from Google Play Store >>
Top 3. Download Manager by Renkmobil
The app is designed to improve the download speeds for your Samsung device therefore ensuring that you are able to download content with ease. The app is offered for free on Google Play and it has the following feature:
a. Able to speed up downloads to three times faster
b. Its a free download manager that helps to monitor your downloads
c. It supports different types of files which include apk, rar, zip, mp3 and doc among others.
d. Has a celan to use interface
You can download Download Manager from Google Play Store >>
Top 4. Solid Explorer File Manager by NeatBytes
The app is designed to help Samsung device users to manage various files on their smartphones and tablets. The application is offered for free on the first 14 days. It has the following features:
a. Has two independent panels that serve as file browsers
b. Allows drag and drop inside the two panels
c. Is able to read various file extensions such as zip,7zip and rar.
d. Can perform indexed search on your files
You can download Solid Explorer File Manager from Google Play Store >>
Top 5. Poweramp by Max MP
This app is not only designed to help the user listen or play music but it can manage one's playlist with ease. The app is offered for free and can play different music formats. The features of the app include:
a. Is able to play MP3, MP4, OGG, FLAC and WAV among others
b. It has separate powerful bass and treble adjustment
c. It can play songs from folders and its own library
d. Has support for headset, automatic resume on headset
You can download Poweramp from Google Play Store >>
Related Articles:
Top 5 Android eBook Readers You Should Know