PDFs have been designed to support light, portable and a variety of document styles starting from heavy manuals to highly image based documents like ebooks and magazines. PDFs are widely used by different people beginning with business people and real estate agents who use to fill out forms and contracts to regular users who use it as way of sending documents to others securely.
Below are 5 free Android PDF viewer apps you need to know about
* Adobe Reader
The Adobe reader is developed by Adobe and is offered for free to users on Google Play store. It has pretty much all standard features which are useful to both regular and business users alike. Some of the features include opening PDF documents, export a highlighted text to other documents, opening fillable forms, supports different view modes and offers various navigation options.
* PDF Reader
This is a free PDF reader app that is designed to offer the user various features in order to enable them complete various tasks with ease. The user is able to open PDF documents, outline text, search through the PDF documents, add bookmarks and finally be able to jump from one section to another using the Go to feature.
* qPDF Notes PDF Reader
This app is offered both in free version and paid version. The free version has lots of features which are useful for performing basic tasks. The features include cloud storage support, text reflow mode, opening PDF documents, tertiary editing features with form filler mode and the ability to annotate PDFs.
* Radaee PDF Reader
Just like other PDF readers, Radaee is very useful especially if you love reading ebooks compressed into the PDF format. There are several features useful to any user and they include opening PDF documents, ability to copy selected text to clip board, ability to highlight selected text and page turning animations.
* SmartQ Reader
The SmartQ reader is an amazing PDF app that packs majority of features found in other apps and much more. Some of the features include ability to annotate, ability to add text notes and the ability to draw.
As regular and business users alike, Office productivity tools allow users to create, edit and save documents in various file types. For example when using an Office productivity tool like Microsoft Office for desktop, one can create and save documents in .doc, .docx and .xml. For users who want to send such files to other people, they need to secure them. This calls for converting the various documents with different extensions into PDF. All this can be achieved when you use the Coolmuster PDF Creator Pro. The application is designed to convert 7 major document formats into PDF right from your desktop. The different formats that can be converted into PDF include .docx, .txt, images like .jpg, .mobi, ePub,CHM and HTML.
Steps for Converting Other Files into PDF with PDF Creator Pro
Have the need to convert your documents to PDF format? Let get started with the best PDF creation program. You can get the free trial version of the PDF Creator Pro from the following button.
Step 1. Install and launch the PDF Creator Pro
You need to install and launch the application on your computer after you downloaded it. The dashboard will display seven conversion modes for your choice according the file type you want to convert.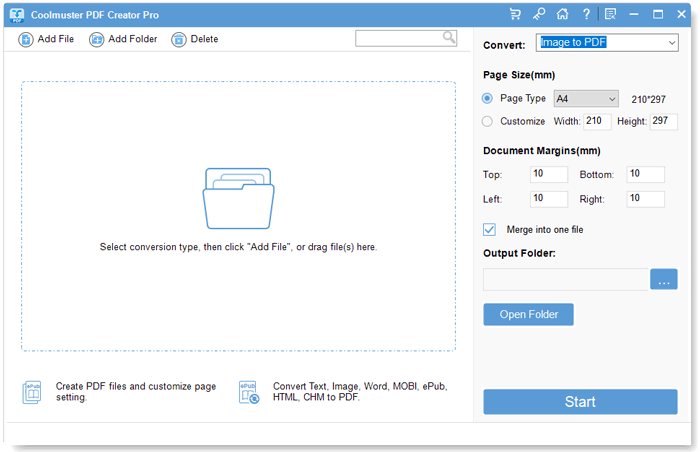 Step 2. Import files
Choose the conversion mode you desire and then click on the Add File button to add the files of the same extension to the application. Set the output folder where you want to save the converted PDF files.
Step 3. Start converting to PDF
Click "Start" button to begin the PDF creation process. Once the application is done converting, you can open the output folder to check the results.
Related Articles:
How to Create ePub Files on Mac