HTC SMS Recovery: Retrieve Deleted Text Messages from HTC
Many of you may have once run into such situations that cause data loss issue:
- You or the person you lend your HTC phone to has accidentally deleted one or multiple important text messages with some of them even not having been read.
- Your HTC phone has been attacked or infected by serious viruses from some software.
- Your memory card gets formatted.
- You have restored the factory settings on your HTC phone.
What makes it worse turns out that you haven't got any backups for the erased messages, neither do you have the faintest idea how to return your private, your friends' or your clients' information as well as your important conversations within. At this time, I guess you'll wish there's medicine for regret to take. Unfortunately, there isn't such thing. Yet fortunately, there's something as magic to make recovery become real.
Why is it possible to recover data all that have already been deleted?
When you press the delete key to wipe a message, you have just had the messages deleted seemingly. As a matter of fact, their indexes are still placed in the original areas. If your phone is compared to a library, then the text messages within are like the books stored inside. All of these books have been provided with corresponding card indexes. When one of the books gets lost, its card index is still there, for not having been modified or deleted either.
As a result, when a reader comes to the library, he or she is able to find the book's index as before. Under such circumstances, all one needs to get the "deleted message book" back is simply drawing support from a professional and powerful recovery software that helps restore the contents of the indexes.
1-Click Solution to Perform HTC SMS Recovery!
Coolmuster Lab.Fone for Android (for Windows 10/8/7/XP/Vista) or Coolmuster Lab.Fone for Android (Mac) (OS X 10.10 or later) is exactly your medicine for regret in this case. It can recover your text messages easily with a rather quick operation process. It works through scanning the disk area in your HTC phone in depth, and can both restore the data without inserting any new ones inside and without bringing damage to the deleted ones, guaranteeing that you'll be able to use them after recovering. Next time you want to recover your text messages, remember to go for Android Data Recovery!
- Deeply scan Android file storage system and recover lost data instantly.
- Supports to recover data both on Android SD card and internal flash memory.
- Not only contacts, but also SMS, videos, music, photos, call history, etc. can be recovered easily.
- Recover data from damaged, formatted, corrupted Android phone or SD card.
- Offers the free trial version. Just download it from the buttons as below:
Tutorial: Recover Deleted SMS from HTC Desire HD/Hero/Wildfire in 3 Steps
Step 1. Connect HTC phone to computer and run the software
Download and install the HTC SMS Recovery software. Use a USB cable to connect your HTC phone to the computer and then you can launch the installed recovery software instantly. Once the connection is successful, the software will detect your phone and show its parameter information on the main interface like below.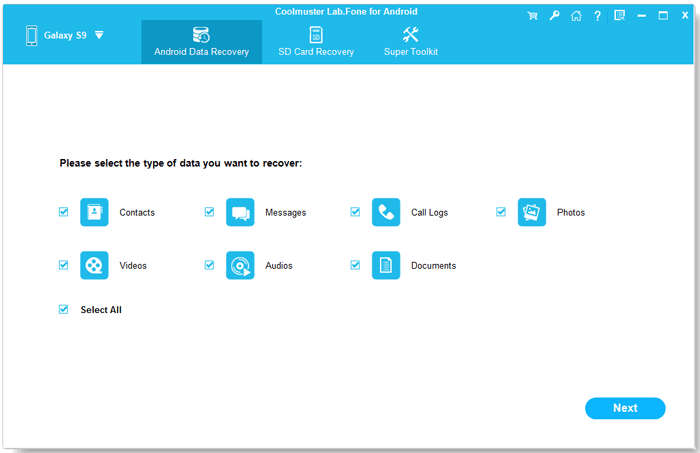 Step 2. Enable USB Debugging Mode on your phone (Optional)
Next, we need to enable USB debugging on the connected phone. The activated USB debugging is used for synchronizing data between your phone and computer. If you have already opened the USB debugging, you can move to the next step. If not, you need to enable USB debugging mode on your Android phone.
Step 3. Scan for the lost text messages on your HTC phone
When the USB debugging mode has been enabled successfully for you HTC phone, click "Allow" on your phone to allow the program super user authorization when an Superuser Request pops up. Then, you can let the launched program scan your phone. The internal phone memory, SD card and SIM card can be all scanned by this software. When the scan finishes, all the contained files in your phone will be displayed in clear categories, including your lost text messages.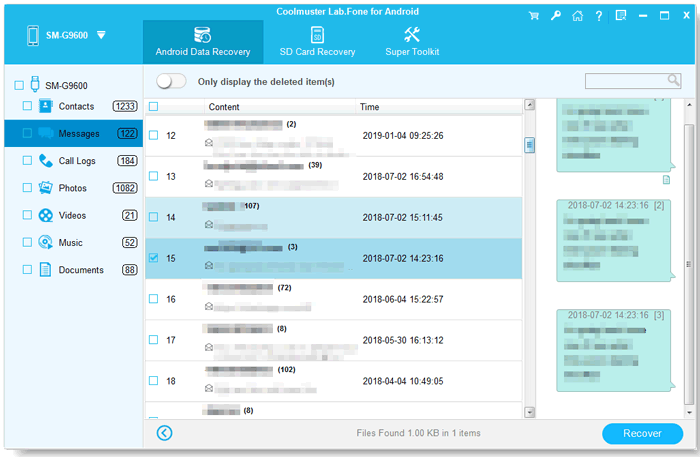 Step 4. Preview and recover the target SMS
Preview the scanned out HTC text messages conversations one by one and check those you want to recover. Then, you can click on the "Recover" button, customize an output location and save the recovered SMS here. See? Only in 3 steps, you make it!
Why HTC Phones Are So Popular?
Focusing on its products' user-friendly operation and interface, performance, durability, and technology, HTC has created many new records, including the excellent performance of the camera, light-sensitive components and HTC Imagechip, which are comparable with the mainstream press-and-shoot cameras. On top of that, the HD photography/playback function's providing customers with its mobile terminal is more or less the same as owning a personal carry-on mobile theater, offering sound experience similar to the reprise of the originals'. Its mobile terminal is a comprehensive one that meets the needs of the users in the aspects of entertainment, social communication along with image representation, attracting a huge group of young buyers.
By the way, if you need recovering lost text messages and contacts from Android phone only, you can fully depend on Android SMS+Contacts Recovery.
Video Tutorial
Related Articles:
How to View Android Text Messages on Computer (PC & Mac)
Recover Deleted Text Messages from Samsung Cell Phone
Add a comment