Recover Data When You Cannot Enter Password on Samsung S8
People set a lock screen password on his Samsung Galaxy S8 in order to protect his phone data from falling into the wrong hands. However, have you encounter with such situations that: Your Galaxy S8 accidentally dropped on the floor and the touch screen is unresponsive and you cannot enter password on it; Or you just forget the lock screen password. Then, how to recover data from the Samsung Galaxy S8 when you are locked out of the phone? Below are some tips for you to solve the question.
Tips 1: Unlock Samsung Galaxy S8
Tips 2: Restore Backup from Google Account in Samsung S8
Tips 3: Extract Data from Locked Samsung Galaxy S8 Directly
Tips 1. Unlock Samsung Galaxy S8
If you really don't know why you can't enter password on the phone screen, you can try either of the two solutions in the below to unlock our Samsung Galaxy S8 by getting past the lock screen:
Solution 1. Contact Samsung customer service to see if they can help you unlock the phone for you.
Solution 2. As long as you are able to signed in a Google account on your Samsung phone and the device can access the internet, you can enter Google account and you will be given a "Forgotten the password" window. And now, you can follow the steps in this article: how to unlock Android phone with Google account?
Tips 2: Restore Backup from Google Account in Samsung S8
Have you ever backed up your Samsung Galaxy S8 to Google account? Or do you have synced your photos and videos on your Samsung S8 to your Google Photos Library? If you have, you can restore the backup from the Google account to your Samsung Galaxy S8.
1. Open your Galaxy S8 and tap Settings > Accounts > Add Account > Google;
2. Enter your Google account that you have used to backup your S8 data;
3. Tap Next and enter the password for the account.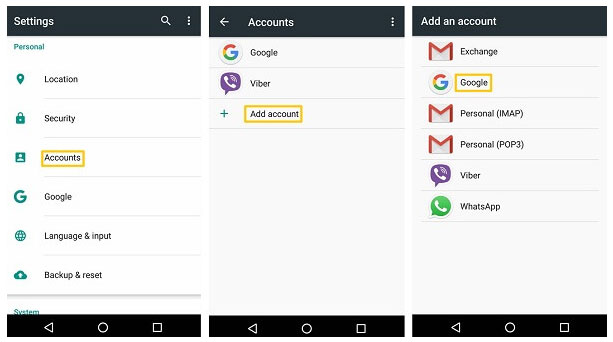 Read Also:
Recover Data from Broken Samsung Phone

Tips 3: Extract Data from Locked Samsung Galaxy S8 Directly
If your Galaxy S8's screen is totally not working and you haven't backed it up on your Google account, there is still a way to help you rescue the data. With Broken Android Data Extraction, you can access your locked Samsung Galaxy S8 without a password. It can not only extract contacts, messages, call logs, photos, music, documents, etc. from damaged and locked Samsung phones and tablets, like Galaxy S8/S8 Plus/S7/S6/S6 Edge/S5, Note 7/6/5/4, but also can save them on your computer.
Step 1. Download and install the program on your computer.
Step 2. Launch the program and choose "Broken Android Phone Data Extraction" from the left side of the home page. Then, connect your Galaxy S8 to the computer with a USB connector.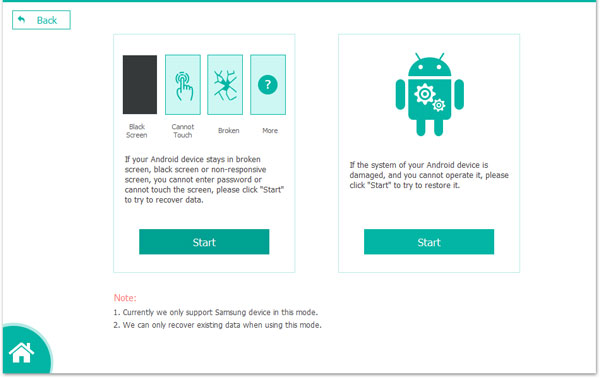 Step 3. Select your Samsung Galaxy S8's name and model and then click "Confirm" button. Then, click "Next" to let the program scan your locked Samsung Galaxy S8.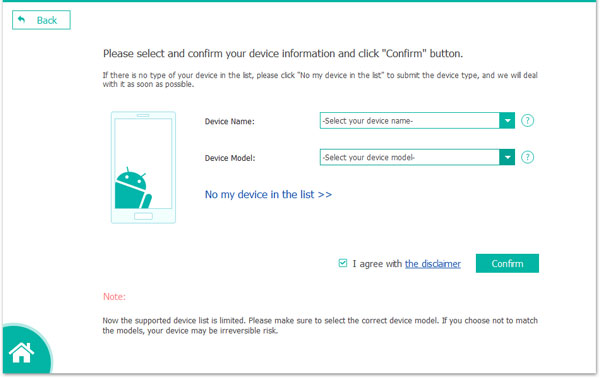 Step 4. When the scanning process is ended, all files recoverable from the Galaxy will be displayed here. Preview them one by one and mark those you need. Finally, click on the "Recovery" button to save all of them on your computer.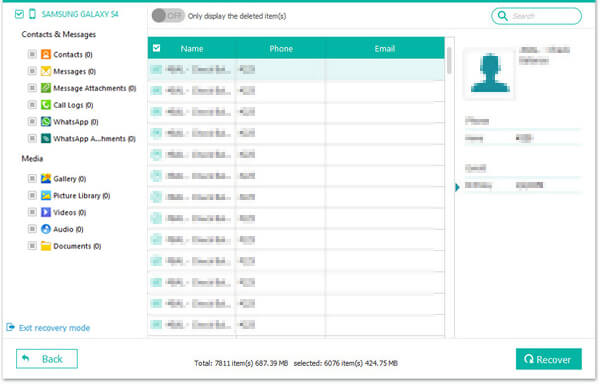 Related Articles:
Recover Android Data After Factory Resettings