Our cell phone contains all sorts of personal information. From passwords to bank account details, from personal messages to weird photographs, it is all in there. No wonder then that we all use a password to protect our phones. Some of us may use pins or patterns to lock our phone. But often, we end up forgetting the same and land in trouble. This can happen to anyone and can happen due to a number of reasons. A password set up in haste is really likely to be forgotten.
- Your relatives and friends cannot access your phones without your permission
- You don't have to worry if your phone gets stolen
- Some of these lock screen apps can be enabled for particular apps. So, you may need to give the code opening particular apps, enhancing the security.
What can you do if you forget your Android Lock Screen Phone?
We benefit a lot by using Android lock screen pattern. However, sometimes what can happen is that you may yourself forget the pass code, especially if you have not been using your phone for a long time. Sometimes, this can happen because you did not focus when setting up the lock key. How do you access your phone then if you do not know the Android lock screen pattern? There are a couple of methods you can try to solve this problem, some of which are listed below:
Solution 1. Using your Google account
Most android devices require you to set up a Google Account. This is done not only to access Play services, but for security purposes as well. Simply tap on the 'forget password' and you will be taken to a screen where you will have to enter your Google Username and password. Follow the steps you usually do while recovering any password and you will have access back to your phone in no time.
Solution 2. Performing a factory reset
If you don't remember your Google account details either or never really got around to setting up one, there is another solution as well. You can perform a factory reset, which will erase all your data but will give you access to your phone. To do that, just follow these simple steps. Once you have turned your phone off, press the 'power', 'camera' and 'volume down' button simultaneously. In the menu you then see, tap on the 'factory reset' option using your volume keys.
Solution 3. Using Google's Android Device Manager
If you have the Android Device Manager enabled, you can go to its website using another device. For this purpose though, you will need your Google Account details. Once you've logged in, select your device and click on 'erase'. You will gain access back to your phone, but your memory will be erased.
Importance: Back up Your Android Data with Coolmuster Android Assistant!
As you've seen, losing data is a huge probability once you've lost access to your phone. So it is always recommended to have a backup of your Android device in your computer.
This is where the Coolmuster Android Assistant comes in. With just one click, you can save all your photos, videos, music, contacts, text messages, etc on your computer. Later, you can restore all these files back to your phone in a matter of seconds. The software allows you to connect your phone to the PC using your USB or wifi connection.
How-to: All you need to do is download the app and use its well organized interface to select the files you need to back up. With the help of a few easy steps, you will have the reassurance that your data is safe even if you've forgotten your password.
Click the following buttons to get the Windows or Mac version of Android Assistant to have a try: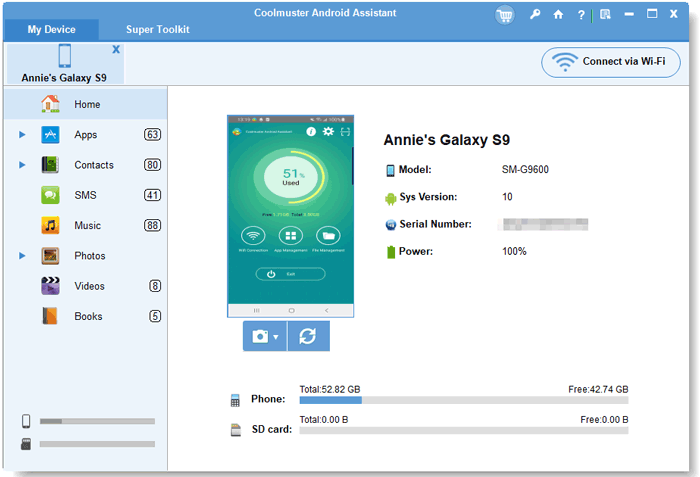 Related Articles:
How to Backup Samsung Galaxy Nexus to Computer
Transfer Contacts from Android Phone to Computer
How to Unlock Galaxy PIN Code Step by Step? [New Ideas]
How to Reset a Motorola Phone that Is Locked Yourself?
How Do You Unlock a Tablet if You Forgot Your Password?
Android Unlockers: Top 8 Android Phone Unlocking Software in 2023