What to do if your Samsung phone's touch screen can't be used?
When an individual buys a Samsung phone, they may find that there are specific problems that need to be taken care of. Even though many users are happy with their purchases, there are some problem that users are experiencing, which involves issues with the touch screen. Screen does not respond to the user's touch or the screen freezes. To resolve these issues, the user should see if their screen protector or their protective case is causing interference with their touch screen. These problems can occur if the screen protector or the protective case is too thick or its texture is affecting the actual performance of the touch screen. A quick fix to this issue is to remove these items from the screen and then re-test touch screen see if it responds to the touch.
Read Similar Guides: How to Recover Android Data After Factory Resettings?
It's not uncommon for users to have problems with their Samsung mobile devices. Some of the more commonly known issues deals with the loss of data that needs to be recovered. Recovering data is not always as simple in many cases, unless the user has access to recovery tools like Broken Android Data Extraction. It is pretty ideal for recovering all of the Android device files, such as contacts, text messages, photos, videos, music, etc. with an easy and fast solution that only takes a few clicks to complete. This tool is not only effective for files that have been lost due to deleting them manually, but also recovering files that were housed on a water damaged phone or files that were lost due to rooting and flashing a rom.
How to Recover Data from Samsung Galaxy with Damaged Touch Screen
Want to see how to use the data recovery for Android to recover lost data from Samsung Galaxy S7/S6/Edge/S5/S4, Note 7/6/5/4 with touch screen cannot be used? You can refer to the following 1-2-3 steps after downloading the program for free.
You may also want to know: How to Recover Deleted SMS from Samsung Galaxy?
Step 1. Get ready with the broken Samsung data extraction software
Start with running the Broken Android Data Extraction software on your computer and select "Broken Android Phone Data Extraction" from the left panel. Then, use a USB cable to connect your Samsung phone with damaged touch screen to the computer.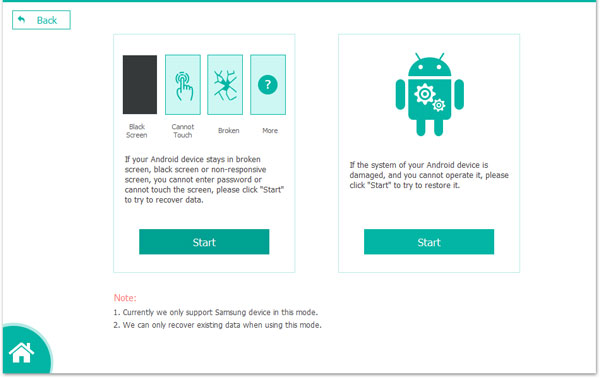 Step 2. Select and confirm device info
Select the fixing mode and click "Start". Then choose the name and model number of your Samsung and click "Confirm". If you are not sure about the information of your phone, you can click question mark the program will show you how to find the information.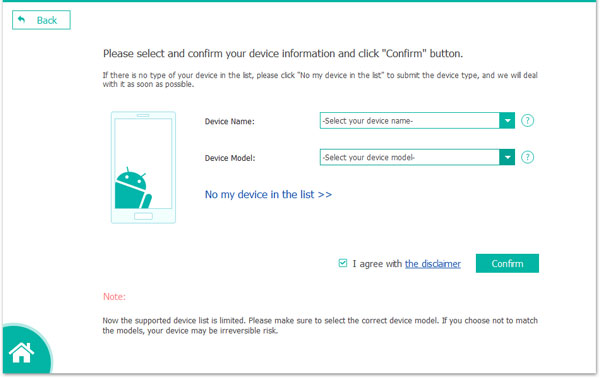 Step 3. Enter Download Mode and get it fixed
You will be asked to put your Samsung device into Download Mode. Just follow the onscreen prompts to put your broken Samsung in Download mode. After that, the program will detect the phone and scan out data on it instantly.
Step 4. Recover data from Samsung touch screen can't be used
User will need to preview the scanned out data that were lost to see which ones that need to be recovered. Tick off the data you want and recover the selected Samsung Galaxy files by clicking on the "Recover" button.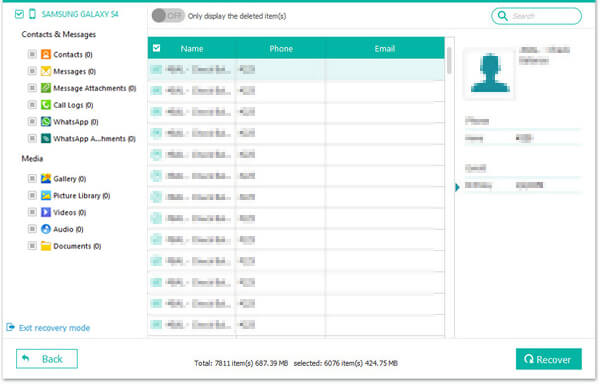 Check Supported Devices of Broken Android Data Extraction
Samsung Galaxy Note:
Note 3: SM-N900, SM-N9002, SM-N9005, SM-N9006, SM-N9007, SM-N9008 SM-N9008V, SM-N900S
Note 4: SM-N9100, SM-N9106W, SM-N9108V, SM-N9109W, SM-N910C, SM-N910F, SM-N910G, SM-N910H, SM-N910K, SM-N910L, SM-N910P, SM-N910R4, SM-N910S, SM-N910T, SM-N910U, SM-N910V, SM-N910W8
Note 5: SM-N920C, SM-N920G, SM-N920I, SM-N920K, SM-N920L, SM-N920P, SM-N920R4, SM-N920S, SM-N920T, SM-N920W8
Samsung Galaxy S:
S4: GT-I9500, GT-I9505, SCH-R970, SCH-R970C, SGH-I337M, SGH-M919, SPH-L720
S5: SM-G900F, SM-G900FQ, SM-G900I, SM-G900K, SM-G900L, SM-G900M, SM-G900P, SM-G900R4, SM-G900R6, SM-G900S, SM-G900T, SM-G900T1, SM-G900W8
S6: SM-G9200, SM-G920F, SM-G920P, SM-G920T, SM-G925F, SM-G925P, SM-G925T, SM-G928P, SM-G928T
Samsung Galaxy Tab:
Tab Pro 10.1: SM-T525
Related Articles:
Recover Deleted or Lost Data from Android Phone