Rooting your Android phone or tablet is essential as it allows Android smart phone and tablet owners to get a lot of control over the operating system. However, it is also important to install an Android Root File Manager after doing so for reasons more than one. Using a top notch root file manager helps you to manage your files easily and organizes your entire phone or tablet for you just as you like it. This allows you to control your Android life and make it function in a customized way.
Here is a look at the top 5 Android root file managers today.
Part 1: Top 5 Android Root File Manager
1. ES File Explorer
Being one of the most sought after root file managers even though it is not available for free, it allows the user to browse, modify and delete the files quite easily. However, the unpaid version works just as a basic file manager not allowing the user to make changes when need be.
Features: With it, you can explore different files including .apk, .rar, .zip, and .jar file. You can even modify any file and scripts can be executed easily as well. The SQLite database files can be viewed and the app offers file access permission modifier. Additionally, files can be searched, bookmarked and sent. You can also use the XML viewer to view APK file and create shortcuts. You can even store information over the cloud!
You can download ES File Explorer from Google Play Store >>
2. Root Manager – Lite
This is a free version of the app mentioned above and allows the user to perform many important tasks.
Features: You can explore APK, ZIP, JAR and APK files and the SQL database file can be read with the SQLite database viewer. Additionally, you can create Tar/gzip files and APK files can be viewed with binary XML files. Users can also search, mount and multi-search and file owners can be changed. The software even allows you to see hidden files and image thumbnails.
3. Root Explorer (File Manager)
Another paid file manager, it allows the user to access the entire Android file system along with the data folder. With more than 16,000 satisfied customers, it has a superb rating on the play store.
Features: With it, you can execute Scripts and use Google drive and Dropbox easily. Extraction of RAR archives is simple and there is option to multi select. Standard features like facility to search, bookmark and mount available as well and the file owner can be changed, and short cuts created.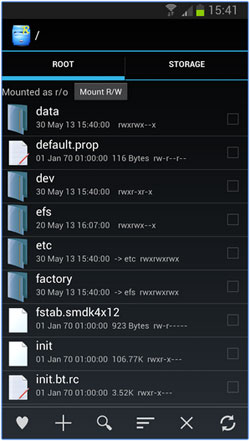 4. Root File Manager
A free version, it offers amateurs developers and newbies too. The entire Android file system can be accessed with it and the user can take control of his phone or tablet.
Features: You can browse SD card and create directories as well as copy, move, rename and delete files. You can even extract zip files and get thumbnail images of the files. Additionally, the software is available in several languages which is a plus point.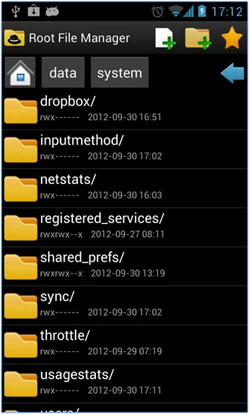 5. Root Manager
This manager allows you to boot your system directly into the recovery mode. App backup can be created and the app cache can be cleared. Data can also be wiped off from the phone or tablet with this app.
Features: There are recover, reboot, bootloader and shutdown options available. The APK format allows for backup and data connection and app permissions can be managed. Additionally, SD cards can be mounted as well.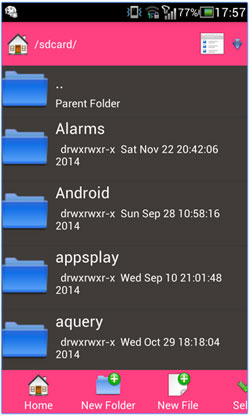 Part 2: How to Manage Android Root File Manager on Computer?
Now, you have compared the five Android root file manager apps above and finally picked out your favorite one. Then, how to install and manage it on your Android mobile phone? Here, we recommend you an all-in-one program named Coolmuster Android Assistant. It can download your favorite apps on the computer and install them on the Android SD click in a jiffy. You can even use it to uninstall apps from your Android device and backup installed apps from Android to computer. It is completely secure and works very well on all popular Android devices.