Apple iPad has brought great convenience to our life and work. However, the iPad lacks a proper file manager, which makes things difficult to work with in the tablet. We need an easy way to manage, delete and transfer iPad data. iTunes does work, but if you've used it, you know you need to sync photos and videos between your iOS devices, which can take some time. And the data management capabilities of iTunes are far from enough. You have to resort to a third-party application - iPad file manager.
About iPad File Manager:
Did you ever want to copy and delete files on an iPad as easily as you do on a computer? It is here that you will find the iPad File Manager. It works on all iOS devices, including iPad Pro, iPad Air, iPad with retina display, iPad mini, The new iPad, iPad 2, iPad, as well as iPhone and iPod, and lets you get inside the underlying file system of iOS. It gives you total access to all your files, namely photos, videos, music, etc. without any prohibition. You can import, backup, delete and rename them directly on your computer.
The iPad File Manager is also perfect for maintaining the security of the data stored on your device. The search option can also be used to locate your desired files. Just type in the search bar and press enter. Below is how you can use the freeware to add, export and delete files on your iPad Pro/Air/mini/4/2.
Read More:
5 Easy Ways on How to Transfer Video to iPad without iTunes
How to Transfer Files from Mac to iPad? 6 Ways for you
iPad File Manager–Import, Export, Delete, Edit Files on Your iPad
Now you might download and run the installed iPad File Manager on your computer, and connect your iPad to the PC with a USB cable. Once the program has detected your iPad, you will get an interface like below.
Note: Here we take the iPhone for example, and the operations to manage iPad is the same with iPhone's.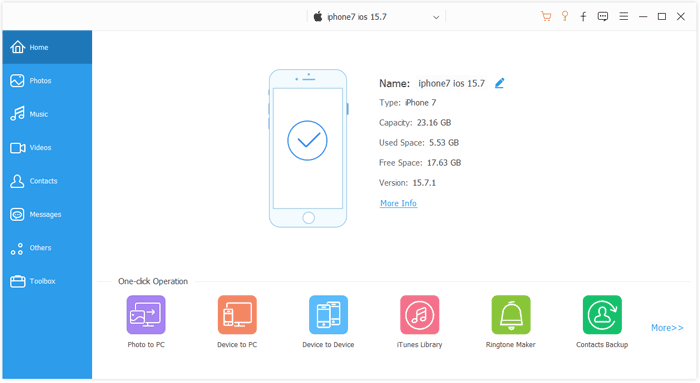 Here are the simple guides to manage the data on your iPad.
1. How to Export iPad Files to Computer, iTunes and other iDevice?
- Click the name of file type on the left panel, then all the files of the types will show on the right panel.
- Decide which files you want to export and tick them out.
- Then press Export to button and choose the destination with options of Export to PC and Export to iTunes Library. Choose one to save them on PC or iTunes Library and the transfer is completed automatically.
- Transfer iPad files to another iDevice, just select the files from PC where you have exported from your iPad, and click Add to import to another iDevice.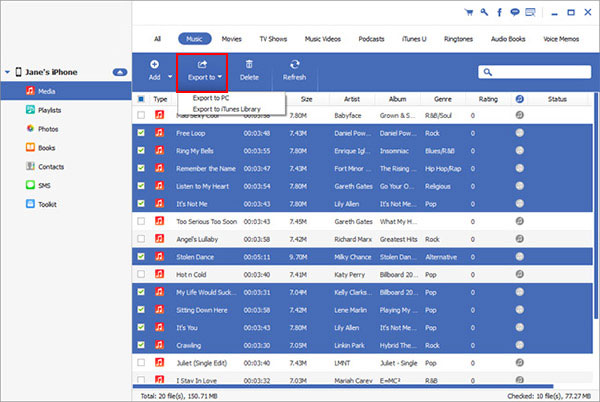 2. How to Import Multimedia Files from Computer to iPad?
Click on Photo option on left of the interface and click Add option to select either files or folders from computer. Then the importing process starts automatically to copy the selected files to your iPad.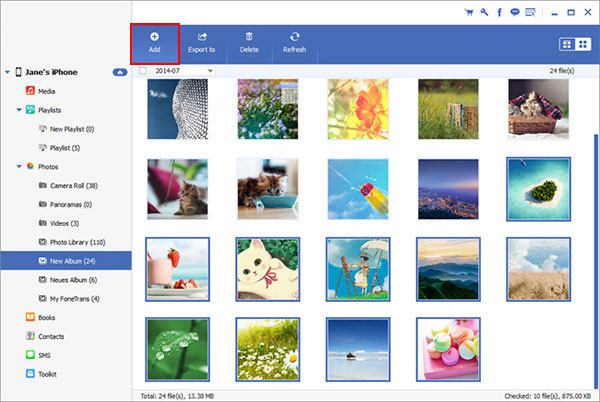 3. How to Manage Contacts on Your iPad? (Create, Edit, Merge, Group and Transfer)
- Click Contacts option and wait for all the contacts being completely loaded.
- On the top, there are several feature buttons:
* New - You can create a new contact with this button.
* Import/Export - You can transfer the contacts between your iPad and PC/other iDevice.
* Delete - You can preview and select the unneeded contacts to delete them.
* De-duplicate - If you have some duplicate contacts in your iPad, you can click De-duplicate and match the type and click Merge option.
* Edit - You can find the Edit option by checking any contact, and then you can edit the contact information, add photo, group, change, delete the contact.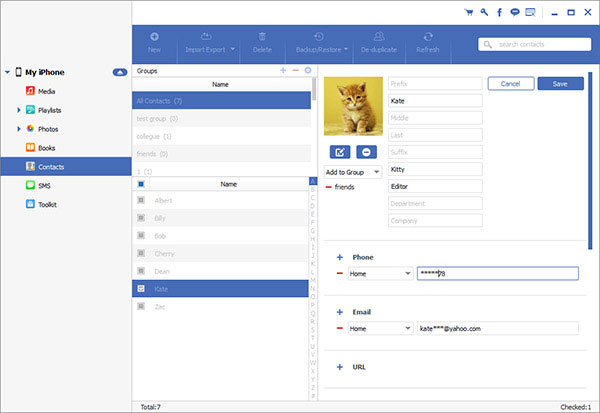 The Bottom Line
iPad File Manager provides a file management feature that enables you to browse, add, delete, and edit files on your iPad/iPhone/iPod directly from your computer. It offers a user-friendly interface and supports both Windows and Mac operating systems.
Related Articles:
How to Transfer iPhone Albums to Computer (PC/Mac)
How to Transfer Media Files from iPad Air to Mac or PC
6 Methods to Transfer Music from Computer to iPhone without iTunes
How to Transfer Videos from Computer to iPhone Easily
How to Transfer Videos from Mac to iPhone with 5 Methods