How to Manage Files on iPad with iPad File Manager?
Apple iPad brings great convenience to our life and work. However, some of us feel uncomfortable because of the lack of suitable file manager of the iPad that makes it hard to deal with thing in the tablet. We need an easy way to manage, delete and import iPad data. Copying each video or photo to your computer or to delete and erase them can be a headache. iTunes does work, but if you have used it, you do know that you would need to synchronize photos and video between iOS devices which can take time. And you may also want to create different folders on your iPad in order to classify your files. To do all of these, iTunes' effect doesn't go far enough. You have to turn to ask help from a third-party application.
Did you ever want to copy and delete files on an iPad as easily as you do on a computer? It is here that you will find the Coolmuster Free iPad iPhone iPod Disk Mode or iPad iPhone iPod Disk Mode for Mac handy. It works on all iOS devices, including iPad Pro, iPad Air, iPad with retina display, iPad mini, The new iPad, iPad 2, iPad, as well as iPhone and iPod, and lets you get inside the underlying file system of iOS. It gives you total access to all your files, namely photos, videos, music, etc. without any prohibition. You can import, backup, delete and rename them directly on your computer. The application lets you view your pictures and files in two modes – list view and icon view. The icon view displays your files as icons. You can get details of the file like size, type, date modified through the list view.
Coolmuster Free iPad iPhone iPod Disk Mode is also perfect for maintaining the security of the data stored on your device. The search option can also be used to locate your desired files. Just type in the search bar and press enter. Below is how you can use the freeware to add, export and delete files on your iPad Pro/Air/mini/4.
iPad File Manager– Import, Export, Delete Files on Your iPad
1. Delete files on your iPad
Plug in your iOS device and wait for iPad to recognize it. Open Coolmuster and click the delete button while selecting the pictures or folders you want to delete. You can delete multiple files from your Apple device by using this delete option.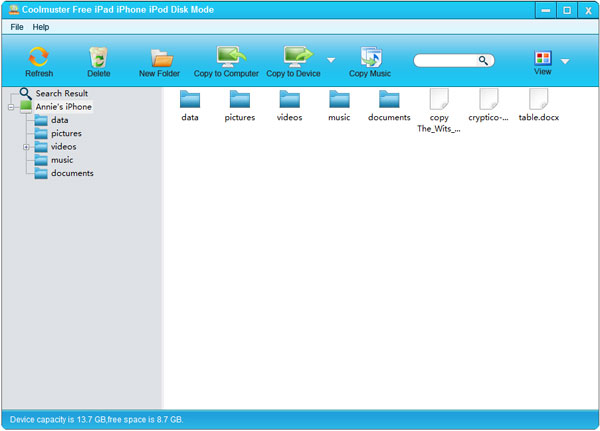 2. Export iPad files to computer
The next step is transferring files between your computer and your iOS device. Decide which files you want to copy and then press "Copy to computer". A window will pop up asking for the destination disk or folder to save the files. Choose it and the transfer is completed automatically.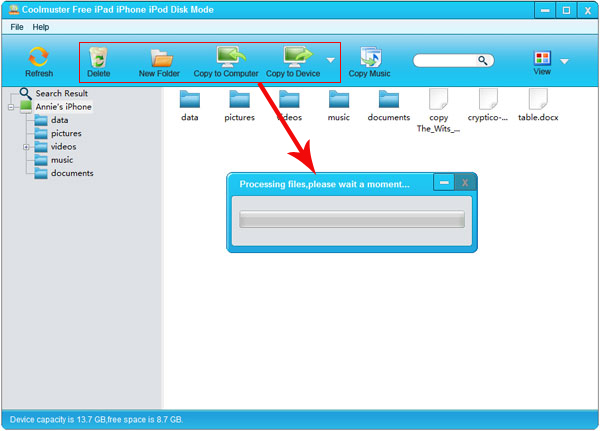 3. Import files from computer to iPad
Another thing you can do with Coolmuster Free iPad iPhone iPod Disk Mode is copying photos from computer to your iOS device. Click on "Copy to device" on top of the interface and select either files or folders. The copying starts automatically after that.
Related Articles:
How to Transfer iPhone Albums to Computer (PC/Mac)