How to Transfer Music from iPod to Mac at Ease?
Why need to transfer songs from iPod touch/nano/shuffle to Mac?
Sometimes, your MacBook Pro may crashes due to unknown reason, so that all songs or media files on your Mac have been disappeared; Or you may accidently delete songs in your iTunes library; Or you just want to backup your iPod music on your Mac computer... Thus, you may need to get back your songs from your iPod. We know that many people like to save music files on the Mac and iPod at the same time. So once you've found your music files are lost from Mac, don't worry. You can transfer music from iPod touch to Mac at ease.
In order to protect the authority, it is hard for people to export music from iPod to Mac via iTunes directly. So you need to find a reliable iPod to Mac Transfer to help you reach the goal. Here, we could like to highly recommend Coolmuster iOS Assistant for Mac. With it, you can easily transfer or copy songs from iPod to Mac computer. Below is the step by step tutorial of how to transfer music from iPod to Mac. You can follow them to copy your own songs as you like.
Tips: For Windows user, please try Coolmuster iPad iPhone iPod to PC Transfer.
Step 1. Download and Install iPod to Mac Music Transfer
Get the free trial version of iPod to Mac/PC Transfer by clicking below icons. And follow the instructions to install it on your Mac computer completely. For Windows users, just install the tool on your PC.
More Related Articles:
* Transfer Music from Mac to iPod
* Share iPod Media Files to External Hard Drive
Step 2. Connect iPod to Mac and Launch the Program
Connect your iPod touch, iPod nano or iPod shuffle to your Mac, and then double-click the iPod to Mac Transfer desktop icon to quick launch it. After it, you'll see the detailed info of your device in the main interface just like below picture shows.
Step 3. Transfer Music from iPod to Mac
Click "Music" option in the left panel and check the detailed info in the right panel. All music list will be displayed so you can go through it and find the target files for exporting easily. What's more, if you want to backup all music on your Mac, you can click "Check All" option in the bottom of the panel to select all songs and hit "Export" button finish the process.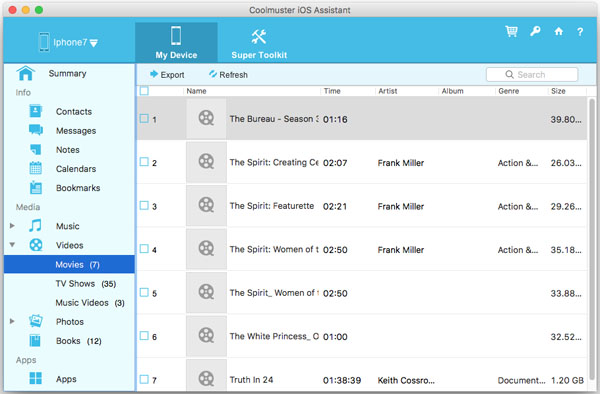 Sounds great? Just get this powerful tool and experience its advanced functions by yourself now!
You Might Also Want to Know:
Transfer Photo from iPod to Mac OS X without iPhoto
Alternative Way: Sync iPod Music to Mac Computer
Step 1. Disable Automatic iTunes Syncing & Link iPod to Mac
First of all, you need to make sure to disable automatic iTunes sync before connecting your iPod to the computer. To do it, you need to follow the below steps:
- Launch iTunes and enter Preferences > Tab. Then tick out the option of "Prevent iPods and iPhones from syncing automatically." and click OK to confirm your changes.
- Quit iTunes and then hold down the option and command keys (Apple/cloverleaf) at the same time. And then link your iPod to the computer via the USB cord.
- Do not release the two keys until you see a dialogue box to inform that your iPod is in safe mode now.
- Click Quit option and then your iPod will be linked to the computer, without any automatic syncing between iTunes and iPod.
Step 2. Preview iPod Music Files
Use Finder service to preview your iPod files, you will see only three file folders are arranged when you hit the iPod icon with double clicks. So how could you preview iPod music files? Are they lost?
Don't worry! Just launch Terminal, type "defaults write com.apple.finder AppleShowAllFiles TRUE killall Finder" command and Finder will display all file folders of your iPod files, including those hidden ones. Then double click iPod icon, open iPod Control folder and reach Music folder to preview music files and tick out the wanted ones.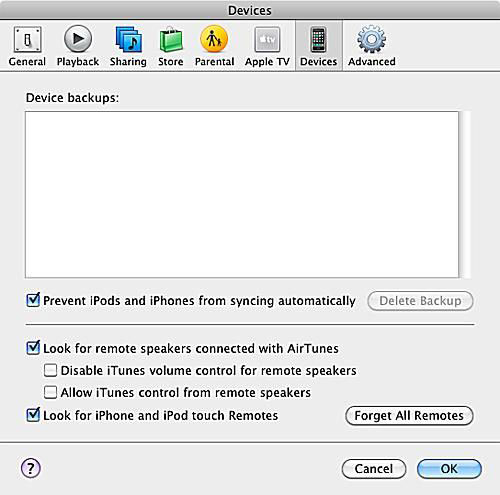 Step 3. Transfer Wanted Music from iPod to Mac
Now, you can use Finder to drag the wanted music files from iPod to Mac computer. To start with, specify a file folder on the Mac computer used for saving the exported files from iPod. Then directly drag music files from iPod to Mac computer.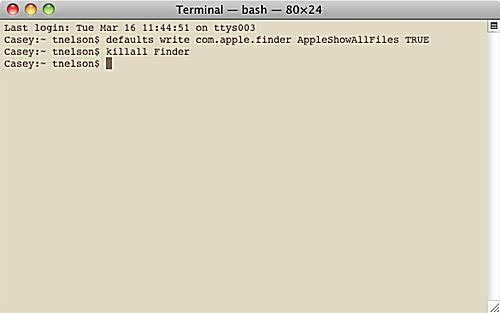 Related Articles:
Guide on How to Manage iPod Library