We love music and some people like to express their emotions with specific songs. And most of us store music in two places: computer or iPod (or other MP3 player). Sometimes your computer may be crashes and all your favorite music files have been lost from PC, then what will you do? Don't want to purchase or download these songs one by one? Then you can transfer them from your iPod or other MP3 player to computer for backup.
For an ordinary MP3 player, you can just connect it to your PC, and directly copy songs to computer as you like. But if you have an Apple's iPod, then things will be different. We'll know that Apple's iDevices are different from the traditional cell phones, MP3 player or other devices. It can be pretty troublesome and challenging to export files from iDevice to computer without any third-party program.
1. Copy Music from iPod to PC Computer
> Connect your iPod to the computer via the USB cord, and then open the installed iTunes on the computer.
> Make sure disk use has been enabled in iTunes.
> Under Devices tab, double-click and open your iPod. Then click on Tool and then Folder Options. Under the View tab, select Hidden files and folders option and then Show hidden files and folders. Finally, hit the OK option to confirm your action.
> Open the iTunes folder. Double-click on the iTunes_Control folder and open up the folder called Music.
> Then copy your iPod songs to a folder on your computer hard disk. Just import the music folder to your iTunes music library.
Also Read:
* How to Put Music on iPhone without iTunes
2. Copy Music from iPod to Mac Computer
>Press and hold the Command+Option keys while you plug in your iPod. Don't release the keys until you see the iPod displayed in your iTunes.
> Launch Terminal, which is located at /Applications/Utilities. Type or copy and paste the following commands: defaults write com.apple.finder AppleShowAllFiles TRUE. Press the return key after you enter each line.
>Go to iTunes, and select the Summary tab. Make sure disk use has been enabled. This will allow you to view the iPod's media files within the Finder.
> In the Finder, double-click on the iPod icon. Open the iPod Control folder and then go to the Music folder.
> Specify a new folder on the computer to save the music files. And then copy the music by dragging the Music folder from your iPod to your newly created folder.
> Now, go to the iTunes menu and select Preferences and then Advanced option. Then check marks next to Keep iTunes Music folder organized and Copy files to iTunes Music folder when adding to library.
> Select Add to Library... option from the iTunes File menu. Click the Open button and iTunes will copy the files to its library.
Learn More:
* Cant't Miss Music Streaming Apps for iPhone
* How to Download Music from Mac to iPod
Since syncing music from iPod to the computer is a challenge, indeed, so many iPod users are looking for an effective way to transfer music from iPod to PC for better enjoyment in the daily life. Thus, we write this article to show you the detailed steps to export music or songs from iPod touch, nano or shuffle to PC easily. To reach it, you need a third-party program to help you, here we could like to recommend Coolmuster iOS Assistant for your reference. As a professional iPod Music Transfer, this recommended program enables users to copy music from iPod to PC within one simple click. And it is fully compatible with all models of Apple's iPod, including iPod touch, iPod nano and iPod shuffle.
Now, just get this powerful iPod to PC Transfer or iPod to Mac Transfer tool by clicking below icons.
Can't Miss:
How to Transfer Music from Old iPod to New One
How to Copy iPod Music to iTunes Library
Steps: How to Transfer Music from iPod to Computer on Windows?
You need to do some preparations before we start exporting music to computer:
1) Computer (Desktop or laptop)
2) iTunes is installed on your computer;
3) Apple's iPod touch, nano or shuffle.
If all preparation works have been done, then you can follow below steps to begin your transferring process:
Step 1. Connect your iPod touch/nano/shuffle to the computer via USB cable and run this iPod Music Transfer tool. Then your iPod's name, capacity and other info will be displayed in the main interface.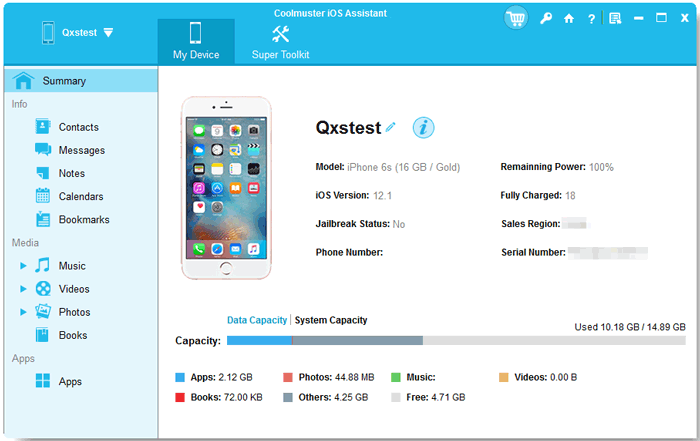 Step 2. All files on your iPod will be categorized into different folders and displayed in the left panel. You can enter these different folders to get the detailed file info. When you select "Music", all your music files will show up in the list on the right part of the software's interface.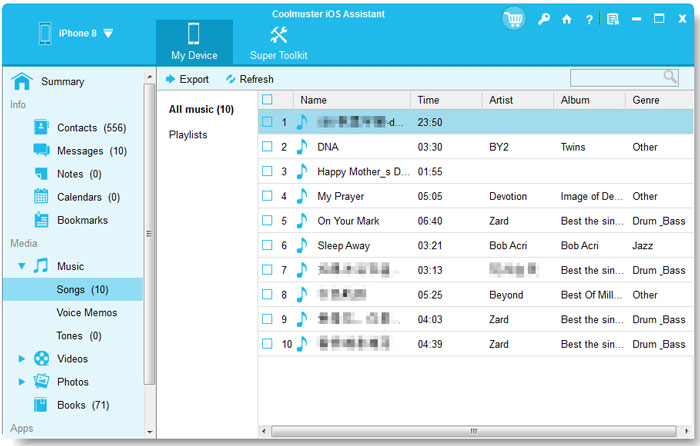 Step 3. Just mark all music files you want to transfer and the exporting process will start after you click "Export" button on the top of the interface. Wait for a little while, you can find all your favorite songs on your computer without any quality loss.
Related Links:
How to Transfer Music from iPhone to Computer