In the fast-paced digital age, safeguarding your valuable data is paramount. Your iPhone, with its treasure trove of photos, contacts, messages, and apps, holds a wealth of information that you wouldn't want to lose. That's where regular backups come into play. While iCloud offers a convenient backup solution, some users prefer to back up iPhone to PC.
However, how to back up iPhone to computer? In this guide, we'll walk you through six ways to back up iPhone to PC. Whether you're using a Windows PC or a Mac, the process is user-friendly, and you will surely find one suitable.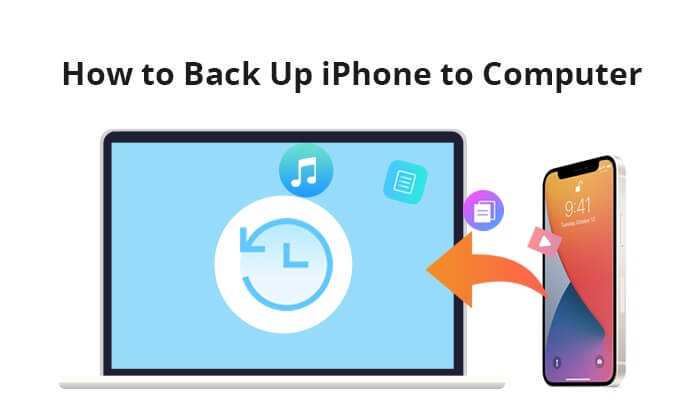 Method 1. How to Back Up iPhone to Computer Using Coolmuster iOS Assistant
How do I back up my iPhone to my computer? The first and best solution that comes to my mind is Coolmuster iOS Assistant. It serves as a bridge between your iOS device and your computer, offering a range of features to make data management, transfer, and backup a breeze.
With Coolmuster iOS Assistant, users can effortlessly transfer various types of data between their iOS devices and computers, including contacts, messages, photos, music, videos, and more. The software also provides a secure and efficient way to back up and restore your iOS device, ensuring that your important data remains protected. In addition, with this tool, you can selectively back up any files you want, or you can also directly back up all files with one click on the iPhone.
Key Features:
Automatically scan and showcase all files on your device through the main interface.
Effortlessly export files from your iPhone/iPad/iPod to your computer or iTunes for backup.
Support for a variety of files, including contacts, messages, photos, videos, music, notes, bookmarks, books, calendars, apps, and more.
Import contacts, bookmarks, calendars, books, iTunes backups, and other items from your computer to your iDevice.
Broad compatibility with all generations of iPhone, iPad, and iPod.
Click the download button to download the right version of Coolmuster iOS Assistant on your computer, and follow the steps below to back up your iPhone to your PC.
1.1 Back Up iPhone to Computer Selectively
01Launch Coolmuster iOS Assistant on your computer. Connect your iPhone to your computer via a USB cable, hit the "Trust" option when the "Trust This Computer?" window pops up on your iPhone, and click "Continue" as prompted.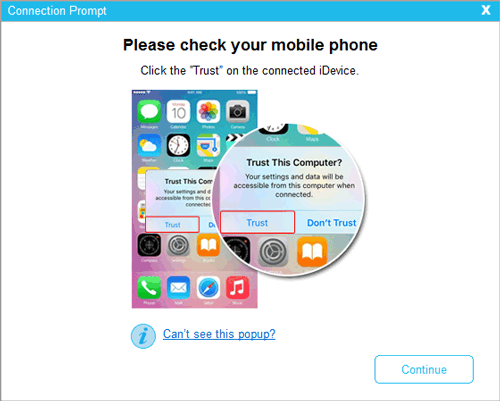 02After a successful connection, you will see the iPhone's main information on your computer.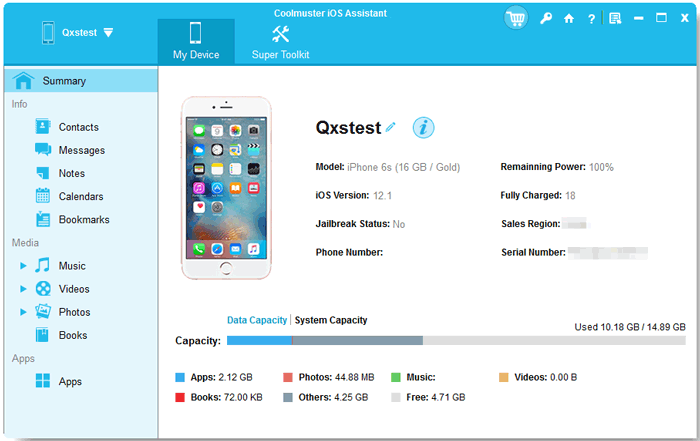 03Select the wanted file folder from the left panel of the main interface and hit "Export" in the right panel to back up iPhone to PC selectively.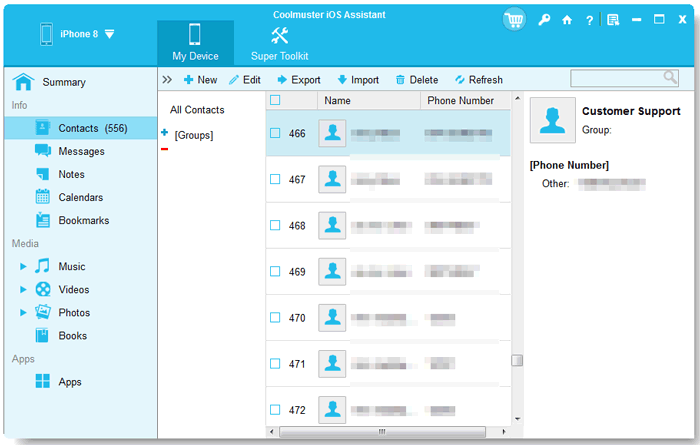 1.2 One-click Back Up All iPhone Data
01Navigate to the "Super Toolkit" section once your device has been recognized by the software.
02Access the "iTunes Backup & Restore" tab on the interface. Then, click on the "Backup" tab and choose your device for backup from the drop-down menu.
03Opt for the location to save the new backup files, whether it's the default iTunes backup location or any preferred location on your computer. Click the "Browse" option, then select "OK" to initiate the iOS data backup process.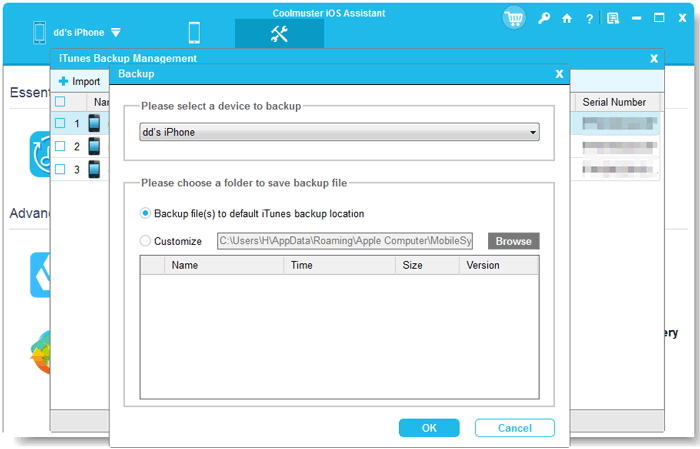 You May Like:
How to Fix iPhone Backup Not Enough Space on Computer Issue (Proven Tips)
4 Ways to Transfer Contacts from iPhone to Computer? [Fast]
Method 2. How to Back Up to PC via iTunes on Windows
For Windows users, iTunes remains a reliable option for backing up their iPhones. While backing up most data from iPhone to PC, it doesn't give you much access to or control of your iTunes backup. Besides, the backup files are hidden in the iTunes library, which is not easy to find; even when you find them, you are not able to view the contents. Here is how to back up iPhone to laptop on Windows via iTunes:
Step 1. Connect your device to the computer using a USB cable.
Step 2. Open iTunes on your Windows PC.
Step 3. Click on the device icon in the top left corner of the iTunes window.
Step 4. In the "Summary" tab, locate the "Backups" section.
Step 5. Choose "This Computer" and click on "Back Up Now" to initiate the backup process.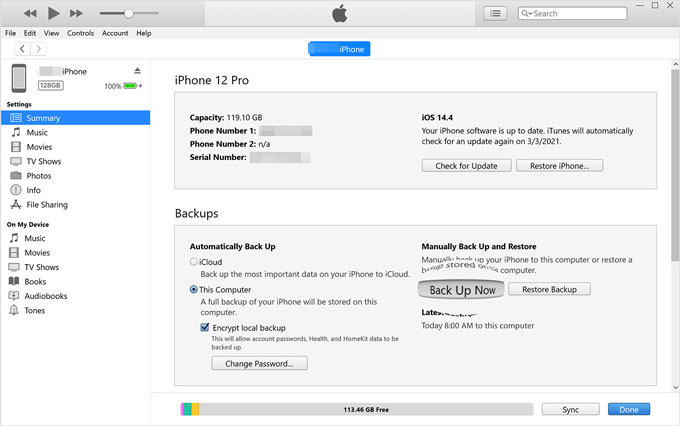 Step 6. Wait for the backup to complete, and ensure that you have a recent backup by checking the date and time under the "Latest Backup" information.
Method 3. How to Back Up iPhone on PC via Finder on Mac
For Mac users, if it is running MacOS Catalina 10.15 or a later version, you can back up your iPhone to your Mac computer directly using Finder. Here is how to back up iPhone to computer with Finder:
Step 1. Connect your iPhone to your Mac using a USB cable. Open Finder on your Mac.
Step 2. In the Finder sidebar, you should see your iPhone listed under "Locations". Click on your iPhone to select it.
Step 3. In the iPhone window, you'll see various tabs. Click on the "General" tab, and you'll find the option to "Back up all of the data on your iPhone to this Mac". Click on "Back Up Now" to start the backup process.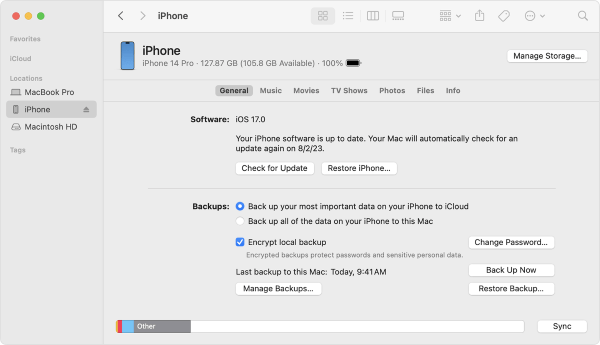 Step 4. The backup process may take some time, depending on the amount of data on your iPhone. Ensure that your iPhone stays connected until the backup is finished.
Further Reading:
5 Methods to Back Up an iPhone without/with a Computer (Step-by-Step)
How to Back Up iPhone without Passcode [Simple Guide]
Method 4. How to Back Up iPhone on Computer with iCloud
iCloud, an offering from Apple, serves as a cloud storage service. This provides an alternative avenue for backing up your iPhone to a PC, eliminating the need for iTunes. Upon activating the iCloud service, your files undergo synchronization across your iPhone, iPad, and Mac devices. Here is how to back up iPhone on PC via iCloud:
Step 1. Ensure that your iPhone is connected to a Wi-Fi network and you have enough iCloud storage for the backup. (If your iCloud storage is not enough, click here to find the solution.)
Step 2. Navigate to the "Settings" on your iPhone, choose "[Your name]", and then go to "iCloud" followed by "iCloud Backup".
Step 3. Once iCloud Backup is enabled, tap on "Back Up Now" to start the backup process.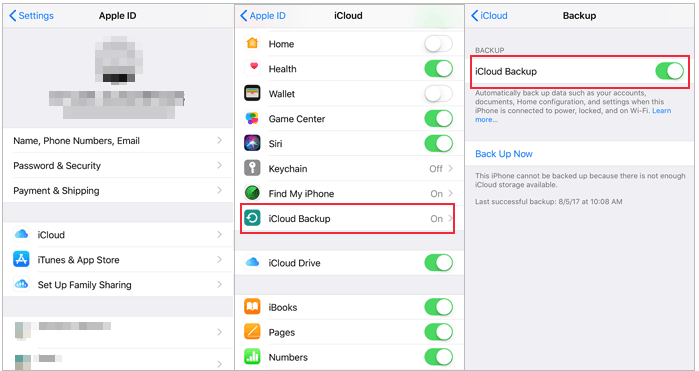 Step 4. Once the backup procedure finishes, launch your computer's web browser and visit www.icloud.com. Sign in with your Apple ID and select the specific data you wish to back up.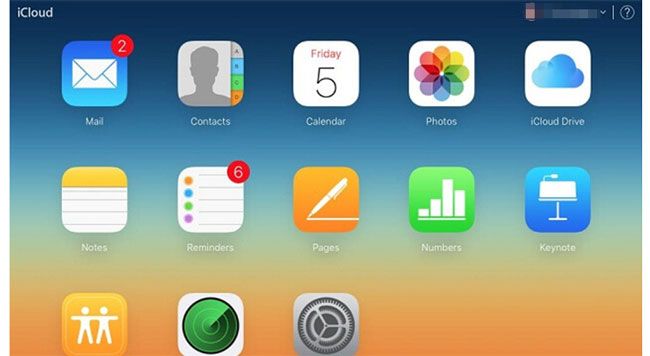 Step 5. Choose the files you intend to back up and click the "Download" button located at the top of the website.
Method 5. How to Back Up iPhone onto Computer Using Other Online Cloud Storage
Some online cloud storage can also serve as an alternative backup solution to how to back up iPhone to computer and the most widespread online storage services include Google Drive, Microsoft One Drive, Amazon Cloud Drive, Google Photos, Dropbox, etc. However, such online storage services may not back up all iPhone data. Here, we will take Google Drive as an example. Here is how to back up iPhone on computer via Google Drive:
Step 1. Download, install, and open the Google Drive app on your iPhone. Log in with your Google account credentials.
Step 2. Inside the Google Drive app, tap the "+" icon. Select "Upload" and pick the files you wish to transfer from your iPhone to the computer.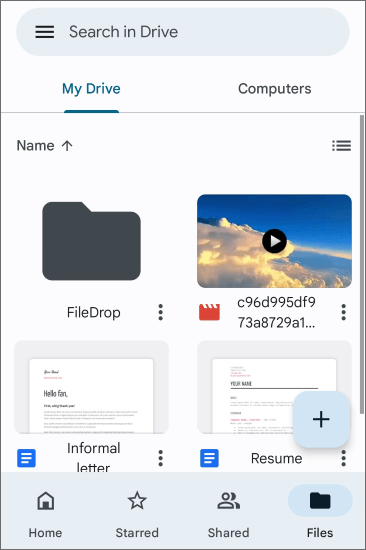 Step 3. Launch a web browser on your computer and navigate to the Google Drive website. Sign in using the same Google account linked to your iPhone.
Step 4. Locate the uploaded files in your Google Drive on the web. Choose the specific files you want to download to your computer. Click the "More" option (represented by three vertical dots) and select "Download".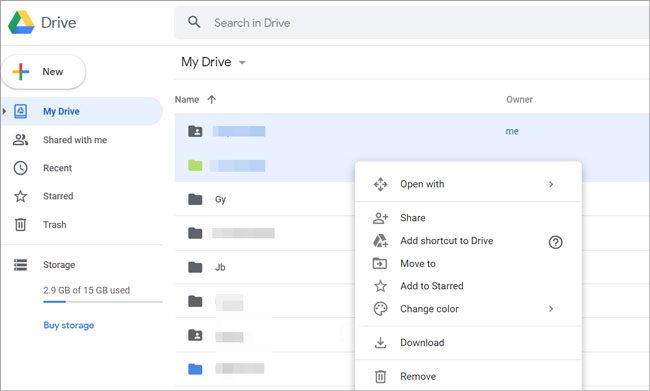 Learn More:
How to Backup Apps on iPhone? [3 Solutions]
How to Transfer Notes from iPhone to Computer Easily? (Top 4 Ways)
Method 6. How to Back Up iPhone from Computer with Email
For users seeking a more traditional approach to safeguarding their iPhone data, utilizing email for backup presents a viable and accessible option. This method provides a straightforward process for users who prefer simplicity and the familiarity of email platforms. However, the effectiveness of this method depends on the size of the file and the email service's attachment size limit. Here is how to back up iPhone onto computer using email:
Step 1. Open the Mail app on your iPhone. You can find it on your home screen, or you can swipe down and use the search function.
Step 2. Tap on the "Compose" button (usually a pencil icon) to create a new email.
Step 3. In the email composition window, look for an attachment icon (usually a paperclip). Tap on it. Select the file you want to send from your iPhone.
Step 4. Enter your own email address and tap "Send" to send the file to yourself.
Step 5. Log in to your email on your computer. Open the email you sent from your iPhone. Download the attached file to your computer by clicking on the download link or the attachment itself.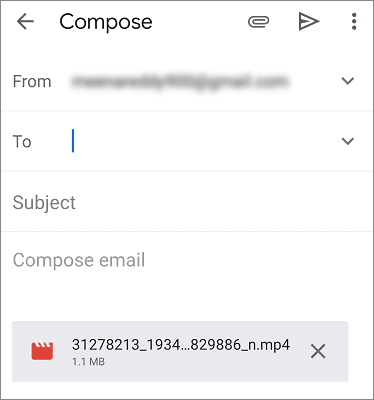 Final Words
Now, you know how to back up iPhone to computer. This article has listed six ways you can try. And from the above description, you already know their respective advantages and disadvantages. After overall consideration, I strongly recommend you to try Coolmuster iOS Assistant, which can back up overall iPhone data without iTunes and owns high security, simplicity and lossless file quality. Of course, you can also attempt any method above according to your demand.
If you encounter any problem during use, you can share your opinion with us by leaving a comment below, and we will help you resolve it wholeheartedly.
Related Articles:
7 Ways to Transfer Photos from iPhone to Computer without iTunes
Tips on How to Transfer Voice Memos from iPhone to Computer or iTunes Library
How to Back Up Text Messages on iPhone Without iCloud? [6 Proven Ways]
How to Transfer Contacts from iPhone to Computer without iTunes? [Solved]
How to Back Up iPhone with Broken Screen (4 Possible Ways)