"I've got the latest iPod touch model with iOS 13.3 and iTunes 12.6. None of the instructions I can find match the menus in my iPod and iTunes, and I'm failing miserably to get music onto my iPod. I can drop music into iTunes from my hard disc, but even that, I can't seem to copy to my iPod. Thanks!"
- Doug Weller
Some people may encounter the problem iPod won't sync with the computer when connecting their iPod to the computer. If you are now unable to sync iPod with iTunes, don't worry. This guide will teach you why iPod won't sync music and how to troubleshoot this issue successfully.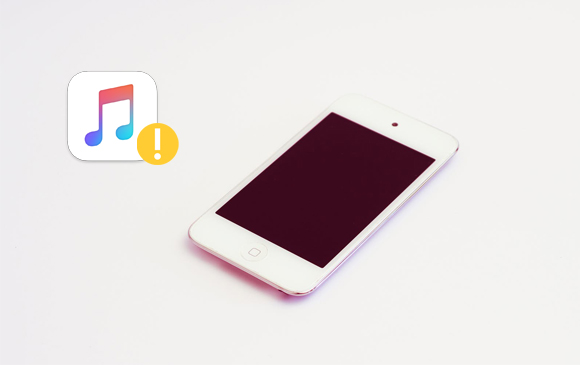 Part 1. Why Won't My iPod Sync with iTunes?
Part 2. iPod Won't Sync with iTunes? How to Fix It?
Part 3. Can't Sync iPod to iTunes? This iTunes Alternative Can Solve It
Part 1. Why Won't My iPod Sync with iTunes?
Before you know exactly how to solve iTunes won't sync to iPod, you may get curious about why this issue happens. Many possible factors may cause iPod not syncing issue. The main reasons are as follows.
Why can't I sync my iPod with iTunes?
Poor Wi-Fi network connection.
The USB cord or port is broken or stained.
You forget to authorize the computer.
You have enabled the iCloud Music Library while syncing with iTunes.
The iTunes or iOS version on iPod needs updating.
Part 2. iPod Won't Sync with iTunes? How to Fix It?
When iPod doesn't sync new music with iTunes, you can try the following tricks to get the problem repaired.
Trick 1. Update the iTunes to the latest version on your Windows or Mac computer
If you still have the old version of iTunes on your computer, it's time to update it! Sometimes, the updating can make iPod syncing work well.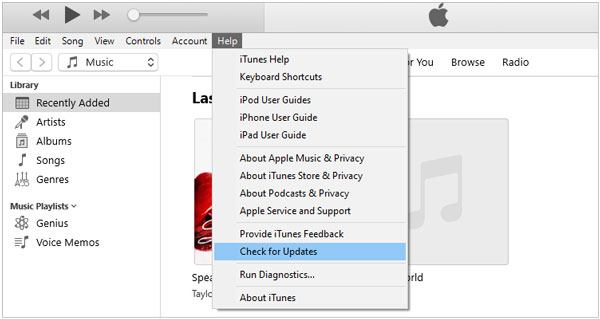 Trick 2. Check the USB connection
You can plug your iPod into the computer using an Apple-certified USB cord or change another USB cable or USB port to connect your iPod with the computer to check if the USB cable or port is broken.
Trick 3. Disable the iCloud Music Library or Show Apple Music option on your iPod and iTunes
If the iPod touch won't sync, you may have turned on the iCloud Music Library on your iPod, which conflicts with iTunes. Therefore, you can go to iPod's Settings > Music or launch iTunes > select Edit > click Preferences > choose General to turn it off.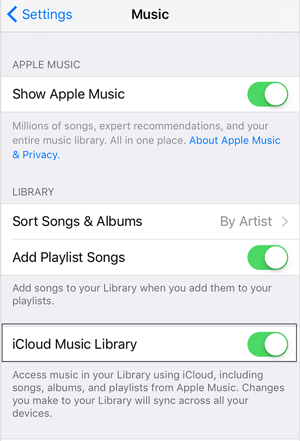 You might like:
Want to remove the activation lock on your iPod touch? Don't worry. You can utilize these 4 ways.
How to transfer playlists from your iPhone to iTunes? You can get detailed steps in this post.
Trick 4. Reboot your computer, iTunes, and iPod
You can also restart the iTunes, computer, and iPod and try again to see whether the problem iPod classic won't sync still exists. This tip does work sometimes.
Trick 5. Authorize your computer and iTunes
On your computer, open iTunes > tap Store > choose the Authorize This Computer option to authorize your computer; on your iPod, hit Trust in the pop-up window Trust This Computer when you connect your iPod with the computer via a USB cable.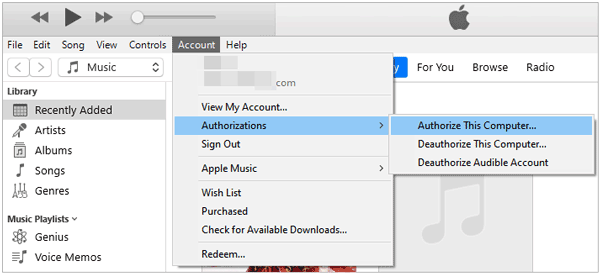 Trick 6. Sync iPod with iTunes via Wi-Fi network
If you usually sync iPod with iTunes via a USB connection, now you can try Wi-Fi network. Just run the iTunes on your computer and connect your iPod to it via a USB cable. Then, check Sync with this iPod over Wi-Fi in the Options window. After that, disconnect your iPod to the computer and open iPod's Settings > press General > iTunes Wi-Fi Sync > Sync now.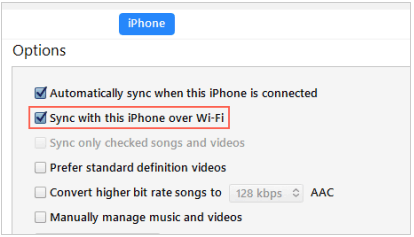 Trick 7. Reconfigure the firewall on your computer
The firewall software running on your computer may block iTunes and other apps that acquire system resources. If the iPod nano won't sync with iTunes, you can temporarily disable the firewall program and then try again to sync your iPod nano with iTunes. If this is the case, it will soon wipe out the problem.
Trick 8. Update Apple drivers
You will need to update the Apple drivers if you have recently updated the computer operating system to Windows 8 or Windows 10 and found iTunes unable to detect your iPod. You can click the Start button at the lower-left corner > Settings > Device Manager > right-click Apple iPod > click Update Drivers.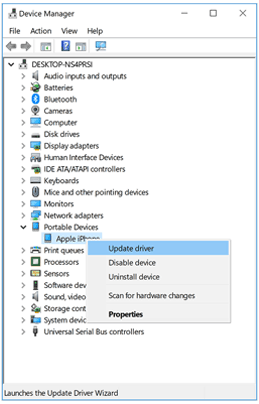 Next, browse the drivers from the path: C:\Program Files\Common Files\Apple\Mobile Device Support\Drivers. Once done, iTunes will pop up and display your iPod there.
People Also Read:
Songs Won't Sync to iPod or iPhone? Here are the Reasons and Solutions
iTunes Driver Not Installed on Windows, How to Fix?
Part 3. Can't Sync iPod to iTunes? This iTunes Alternative Can Solve It
Coolmuster iOS Assistant is a professional data transfer program to sync iPod touch/classic/nano/shuffle data to a computer or iTunes backup location. It supports multiple files like contacts, videos, notes, messages, music, photos, calendars, iBooks, photos, etc., and works on all generations of iPhone/iPod/iPad, such as iPod touch 8/7/6/5/4/3/2/1, etc.
What's more, it also allows you to import iBooks, calendars, contacts, bookmarks, iTunes backups, and other files from the computer to your iDevice.
The highlights of Coolmuster iOS Assistant:
* Easily export all data from iPod/iPhone/iPad to a computer or iTunes backup location.
* Support various files, including contacts, music, calendars, apps, notes, messages, videos, iBooks, photos, bookmarks, etc.
* Import iTunes backups, contacts, calendars, bookmarks, and iBooks from the computer to your iDevice.
* Allow you to preview and choose the data you want to sync.
* One-click operation, user-friendly interface, and quick scanning.
* Widely compatible with all generations of iPod (iOS 16 supported), such as iPod touch 8/7/6/5/4/3/2/1, etc.
You may like:
3 Ways to Transfer Text Messages from iPhone to Computer? [Can't Miss]
[Fixed] How to Transfer Photo Albums from iPhone to PC with Ease?
How to sync iPod to computer?
Note: Please ensure that iTunes or Music can detect your iPod. Otherwise, the program may not recognize your device successfully.
1. Install Coolmuster iOS Assistant on your computer and connect your iPod with a USB cable.
2. Trust the computer on your iPod as prompted and click Continue on the program to move on. Once connected, you will see the main interface as below.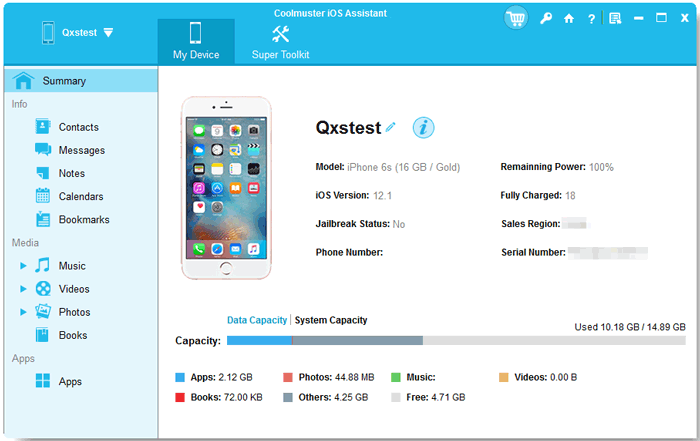 3. Select the data type you wish to sync from the left panel, for example, Music. Preview and tick the desired songs and hit the Export button on the top to save the songs to your computer.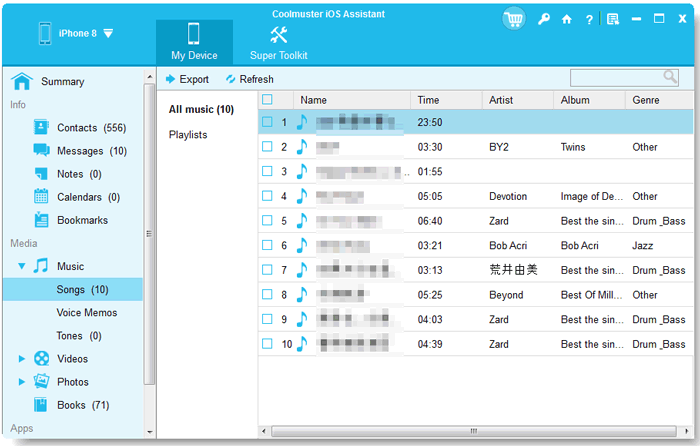 Last Word
It is effortless to fix the problem iPod won't sync with iTunes, as long as you adopt the correct method. You can try the troubleshooting solutions listed above to resolve the issue. If you don't want to spend time trying, you can directly sync your iPod data with Coolmuster iOS Assistant. This program is worth trying since it is safe, easy, and user-friendly to use.
Besides, you can also contact us anytime if you get into trouble. Thus, why not give it a try?
Related Articles:
How to Fix the Problem iTunes Could Not Connect to This iPhone? (6 Effective Solutions)
Fixed: Can't Import Photos from iPhone to PC? (Windows 11/10/8/7)
Complete Guide on How to Fix iTunes Error 4005 or iPhone Error 4005
How to Transfer Music from iPad to iPod? (Simple & Reliable)
How to Put Music on iPod without iTunes? (4 Effective Ways)
How to Transfer Music from Computer to iPod? (Fast Transfer)