Adobe PDF and Microsoft PowerPoint are both useful formats in their own fields. PDF is widely used in document distribution across different computer platforms while keeping a consistent layout. However, it also has its limitations in making edits. And I think that is the reason why more and more people choose to convert PDF to PowerPoint format to give them the opportunity of editing on their PDF files. Then, how to complete the conversion task? Do we need to purchase a special program for help?
Certainly not! There are many solutions available allowing you to convert PDF to PPT slides without paying money. Below we are going to introduce the solutions one by one. You can do a comparison and pick out the best one.
Solution 1. Convert PDF to PowerPoint Free Online
Using online converter is very convenient when you are in a hurry. You just need to connect to a net work and begin the conversion immediately.
1. Make sure your computer is connecting with a stable network, open your web browser and navigate to the site of the online PDF to PowerPoint Converter.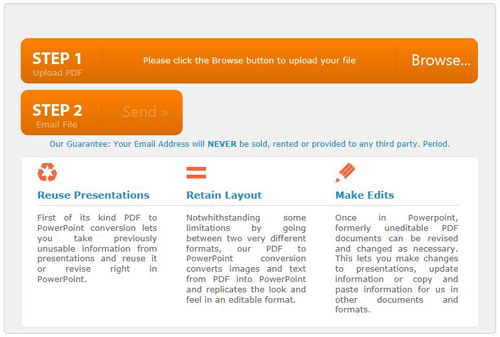 2. In the main page, click the button of "Browse…" to upload the PDF file that you are going to convert. Enter your email address in the "Email File" field and click the "Send" button.
3. After a several minutes, a download link will be provided for you to download the converted PowerPoint file in your mail box.
Solution 2. Converting PDF to PPT with Adobe Reader
You can also complete the conversion by using the dragging and dropping operation in Adobe PDF reader. Below is how.
1. Open the PDF in Adobe Reader, use the "Graphics Select" tool to draw a rectangle around the area where you want to convert and then press the key "Ctrl+C" on your keyboard.
2. Turn to open a PowerPoint and press the key "Ctrl+V" on your keyboard to paste the copied PDF into your presentation.
3. Adjust the position of the pasted PDF and repeat the methods to copy and paste all elements of the PDF you want to convert to PowerPoint.
Solution 3. Print Screen to Convert PDF to PowerPoint
1. Open the PDF on your computer and press the key "Prt Scr" on your keyboard to capture an image of everthing on your computer screen.
2. Switch to a PowerPoint and press the key "Ctrl+V" on your keyboard to paste the image into the presentation.
3. Use the built-in image tools in PowerPoint to trim the extra elements from the image and only preserve the part you need. To do this, just click the tab of "Image", choose "Crop" tool which looks like a black rectangle.
Extra Knowledge: How to Convert PDF to More Formats?
PDF converting needs keep growing. Coolmuster PDF Converter Pro is a professional tool that helps users convert PDF files to many other popular file formats like Word, ePub, Text, HTML, Image, etc. Compare with above solutions, Coolmuster PDF Converter Pro allows you to achieve your goal without network requirement and it is simpler to handle due to its batch conversion mode.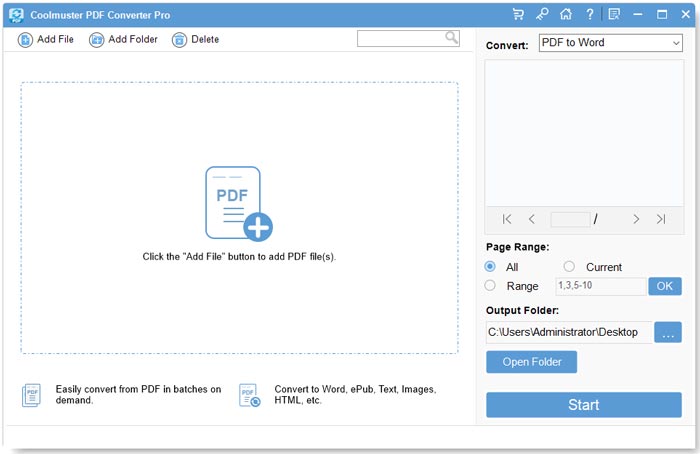 In conclusion, while PDF and PowerPoint have their own strengths and limitations, converting PDF to PowerPoint can be a great way to edit and customize PDF files. Fortunately, there are many free solutions available, such as online converters, Adobe Reader, and print screen methods. By comparing and selecting the best option for your needs, you can easily convert PDF to PowerPoint without spending any money. Additionally, tools like Coolmuster PDF Converter Pro can also help you convert PDF files to many other popular file formats with ease.