As one of the most widely used platforms, Skype is an app that specializes in providing voice calls and video calls on devices over an internet connection. You can send or receive messages as well as make video conference calls. If you often use Skype, there must be plenty of messages and other files stored on the device. What if you accidentally deleted your Skype conversations, or they seem to be missing? Can you recover deleted Skype message?
Skype functions just like other messaging apps and platforms, so it also has options to restore deleted files. There are various reasons messages can be lost from Skype. No matter the reason, this guide provides workable ways to recover deleted Skype messages.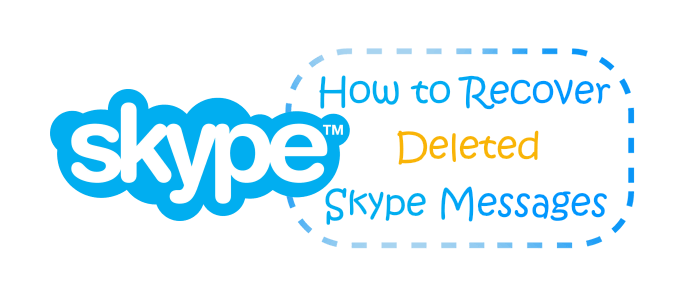 Part 1. Can I Restore Deleted Messages on Skype?
Skype doesn't delete old chat messages. The chat history will be retained even if it's no longer showing in the chat window. So, if you can access your Skype and didn't delete the chat history, you may still view older messages. If you have linked your Skype account to a computer, all activities, like chat messages, are kept in a database file, which is available on the device. This way, restoring your chat history on Skype will be easier.
However, it can be challenging to retrieve chat history on your Skype if the database folder has been overwritten or is missing. If the file is missing and not overwritten by other files, you can only restore them using specialized data recovery software.
Part 2. How to Recover Deleted Skype Chat History
Accidentally delete messages from your Skype? There are several ways to get them back. In this part, we'll show you how to restore deleted Skype chat history.
Method 1. How to See Removed Skype Messages from the Previous Versions of Skype Folder Properties
Another method for recovering deleted messages on Skype is through the Windows backup feature known as Previous Versions. This feature helps you to access any version of a folder to retrieve your files. However, for this solution to be effective, you need to have already turned on the Windows Backup feature before the data got deleted. If not, this method will be useless.
These are the steps to view the deleted Skype messages:
Step 1. Head to this directory:
C:\Users\YourWindowsUsername\AppData\Roaming\Skype\YourSkypeUsername

Step 2. Next, right-tap on the File option, then choose Properties and proceed to the Previous Versions option. Select an older version, then click on Restore. (Remember, this method can only work if the Previous Versions function has been enabled before deleting the chat history from Skype.)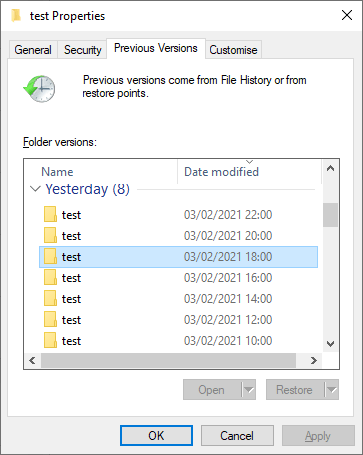 Method 2. How to View Old Skype Messages in Main.db Folder
Skype is a cross-platform application that can also be used on computers. If you have linked your Skype account with PCs, there is a straightforward approach for you to recover any deleted messages.
When you erase files from Skype, they aren't gone permanently. They're stored in the database file known as main.db, which keeps any deleted data from Skype on a computer. With this file, recovering deleted Skype files will be smooth sailing. But, you need an additional tool as Skyperious or SkypeLogView to perform the recovery.
Check these steps out:
Step 1. Press the Windows + R keys simultaneously, and a command prompt will show up. Type in the %appdata%\Skype the press OK.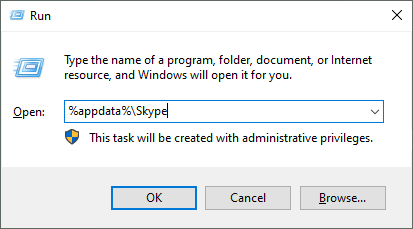 Step 2. Choose the folder named after your Skype ID.
Step 3. Search for main.db file, then download Skyperious or SkypeLogView to check the content in the files. Now, you can view all your old chats in Skype.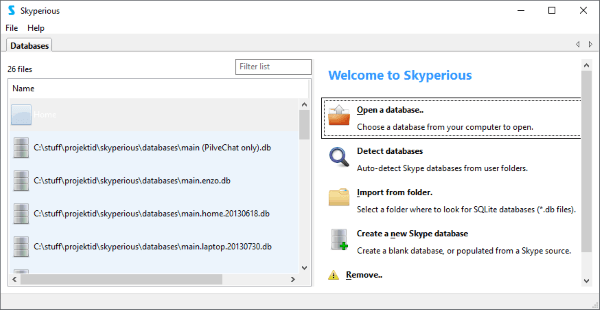 Also read:
One Click to Recover Formatted Media Files from iPad Pro/Air/4/mini/2
Easily Restore Lost Contacts/Messages from iPhone 7/7 Plus/8/9/X/11/12/13/14
Method 3. How to Recover Deleted Skype Messages on Windows by Checking Skype Server
If you find messages missing from your Skype, you can check Skype servers. Since Skype keeps chats on servers, they may still be there if they haven't been deleted permanently. Usually, the deleted files will be retained in the servers for 30 days before they are deleted permanently.
So, before this time frame, you can try your luck and recover your chats.
Here is what to do:
Step 1. Visit https://secure.Skype.com/en/data-export and log into the official Microsoft Skype website.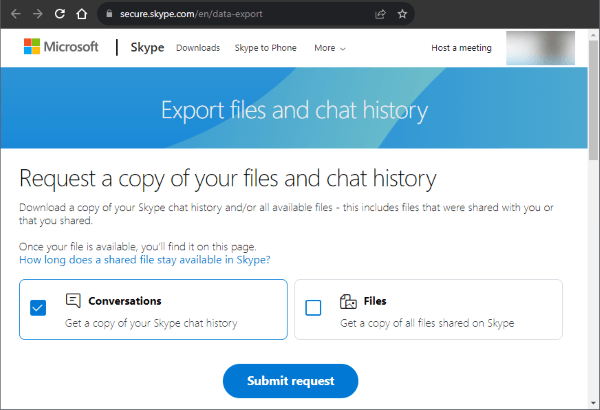 Step 2. Choose the Conversations option and click the Submit request button.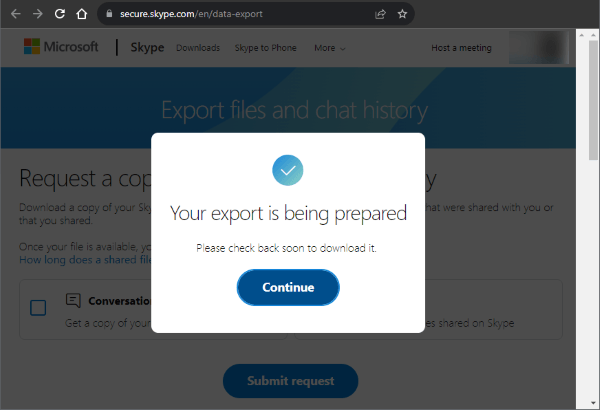 Step 3. Go back to the original page, and the export files can be seen at the top of the page. Click the Download button and you'll get the JSON file of your messages.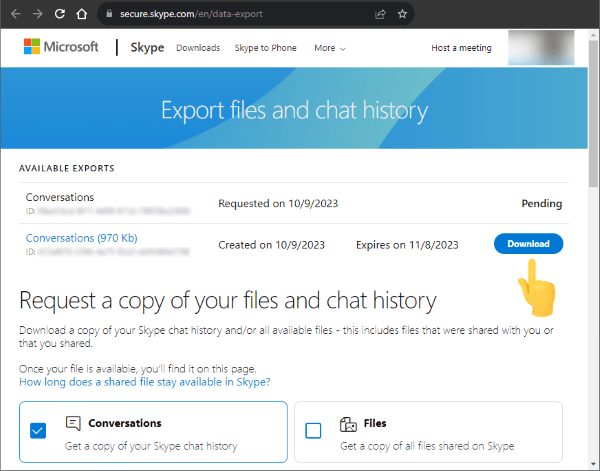 Step 4. Search for a JSON parser tool on the Internet. Copy the content of the messages.json file and paste into the parser tool. Press Windows + F and input the word content and you'll see your chat history. Hopefully, you may find your deleted messages there.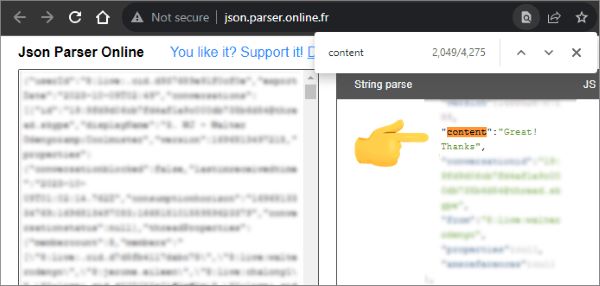 Bonus: How to Recover Deleted Messages on iOS
Data recovery is no easy feat. Remember, any wrong move can lead to permanent data loss. Apart from Skype messages, text messages as equally important, especially if they are from a loved one. So, how to recover deleted messages from iOS? We highly recommend Coolmuster iPhone Data Recovery, a proficient iOS data recovery program. It restores deleted or lost data with no quality loss. The software supports the recovery of data from iOS devices, iCloud, and iTunes backup.
You don't need a backup to restore your messages from iOS devices. Its wider compatibility is also another added advantage. It supports all iOS devices operating from iOS 5 and up, including the iOS 16. iPhone Data Recovery recovers various data types, including SMS, contacts, notes, photos, and more.
Check these simple steps to get back deleted messages on iOS:
01Install Coolmuster iPhone Data Recovery from the official website. Launch it and tap on iOS Recovery.
02Connect your iPhone to the PC via a lightning cable. Hit Next to proceed. The app will quickly detect the phone. Press Trust on iPhone.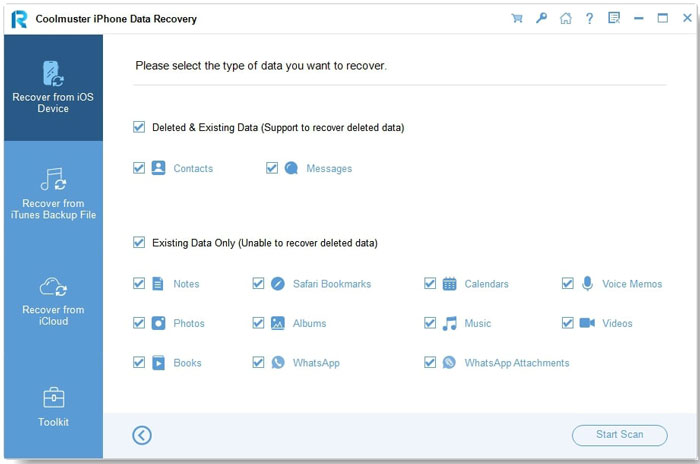 03Choose Messages to start the scan. When done with scanning, preview detailed files from the interface. Select the messages to restore and press the Recover to Computer button. All your messages will be recovered and saved to the computer.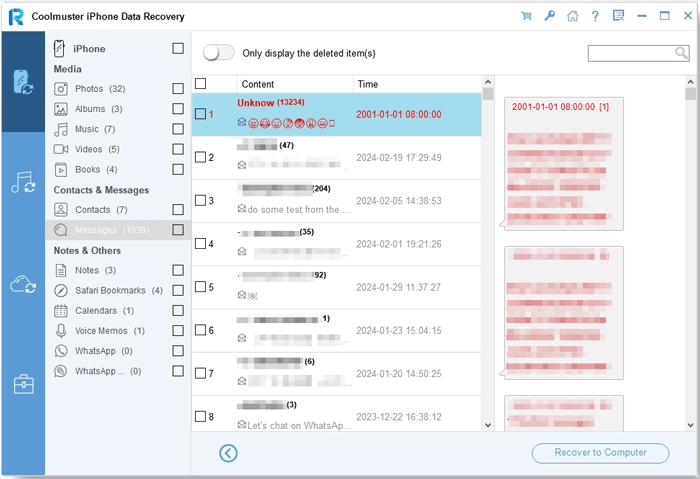 Read more:
11 Best iPad Data Recovery Software Reviews of 2023
FAQs About Skype
Q1. Does Skype save chat history?
Normally, Skype keeps text chats on its servers for 30 days. If you intend to keep it longer, you need to back up your chat history manually.
Q2. Is Skype safe for private chat?
Skype encrypts all files shared on the platform, such as videos and voice calls, instant messages, etc. This helps protect your information from getting accessed by unauthorized users. Therefore, it is highly secure for your private chats.
Q3. Where does Skype store chat history?
Chat history on Skype is stored on the device and cloud. You can find the chat history in the Skype app on your device. Also, Skype has the option to keep the chat history in the cloud via a Microsoft account so users can access it on various devices.
Conclusion
Data loss is a big issue, especially on a popular platform like Skype. If, by chance, you've accidentally deleted messages on your Skype account, you can get them back easily. We've outlined efficient ways to help you. You just have to follow the correct steps to get back your Skype messages without a hassle.
We advise you to use Coolmuster iPhone Data Recovery to restore deleted messages on iOS. It is an excellent app that helps restore deleted or lost messages on iOS without a backup in just one click.
Related Articles:
Simple Guide to Recover Lost Data from Dead iOS Devices
Stellar Data Recovery for iPhone Review: Features, Pros & Cons and Pricing
What Can I Do to Get Back the Missing Notes Icon from my iPhone?
Recover iMessages from iCloud? 3 Proven Methods [2023 Update]
How to Recover Deleted iMessage on iPhone? [2023 Tips]
How to Recover Notes from iCloud without Effort? (iOS 15/14/13 Supported)