Losing data on your iPhone can be distressing, especially if you have saved important photos and videos. However, you can recover the lost data using data recovery software. One software that has piqued users' interest is Stellar Data Recovery for iPhone. This software is designed to retrieve lost data from iPhones, iTunes and iCloud and restore it to iOS devices. It has been helping users worldwide recover their essential data with its incredible features for over a long period now.
Today, there are various data recovery tools for iPhones available online that can help you recover data from your iPhone effortlessly. Since this tool isn' t free, gathering more information about it is advisable before purchasing the license. This Stellar Data Recovery for iPhone review comprehensively introduces the app, covering all its features and other important aspects. Before using this tool, you should go through this guide to gain a better understanding of its capabilities.
Part 1. About Stellar Data Recovery for iPhone
Here we will introduce something about Stellar iPhone Data Recovery, including its overview, functions, price and pros and cons.
1.1 Overview
Stellar Data Recovery for iPhone is a software designed primarily for any iPhone user to help them retrieve lost files from their devices safely and flexibly. The software is compatible with most computers (Windows & Mac). To recover iPhone data on your desktop, install the necessary software and connect your devices to your computer.
The tool will scan iPhone to detect deleted files, thus enabling you to quickly select and recover them. The software can detect data saved on an iPhone, iTunes, and iCloud backups for all common file types. We can say that this is an above average tool that has helped many users recover lost or deleted data.
1.2 Features
Stellar Data Recovery for iPhone is a software gaining popularity globally due to its amazing recovery features that help recover data on iPhone devices. Here are some key software functions that can help you retrieve your iPhone data proficiently and securely.
1. Recover files from different devices
The Data Recovery for iPhone can identify iOS data from multiple sources, such as iPhone/iPad devices and iTunes or iCloud backups. You can use any of the available modes to easily recover lost files and data, regardless of whether you have previously backed up your data.
2. Delete iPhone data safely
It has a data recovery function and provides a method to delete data on an iPhone, including third-party apps.
3. Preview data before data recovery
The tool offers a different approach than iTunes or iCloud by allowing you to selectively choose which files to recover rather than restoring all saved files at once. This allows you to easily manage and restore your files more flexibly than with iTunes & iCloud.
4. Support many data types
The app can scan and then detect the files on iOS devices, such as documents, photos, emails, media files, call history, and contacts. So if you lose any data, don't worry because this software can recover almost all of it.
5. It can easily repair iOS-related problems
It offers a toolkit to resolve iOS issues such as black screen, white screen, crashing on the system, or iTunes issues.
You May Like:
[New] How to Recover Text Messages from Broken iPhone in 5 Ways?
Music Disappeared from iPhone Unwittingly? Try 9 Fixes Here
1.3 Pros and Cons
Pros:
* The software has a user-friendly interface and can quickly recover different types of lost data.
* The iPhone data recovery tool offers three different modes for retrieving data.
* Allow users to preview the data before retrieving it.
Cons:
* The cost of purchasing the app is high.
* The only option to retrieve data for free is to use the limited version, which can only recover a maximum of 1GB of data.
* It scans data slowly and does not allow for data recovery from iPods.
* The retrieval of data may be incomplete.
1.4 Pricing
Stellar Data Recovery for iPhone has a free trial to restore 1GB of files. However, you must pay for the full version to fully access and use its data recovery features without limitations. The 1-year license for standard plan costs $59.99. This plan lets you restore data on up to 5 iOS smartphones using 1 Windows/Mac. The plan is ideal for individuals requiring a standard plan to recover phone media.
Besides, it has professional and premium plans for those who wish to recover data from corrupted and distorted files. The professional plan is priced at $89.99 with a premium plan priced at $99.99.
You can also recover data with professional assistance provided by this tool if you opt for the best technician plan, priced at $199. Therefore, choose the appropriate plan based on the requirements and recover your data.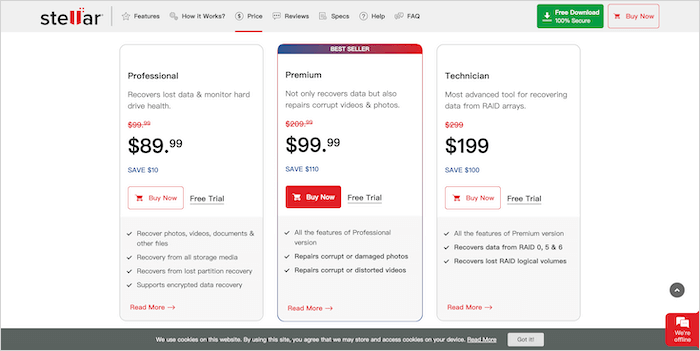 Also Read: How to Retrieve Text Messages from Old Phone Number on iPhone & Android? [Full Guide]
Part 2. How to Restore Data with Stellar Data Recovery for iPhone
Step 1. Install and launch Stellar Data Recovery for iPhone on your computer. Ensure that your iPhone is connected to the computer via a USB cable. Once the software detects your iPhone, click on the Recover from iPhone option on the main interface.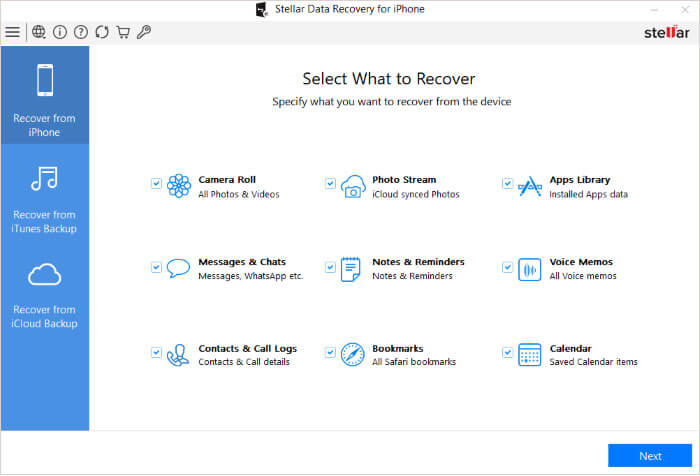 Step 2. You will see a list of file types that can be recovered. Select the types of data you want to restore.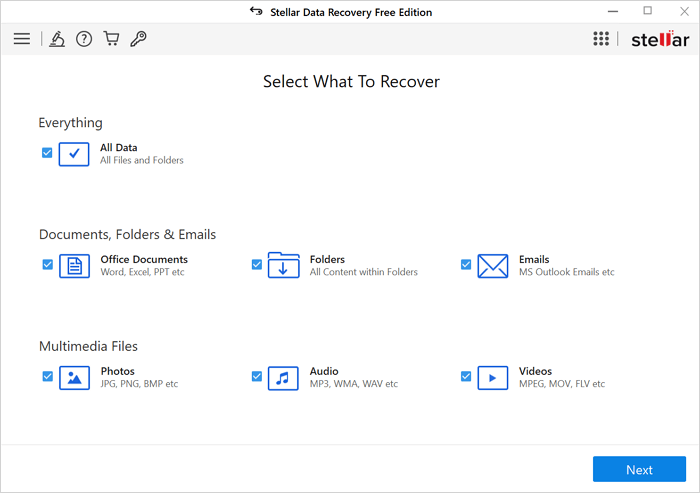 Step 3. To choose the data to be recovered, you need to select the drive or device where the data was saved. Click on the Recover icon to save the files.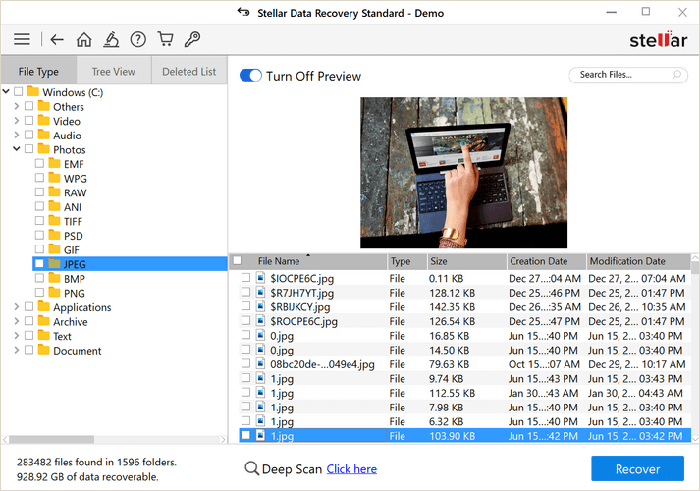 Learn More:
How to Recover Snapchat Messages on iPhone in Four Hassle-free Ways?
How to Restore from iCloud Backup without Reset? (5 Effective Methods)
Part 3. Best Alternative: Coolmuster iPhone Data Recovery
If you're looking for a data recovery tool other than Stellar, then Coolmuster iPhone Data Recovery is a great choice. It is cheaper, scans data faster, and it's compatible with iPods for iOS data recovery. The recovery process is made easy with a streamlined and user-friendly interface. You can effortlessly recover data from your iPhone, iPad, or iPod. So, you don't want to miss it.
Coolmuster iPhone Data Recovery might be similar to Stellar Data Recovery at a glance, in terms of its ability to support almost all types of files, but it surasses it for sure. It can detect data from iOS phones, iTunes, and iCloud and recover them to iOS devices with just a few clicks.
The tool will continue to update to provide services for the latest device versions, which means that many iOS users can benefit from it. The tool has a fast scanning speed and can scan many files. It is very secure to use.
Key Features:
Easily retrieve any lost or deleted data from your iOS device, iTunes, or iCloud backup.
Recover important data such as contacts, photos, SMS, WhatsApp chats, and notes.
Compatible with the newest iOS version, iOS 16.

Free Download for PC
How to retrieve data on iOS with Coolmuster iPhone Data Recovery:
01Download and install the program on your computer. Launch the program on your desktop and click on the Recovery from iOS Device module. Use a USB cable to connect the iPhone to the PC.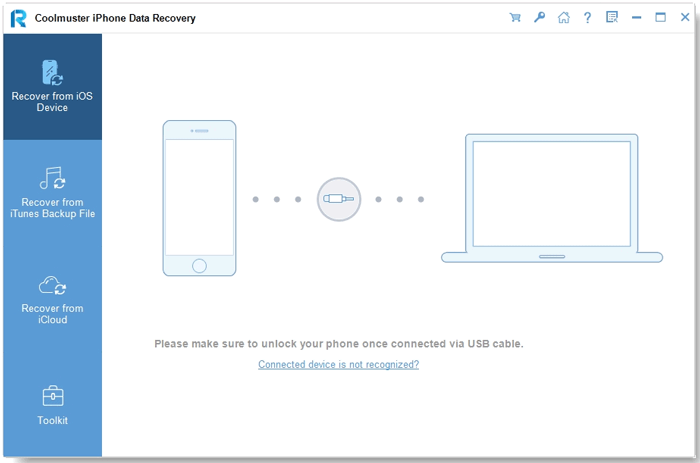 02The program will scan the data types you selected and display the detailed files on the interface. This includes both deleted and existing files.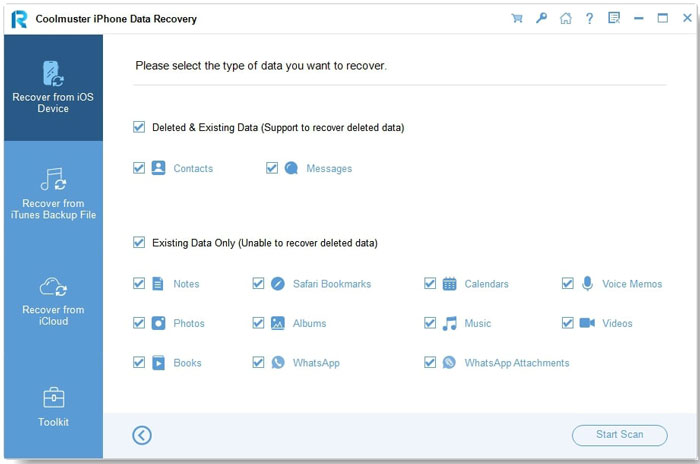 03After you have chosen the files you wish to retrieve, you can click on the Recover to Computer button to begin the iOS data recovery process. This will recover the deleted data from an iPhone and transfer any existing files to your computer.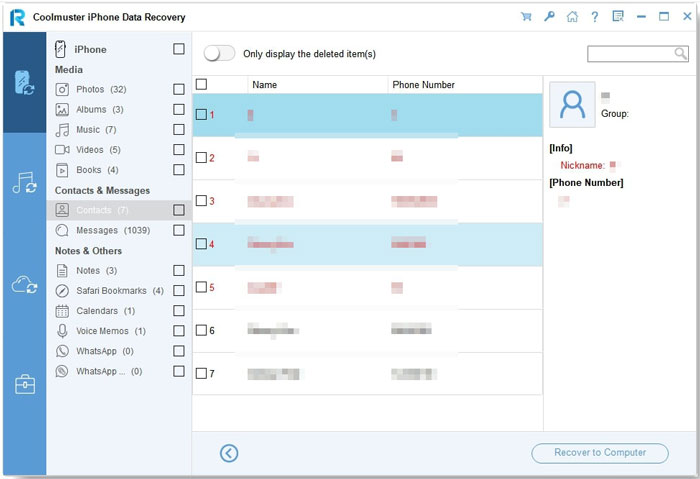 Further Reading:
How to Recover Photos from Locked iPhone 14/13/12/11
How to Recover Pictures from Text Messages on iPhone [2 Excellent Ways]
Part 4. FAQs on Stellar Data Recovery for iPhone Review
Q1. Is Stellar Data Recovery safe?
We can say Stellar data recovery software is safe to use. It does not slow down the computer or cause any virus to develop. Therefore, you can use this software to retrieve lost data without worrying about your data getting leaked.
Q2. Is Stellar Data Recovery software legit?
Yes. The Stellar app is legit and is trusted by many users. It can recover valuable files from any Windows or Mac device or hard drive, even when corrupted. Its advanced features allow users to recover their files without much problem.
Conclusion
Stellar Data Recovery for iPhone is a dependable option for recovering data on your iPhone, resolving iOS problems, removing Apple ID, or wiping data. It includes user-friendly data recovery capabilities and other useful toolkits. However, if you are looking for a faster iPhone data recovery service that offers powerful features, you may want to consider trying out Coolmuster iPhone Data Recovery. It is your one-stop solution for lost files. It offers great performance while ensuring the safety of your data, so you won't accidentally lose anything important, thanks to its remarkable security features.
Related Articles:
iPhone Calendar Disappeared: How to Recover Calendar App & Events on iPhone
How to Recover Photos from iPhone without iCloud [With Tutorial]
How to Retrieve Deleted Text Messages on iPhone with or without Backup
How to Recover Data from Broken iPhone with or without Backup?
How to Retrieve Deleted Messages on Messenger on iPhone with Ease?
10 Methods to Fix iPhone Text Messages Disappeared Issue in 2023