"How to see old iMessages on iCloud?"
If you're using Apple, you're most likely inclined towards an iMessage app. It is one of the best instant messaging applications for iPhone and iPad users. Like other messaging applications, you might find yourself erasing messages mistakenly, or you've updated your iPhone, causing your data loss. Luckily, even after accidentally erasing your iMessages from your device, you can easily recover them back. This article will help you know how to recover iMessages from iCloud.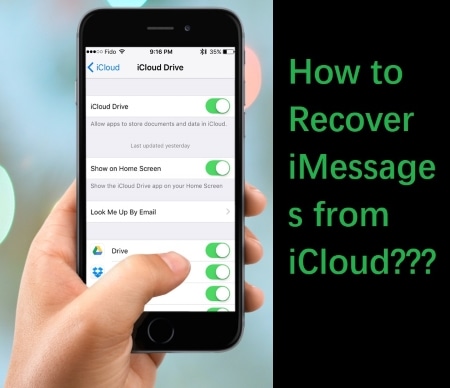 Part 1. Can I Retrieve iMessages from iCloud?
Sometimes, you may have accidentally deleted some of your important messages from the iMessage application. Now, you might wonder how you can restore these iMessages from iCloud. The question is, can you retrieve your iMessages from iCloud? The answer is uncertain. In this article, you will know whether it is possible to restore your messages from iCloud and the guidelines about how to access old iMessages on iCloud:
If you've backed up your iMessages to the iCloud Service before they are erased, you can restore them from recent iCloud backups.
More relevant articles:
Can You Recover Deleted Text Messages on Google Pixel?
How to Recover Pictures from Text Messages on iPhone Easily
Part 2. How to Back Up Your Messages to iCloud
You may be extremely worried about losing your important messages. Yes, but it shouldn't make you feel sad or stuck anymore. iMessage in the iCloud is updated automatically; hence, any texts shared on Apple devices are shared directly on them all. But you should not worry since the text messages in iCloud are always end-to-end encrypted, which means that others cannot see them. Here is how to back up your iMessages to the iCloud Service:
Step 1. Connect your iPhone to your Wi-Fi network.
Step 2. Go to Settings and then "Your Name", and tap "iCloud". If you are running iOS 10.2, open your Settings, scroll through and tap "iCloud".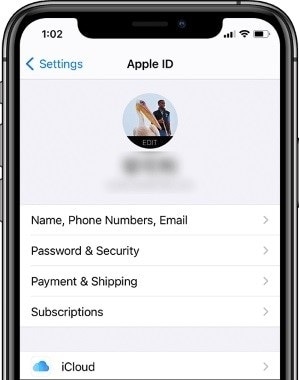 Step 3. Select "iCloud Backup". If you are running iOS 10.2 or an older version, select "Backup". It is good to make sure that your iCloud Backup is switched on.
Step 4. Tap "Back up Now". Stay connected to the Wi-Fi until this process is completed. Your messages will be automatically included in your backup.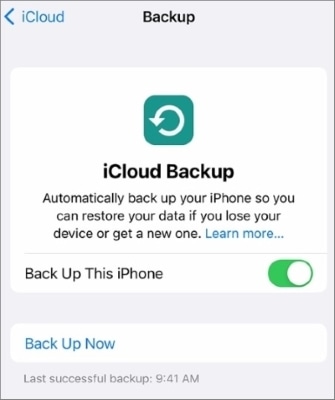 Learn more about associated questions:
iCloud Backup Stuck: Easily Solve It with Proven Tricks
iCloud Backup Taking Forever? 8 Easy Ways Can Fix It
Part 3. How to Recover iMessages from iCloud
The parts below tells how to recover iMessages from iCloud. Check which one would suit your needs.
3.1 How to Restore iMessages from iCloud Directly
Erasing data and restoring your previous backups may seem difficult, especially if you didn't create recent backups. The best way of recovering your iMessages from iCloud is to choose iPhone Data Recovery, a data recovery tool for all iOS devices.
It specializes in recovering erased messages from iCloud without restoring the iPhone to recent backups.
It incorporates some advanced features to help in recovering lost messages easily. The app is safe to use and efficiently gets back the lost data in just a few simple steps. Besides, the app is very easy to use and doesn't cause harm to your device.
iPhone Data Recovery is one of the most efficient and safest iOS data recovery tools, which allows you to export your iMessages, Calendar, Notes, Photos WhatsApp attachments, among others, from iCloud to a computer with just a click.
Key Features:
Safely restores iMessages from iCloud to the computer.
iOS 16 Supported.
Very safe to use.
Support various data types like iMessages, contacts, and photos.
Here is how to find old iMessages on iCloud:
01Start by downloading, installing and launching the software on your PC. Choose the "Recover from iCloud Backup File" option. Then log into your iCloud account.
02If the 2-factor authentication is enabled, click on "Trust" on your iPhone. Apple will then send a verification code to your iPhone. Enter this code into the software.
03Choose the "iMessages" to be recovered, then click on the "Start" button to initiate the scanning process for iCloud data.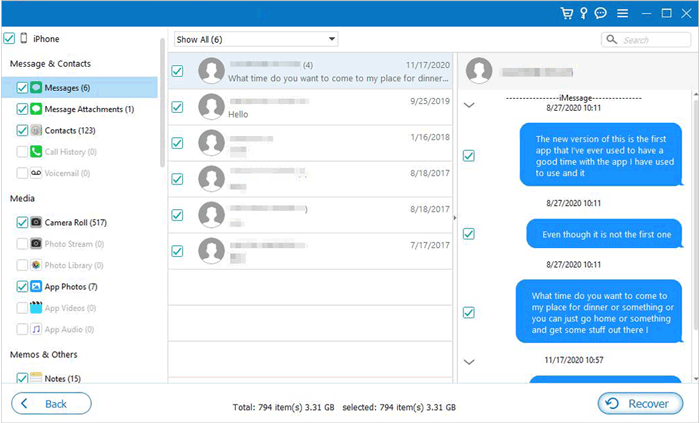 04The scan process will take a while. Once it is finished, you can click on the iMessages from the left sidebar to view the details on the right. Select the messages you wish to recover and then click on "Recover" to save the files on the computer.
Here's more to read:
How to Restore Contacts from iTunes Backup to iPhone Easily?
How to Restore Reminders on iPhone Swiftly: FAQs and 3 Easy Solutions
3.2 How to Restore iMessages from iCloud via iCloud Backup
This is among the most common techniques you can employ to recover lost iMessages without necessarily having a computer. However, you must have backed up the iMessages before erasing your conversations. Ensure you have the Apple password and ID ready before you start. Also, note that using this method will involve erasing your device first. So, making extra backups for your files may be necessary.
Steps to recover iMessages from iCloud Backup:
Step 1. You have to back up your important data from the iPhone. To do this, you must first ensure your iCloud accounts are set, and they appear on top of your iPhone Settings; tap your names, and select iCloud. From your iCloud page, toggle the iMessage switch to green.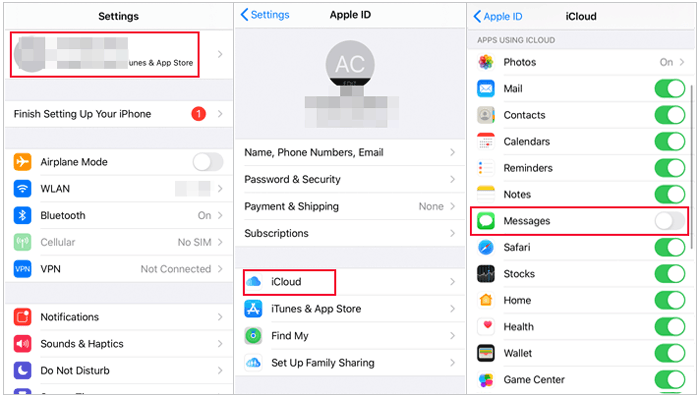 Step 2. When going through the initial setup processes, you will encounter three options; iTunes backup, convert from iCloud Backup and set up like a brand-new device. Go to "General > Reset > Erase All Content and Settings > Restore from iCloud Backup".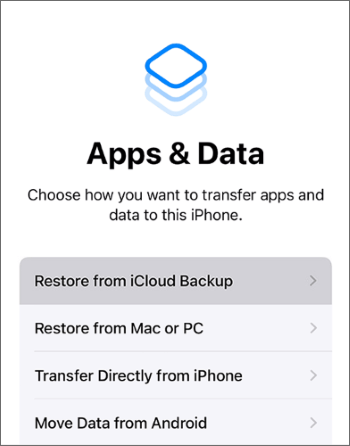 Step 3. In this final step, you must sign in using your iCloud or Apple account. After that, you will see several backups with your iPhone version, time and account name. You should choose the coveted or latest backup data. The text messages and other files may take anywhere between a few seconds and two hours.
Restoring your iMessages from the iCloud discussed above is very easy. It enables you to recover the messages that were accidentally erased or lost for other reasons. The main pro is that the additional content in your phone will remain the same. It does not require using any third-party app, and there is no harm.
When it comes to the downsides, if you didn't back up your data, there is a high probability of losing the content saved after your last Backup.
Also Read:
How to Recover Voice Memos from iCloud Smoothly | 2 Advanced Solutions
How to Back Up iPhone to iCloud and Restore iCloud Backup
3.3 How to Retrieve iMessages from iCloud on Mac
Also, you can access your iMessages on a Mac. Switch on the iCloud Messages on the Mac: First, ensure you have signed in with the same ID on your phone. Open your Messages and select Preferences. Select iMessage and then Enable Messages in the iCloud. Now, you can restore your messages from the iCloud on the Mac using the steps discussed below:
Step 1. Log out of your iMessage account on the Mac and quit your Messages app.
Step 2. Open your Finder and open the folder named: ~/Library/Messages/.

Step 3. Select a folder with the dates you wanted.
Step 4. Open the folder and then click Restore.
Conclusion
You now know how you can restore your lost iMessages from iCloud. This article has discussed different methods you can employ to do so. When choosing the method to use, consider the chances of losing data and the time you need to recover your iMessages successfully.
iPhone Data Recovery is one of the best methods to recover your messages quickly without losing them. It offers you an option to select your desired conversations only, so you will not restore unnecessary ones. If you wish to enjoy such a level of reliability and control while restoring your iMessages, download the iPhone Data Recovery and try it out.
Related Articles:
How to Recover Snapchat Messages on iPhone in Four Hassle-free Ways?
How to Undo an Update on iPhone?
How to Fix Email Disappearing from iPhone?
How to Fix "Slide to Unlock/Power Off" Not Working on iPhone?
iPhone "Save Image" Not Working, How to Fix?
How to Restore from iCloud Backup without Reset? (5 Effective Methods)