Our lives have become so accustomed to relying on smartphones, with many people now using their iPhones to capture special memories. iPhones are known to have good camera qualities that can capture the unforgettable moments of our life.
What if you delete some important photos? In this case, don't panic, and continue reading to learn how to recover deleted photos from an iPhone without computer. You will get your photos back without trouble.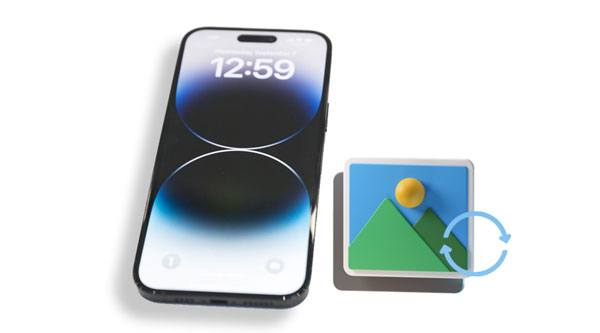 Method 1. How to Retrieve Deleted Photos from iPhone without Computer from iCloud Backup
If you don't have access to a computer, iCloud is a viable option for retrieving deleted pictures on your iPhone. First, ensure that all your data is backed up on iCloud, then reset the phone. This will erase any existing data stored there but grant you an opportunity to restore previously lost content. If wiping out every piece of information doesn't sound appealing, try another method.
When using iCloud backup to recover pictures, keep in mind this:
1. iCloud and iCloud backups are different. When you turn on the iCloud Photos option, you can conveniently see your pictures on iCloud and iCloud.com but not in iCloud backups since iCloud.com syncs and saves changes with an internet connection. However, these image files won't be available in your iCloud backups, so make sure to pick an appropriate iCloud backup containing the pictures you need.
2. You can't preview all files before restoring them.
3. Lastly, once you choose your desired iCloud backup, all of the current data on your iPhone will be replaced.
To begin recovering those deleted photos, simply follow these steps:
Step 1: Head to the Settings page on your iPhone and click on "General".
Step 2: Tap "Reset" and choose "Erase Content & Settings".
Step 3: In the "Apps & Data" section, select "Restore from the iCloud Backup".
Step 4: Log into your account with your Apple ID and passcode, and choose the iCloud backup with the deleted pictures on the iPhone. Wait till the restoration process completes.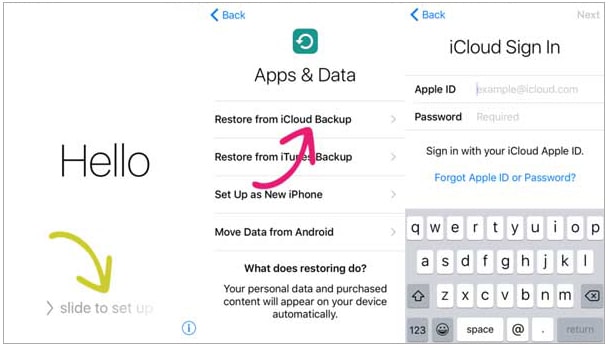 Read more: How to Recover Deleted Photos from SD Card on Android Phone? [Fixed]
Method 2. How to Recover Deleted Photos from iPhone Without Computer via Photos App
If you've recently deleted photos and videos from your iPhone, there's a straightforward solution to recover them. The "Recently Deleted" folder holds removed files for up to 30 days, meaning that as long as the items have been eradicated within this timeframe, it is possible to restore them to your photo library easily! Want to know how? Follow these steps below and get you pictures back without a computer:
Step 1: To start, open the Photos application. You'll see a selection of albums. Please find the album named "Recently Deleted".
Step 2: To view deleted photos that are scheduled to be deleted permanently from your iPhone, access the "Recently Deleted" folder. From there, you can see which images will be removed in approximately 30 days since they were initially marked as "Deleted".
Step 3: If you have an iPhone running on iOS 16 and higher, you'll be prompted to unlock it with either Face ID or Touch ID to access the Recently Deleted album. Tap on the "Select" button located in the upper-right corner.
Step 4: Click on the photo to be retrieved and press "Restore" to get back your photos.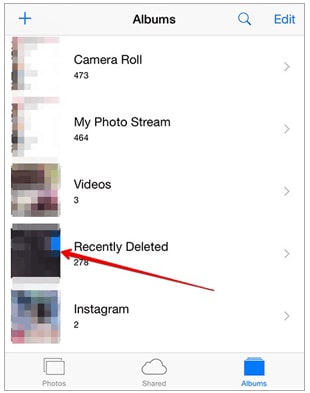 See more: How to Recover Deleted TikTok Videos on iPhone/Android/PC?
Method 3. How to Retrieve Deleted Pictures from iPhone without Computer Using Cloud Storage Services
Did you back up your iPhone pictures with Google Photos, Dropbox, or OneDrive? If so, then recovering deleted pictures from your phone is a breeze. Take Google Photos, for example - if you have enabled the Backup and Sync option on your iPhone, the pictures that are erased from your phone will remain in its trash folder for 60 days before being permanently purged. This allows you to retrieve any deleted pictures on your handset with ease!
If you wish to recover deleted iPhone images through Google Photos without a computer, here's what needs to be done:
Step 1: Launch Google Photos on iPhone.
Step 2: Click "Library" and click on "Trash".
Step 3: Choose those pictures you want to restore and click "Restore". Once done, you'll see the deleted images in your Photos application and Google Photos.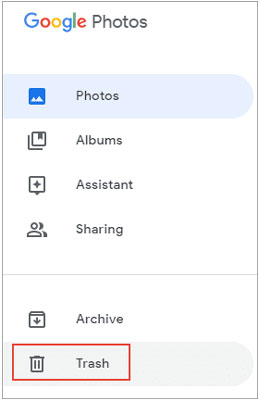 You might need: If you want to recover deleted photos from an Android phone, you can refer to these 6 ways.
Method 4. How to Restore Deleted Photos from iPhone without Computer Using Messaging Apps
If the other techniques prove fruitless, never fear - there may still be hope! If the photos were sent through instant messaging apps such as WhatsApp or Viber, even if they were deleted from your device after sending them, they likely have already been backed up on the app's server. Therefore, you could potentially recover these lost images.
Apps such as Messenger and Viber bring the convenience of organizing all shared media into one place, giving you easy access to review photos sent with a contact. With filters, you can quickly pinpoint exactly what messages need recovery. Plus, sorting through each image is made much simpler!
Method 5. How to Retrieve Deleted Pictures from iPhone without Backup on Computer via iPhone Data Recovery
When our most significant pictures are suddenly lost, so is part of us. Your parents' portrait? That special photo from your firstborn's delivery day? Or that image from an unforgettable vacation - all gone! Panic sets in, and the anxiety can only be relieved by using the best solution possible: iPhone Data Recovery. With this tool, you can quickly restore those irreplaceable memories without ever compromising their quality!
Get your beloved photos back without wasting time on gimmicks that only serve as clickbait. This recovery software is the optimal way to retrieve your photos without wasting countless hours on unproductive attempts. You can also recover your photos from iTunes backup and iCloud backup with thos software. It can list your backup pictures on the interface.
Let me give you a glimpse of some cool features this app offers:
* Quickly and easily recover deleted pictures from iPhone internal storage.
* Allow you to preview and select files from your iTunes and iCloud backup.
* Retrieve deleted contacts, text messages, notes, and music, and more from iPhone.
* Transfer your iPhone photos and other data to your computer for backup.
* Support almost all models of iPhone, iPad, and iPod touch.
Download this software to recover your iPhone photos.
How to recover deleted iPhone pictures with this recovery tool:
01Launch the Program
Install and launch the software on your computer. Select "Recover from your iOS Device". Now connect your iPhone to the PC using a lighting cable.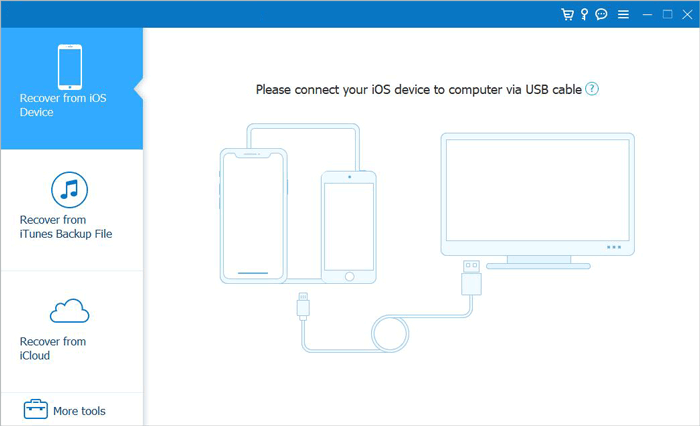 02Scan the Data
Tap the "Start Scan" tab to scan the files on your iPhone. After scanning completes, you'll see all files classified in different categories on the left sidebar.
03Recover Deleted Photos from iPhone
To begin, tap "Camera Roll", "Photo Library", or "Photo Stream" from the left panel. You will see all pictures as thumbnails listed in the right section. Preview as you select photos to retrieve before hitting "Recover". All deleted pictures will be restored to the local disk instantly.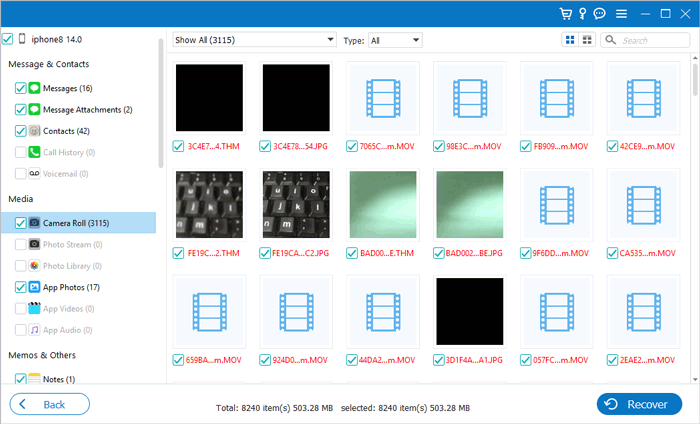 [Hot] FAQs on How to Recover Deleted iPhone Photos without Computer
Q1. Are permanently deleted pictures gone forever from iPhone?
The answer is no. When photos are deleted from your iPhone, they're not completely gone. They move to a "Recently Deleted" folder, to be recovered within 30 days. Moreover, if the photos have been permanently deleted after this time has passed, numerous recovery tools like FoneLab - iPhone Data Recovery exist, making restoring them easy!
Q2. Will my pictures stay in iCloud when deleted from my iPhone?
iCloud would retain data if you created a backup before their removal. Therefore, photos can remain stored in iCloud, provided they were backed up before removal.
Conclusion
We have come to the end of this blog, and hopefully, you can recover your erased pictures without requiring a computer. With these five powerful solutions at your disposal, recovering deleted pictures from an iPhone is simple. Whether you're a novice or a tech-savvy expert, finding the optimal solution for your needs is easier.
If you need an even more dependable and versatile solution, use this iPhone Data Recovery software. It offers user-friendly navigation to restore your pictures in mere minutes. And not only that, its wide range of features makes it incredibly helpful for all users wanting to use their iPhones without a backup. So don't hesitate - take action now and get back those precious memories.
Related Articles:
[New] How to Recover Text Messages from Broken iPhone in 5 Ways?
4 Ways to Recover Photos from Dead iPhone (All-inclusive)
How to Recover Deleted Viber Messages on iPhone (with/without Backup)
How Do I Stop My iPhone Photos from Syncing to My iPad? (Easy to Solve)
Does iTunes Backup Photos from iPhone? (Proven Tips)
9 Proven Ways on How to Transfer Photos from Android to Mac [Hot]