Q: Help! Recently I bought a Samsung Galaxy Gio S5660. I want to delete some unnecessary programs to save more space in the mobile phone. It fails! Maybe I should root my phone first, right? But I don't know how to safely root my phone, and is there any safe way? Many thanks!
First, I have to tell you that you have to root your mobile phone first in order to remove those unwanted software from your mobile phone. But rooting can bring both benefits and potential dangers. On one hand, rooting your mobile phone actually is a little dangerous, because improper handling may lead to virus infection or Trojan horse in your Samsung Galaxy Gio S5660.
On the other hand, safe and successful rooting can allow you to have the highest authority over your mobile phone. For example, you are able to install other third-party assistant tools to help better manage your mobile phone; you can upgrade your Android to the latest version faster; you can improve the running speed of your phone and boost its battery life. There is no denying that perfect rooting brings more advantages than disadvantages. This passage will tell you the safest way to root your Samsung Galaxy Gio S5660 within simple clicks.
How to Root Samsung Galaxy Gio S5660 Step by Step?
Before starting rooting your mobile phone, please ensure that the following preparation works have been done:
- Get important files backed up. During the rooting process, your vital data can be easily deleted
- Fully charge your mobile phone. Nobody can tell you precisely how long it will take to root your mobile phone.
- Have a safe and reliable root tool. Here Root Genius is highly recommended, since it is a handy tool which can help root Samsung Galaxy Gio S5660 quickly and safely.
Now let's look at the step-by-step guide on rooting Samsung Galaxy Gio S5660 with the help of best Android rooting software.
Step 1: Download and install the Root Genius on computer. Then you will see the below interface.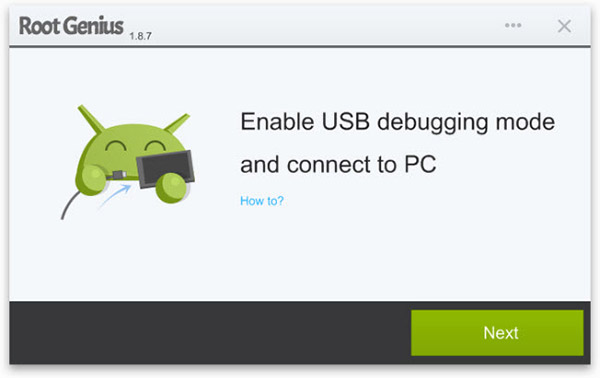 Step 2: Enable USB debugging and connect your Samsung Galaxy Gio S5660 to computer via its USB cord.
Step 3: Check I accept User agreement and click the option of "Root it". And then this program will automatically root your mobile phone.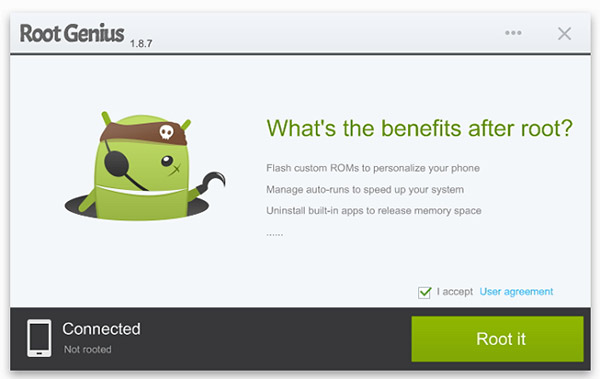 Now you just need to wait for the rooting process to complete. After finishing rooting, you are free to use Coolmuster Lab.Fone for Android or other tools requiring root access.