Android keeps releasing new Android OS in recent years, such as Android 5.0 Lollipop, Android 6.0 Marshmallow, Android 7.0 Nougat, etc. Most of the Android users like to update to the latest Android OS, but I believe a part of Android users used to use the Android OS they have used for long time, because they just dislike to make a change. If you still use Android 5.0 Lollipop, how to root your Android phone or tablet? That's to say, how to root an Android device that is running Android 5.0 Lollipop?
Well, last time we talked about how to root Android 6.0 Marshmallow. Actually rooting Android 5.0 is easier than rooting Android 6.0 because the Android 5.0 Lollipop has been released for a long time. There are various method available on the web to show you how to root an Android device in Android 5.0 Lollipop. What you need to do is selecting the most reliable solution, right? In this article, we pick out the best tool to help you root Android 5.0 Lollipop with or without PC as you like.
Guide: Root Android 5.0 Lollipop with or without A PC
KingoRoot is specially designed for users to root Android phone or tablet with just 1 mouse click, without any data losing during the whole process. It allows you to finish the rooting process in 1-2-3 step and asks no professional skill. KingoRoot comes with both PC and APK versions, enabling you to root your Android device with or without pc as you like.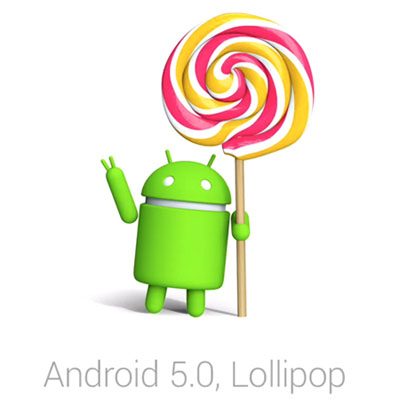 First of all, please choose the PC or APK version of the KingoRoot to download:
Free download KingoRoot PC version
Free download KingoRoot APK version
Next, we choose the APK version as example to show you how to root Android 5.0 Lollipop step by step:
Step 1. Connect your Android device to a reliable WiFi network and download the APK file of the program on the device;
Step 2. Install the APK file on your Android device by following the pop-up instruction of the program and there are many things you should be note:
- If Chrome has warned you about this APK, just click "OK" to proceed, and we can guarantee this tool is 100% safe.
- If your device is only accept app installation from its native app store, you need to click on Settings > Security > Unknown sources > Check the box and allow to solve it.
- Ensure you have known all risks of rooting, and then you need to choose to root or not to root when you get a message of harmful app on your device.
Step 3. Finally, you can click on the "One Click Root" button to begin the rooting task. You just need to wait for a while for the end of the rooting.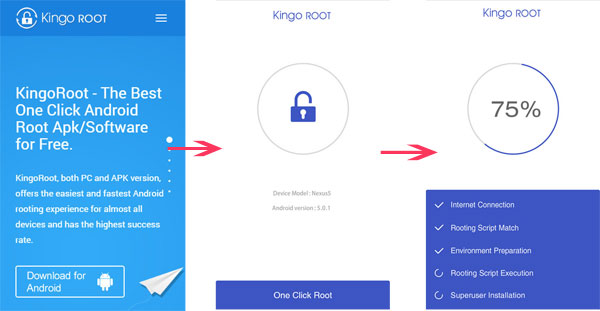 Related Articles:
How to Root Samsung Galaxy S4 GT-I9500?