How to Backup Android Phone with Broken Screen?
When people buy a new Android phone, there are many different things that they may expect. Based on the individual and their personal preferences, they may need to buy a case. In fact, one of the first things that an Android user may do is to purchase a snappy looking protective case to ensure the mobile phone is not easily broken. However, whatever the situation, there are times when no matter what a person may do, the Android phone is still broken and the screen on the phone will need to be replaced.
But the most terrible thing is not the broken screen, but how to deal with your important data stored in the broken Android phone. Can we backup data on an Android device with broken screen? How can we do that? This article will answer all of your questions.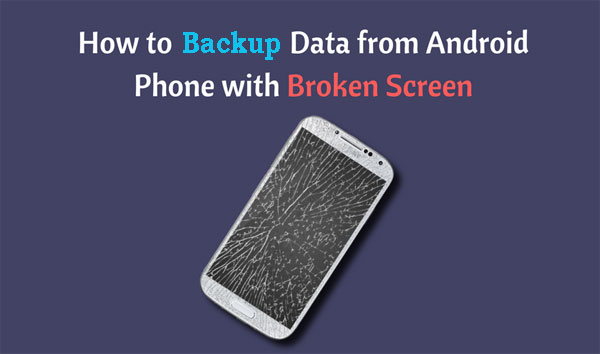 Part 1. Can We Backup Data from Android Phone with Broken Screen?
Part 2. Backup Data on Android to Cloud Storage When Part of Phone Screen still Work
Part 3. Back up Android Data when Broken Screen with Broken Android Recovery
Part 4. Back up Android Phone with Broken Screen with ADB commands
Part 1. Can We Backup Data from Android Phone with Broken Screen?
Once you get your Android phone's screen broken or damaged, the broken screen will lose its touch function. You can't access to the phone so how to deal with the data you stored in the internal memory of the phone? Is it possible to backup data on the broken Android phone when the screen becomes unresponsive?
Thank god, the answer is YES!
There are several tips you can try to take a backup of your data when your Android phone is broken:
Tips 1: Try to connect your broken Android phone to your computer via a USB cable, check whether it can be detected by the computer. If yes, you can run a reliable Android data recovery tool, such as Lab.Fone for Android, to recover important data from your broken Android phone.
Tips 2: Broken Samsung phone users are fortunately because they can retrieve data from the broken Samsung phone by using a dependable app called - Find my Phone. As long as you have a Samsung account, you can visit the site of this application, log in with your Samsung account, and then you can connect your broken Samsung to the computer and you will be able to access your data on your broken Samsung.
Tips 3: If there is a person use the same Android phone as your broken Android device, you can put your phone's motherboard on his device, and then you can backup your data now.
Just like the examples mentioned above, anyone at anytime can break the screen on their Android devices. Unfortunately, when this occurs, one of the first things that the user is normally concerned about is retrieving the data that is stored on the mobile device so that it is not lost permanently.
More Similar Guides:
Recover Data from Bricked Android
Recover Lost Files from Broken Samsung
Part 2. Backup Data on Android to Cloud Storage When Part of Phone Screen still Work
If your Android phone screen is severely broken, it is recommended that you first tap each part of the phone screen before discarding it. If you are lucky enough, you may find that some parts of the screen can still work and even allow you to access your phone. If so, you can try to back up your android phone to cloud storage using a Google account.
Step 1: Access your screen broken Android phone and go to Settings > Backup and Reset.
Step 2: If you have already added a Google Account to your phone, toggle on Back up my data; If you didn't add a Google account, tap Backup account to add a Google account.
Step 3: Once you have a new Android phone, you can add your Google account to your new phone and it will automatically prompt you to restore your previous backup to this phone.
You can back up your photos, contacts, emails, documents, system settings, purchased apps and Chrome browser history from your broken Android phone to Google's Android backup service.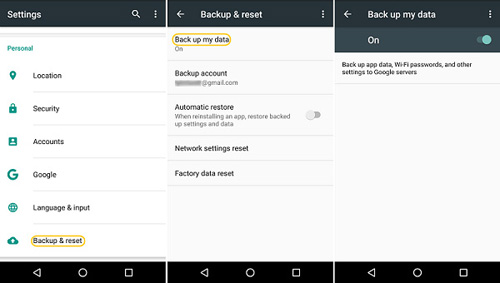 By the way, if you are a Samsung owner, you can backup Samsung phone with broken screen to Samsung account by following the steps: Go to Apps > Settings > Accounts > Samsung Account > Backup > Auto backup. Then, all your Samsung phone data will be synced to Samsung account immediately and you can restore the backup file to your new Samsung phone via Samsung account in the future.
Part 3. Back up Android Data when Broken Screen is Completely Unresponsive
If all the tips above are useless, there is still another way to help you extract data from a broken Android phone, and then back them up on your computer. The tool you will need is the Broken Android Data Extraction, which can be used to extract everything from your broken Android phone and tablet. It is highly recommended as a viable option for retrieving contact information, text messages, photos, videos, audios and the like. The process of backing up a broken Android is also relatively easy since it involves a 4 step process that anyone can follow.
Here are the 4 steps to backup broken Android:
1. Connect the Android device
2. Select a suitable case
3. Enter Download mode
4. Recover the data from the broken Android and save on computer
The following tutorial will describe the 4 steps in details. You can keep on reading if needed and then follow the steps to backup your Android with broken screen.
Guide to Access/Backup An Android Device with Broken Screen
Step 1. Launch the broken Android data backup software
Install and then launch the program on your computer. You will need to connect the broken Android device to the computer via a USB cable. When complete, select the option "Broken Android Phone Data Extraction" (located on the left side of the program screen).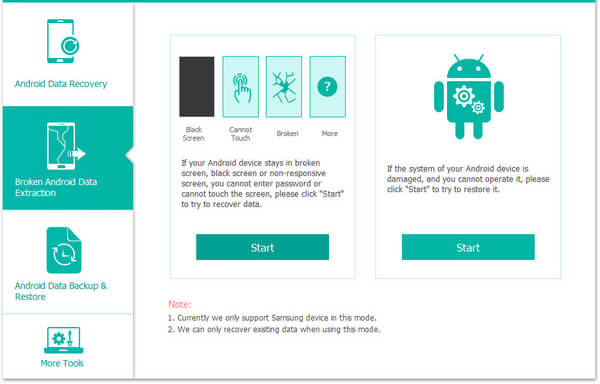 Step 2. Confirm name and model of your Samsung phone
The user will need to choose the fixing mode and then confirm the devices info. (verify info on broke device by simply pressing the Start button).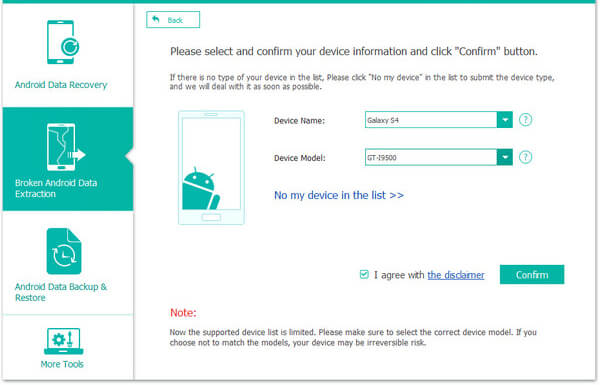 Step 3. Turn your Android device into download mode
Key in the Download mode. To enter this information, you will need to follow the onscreen prompts (Download mode). When complete, then click on the Start button. This action will begin the scan of the files.
Step 4. Backup broken Android on computer
When the scan function is complete, the results of the scan will be displayed by categories (text messages, contacts, videos). All you will need to do is placing checks by the file categories you want to backup and click "Recover" button.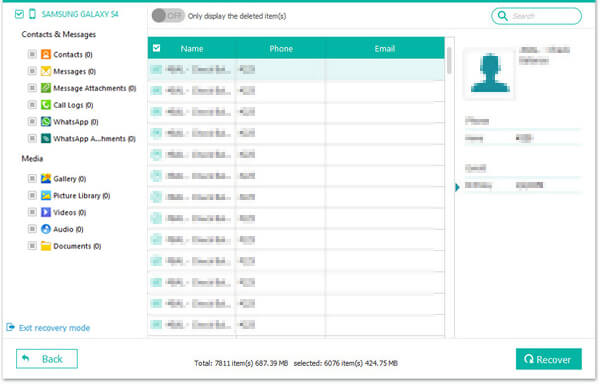 After above simple steps, all your selected files on your broken Android phone will be saved on your computer for backup without loss. Now, it's your turn to try out the Broken Android Data Extraction to backup your broken Android device.
Part 4. Back up Android Phone with Broken Screen with ADB commands
The last method to back up a broken screen Android device is to use the ADB command, which is tool developed by Android. This method is suitable for people with advanced computer knowledge.
Step 1: First, you need to install ADB. But ADB communication with phone requires "enable USB debugging". Therefore, you need to boot your device into ClockworkMod Recovery. To achieve that, you need to hold down the three buttons: "Power", "Home" and "Volume Up" or "Volume Down", which is determined by your phone model.
Step 2: After you successfully enter your Android phone into ClockworkMod Recovery mode, you need to check the connection with ADB.
Step 3: At the command prompt, you should type: adb devices.
Step 4: Then enter the command to agree to back up all your phone data: adb pull / data / media / clockworkmod / backup~ / Desktop / Android-up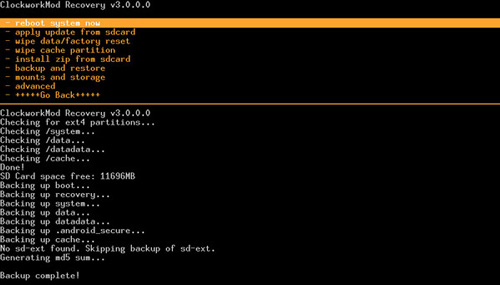 Bottom Line:
This last method doesn't seem very simple for a computer green hand, so if your phone screen is broken and completely unresponsive, and you can't get into your phone, we recommend you use Broken Android Data Extraction, which is the tool mentioned in part 3. This is the easiest and best way to back up Android phone with broken screen.
Related Articles:
Recover Lost Contacts/SMS from Broken Android
Recover Text Messages from Broken Android
Samsung Galaxy Desktop Manager Software