[Solved] How to Recover Text Messages from Broken Android Phone?
Text messages must be one of the most important data type you want to get back if your Android smartphone is broken. Because messages may carry important address, private information and work details that you don't want to lose or leak. However, none of the mobile phone will come easy. This article is going to show all of you the simplest way to recover deleted text messages on broken Android phone.
Part 1. Attention! Common Ways to Break Your Android
Part 2. Best Broken Android SMS Recovery You Can't Miss
Part 3. How to Retrieve Lost SMS from Broken Android Step by Step
Attention! Check the Common Ways Might to Break Android
Many times unwanted issues can bring data loss problems on your phone, and one of the most common issue is breaking your Android phone. You know, mobile phones are so easy to be broken for various reasons. So, here, we have summarized the top-rated situations that may result in Android broken in the daily life:
1. Dropping of the phone accidentally. When you take some certain activities with your Android phone in hand, the phone can be easily slipped from your hand when you hit something accidentally. If you phone is seriously damaged, you have to get a new phone to replace the broken one.
2. Water damage on your phone. People like to use their phones while they are in toilet, which makes it a common problem to make the phone fall in the bath or toilet. There is slight chance you can save your phone by drying it out.
3. Bricking your phone using custom OS. It is another way you can make your Android phone broken. Although the device is not damaged physically, there is no way for you to run the phone with faulty custom OS.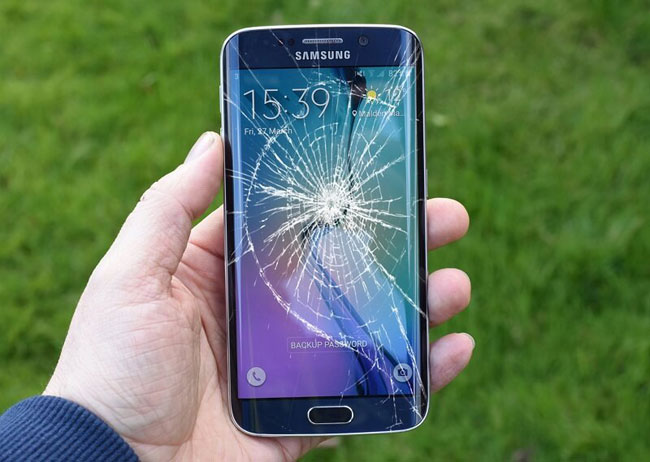 Broken Android SMS Recovery - Tool You Can't Miss
When one of those above events happens, what you worried about most is not the broken phone, but the private and important data you stored on the phone, such as text messages, contacts, photos and others. Don't be anxious, there is one great solution to recover your data back.
Broken Android SMS Extraction is the perfect solution for Android users to recover messages, contacts, etc. from broken Android devices. It supports text messages, contacts, photos, videos, music, documents, etc. and almost all Samsung Galaxy S/Note/Tab (Pull down to see detailed support list). It will be your most reliable helper to restore any and all deleted Android data when your Android device is broken, damaged or dead. The following is the detailed guide to show you how to recover text messages from a broken Android phone by using this Broken Android SMS Extraction.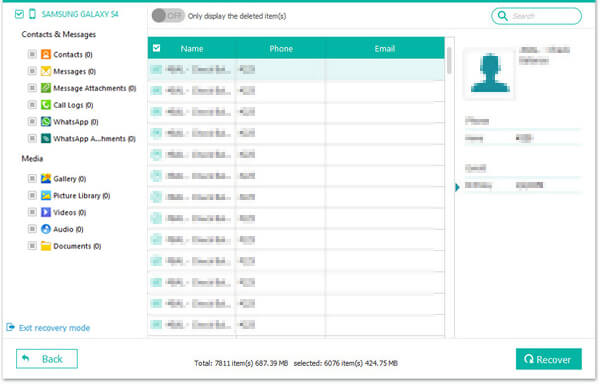 More Similar Guides:
How to Recover Photos/Videos on Motorola Phone?
How to Recover Deleted Contacts from Rooted Samsung?
Steps on Recovering Text Messages from Broken Android Devices
Step 1. Launch the program on your computer
Install and launch the Broken Android Data Recovery on your computer. Take the USB wire and connect your Android device to the computer. Then, select the mode of "Broken Android Phone Data Extraction" in the left side of the screen.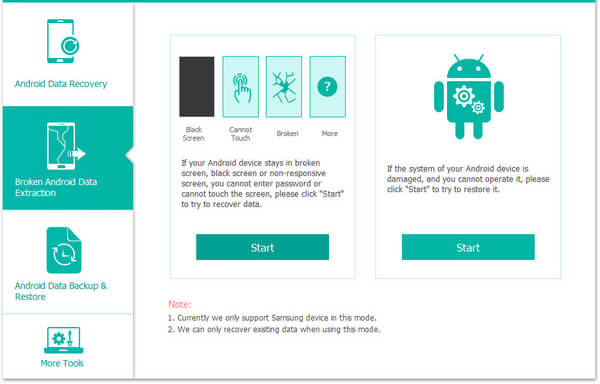 Step 2. Select the fixing mode and confirm your device info
If your Android device is broken due to black, broken or unresponsive touching screen, you can click "Start" button to confirm your phone's name and model, then go to next step.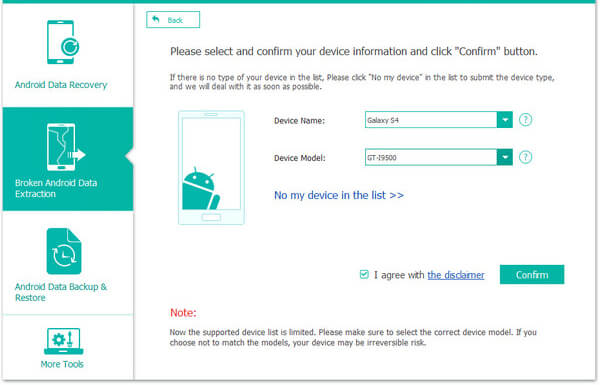 But if your Android is crashed or something wrong in the Android OS, you might need to fix the Android to normal status for continuing. Here, you need to tick "Fix Device" and enter the next step.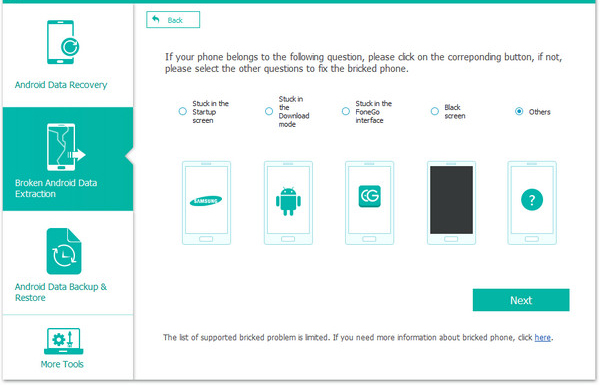 Step 3. Enter the Download mode
Follow the onscreen prompts to enter the Download moe, then you can click "Start" button to begin scan for files or download firmwares to fixing the system issues.
Step 4. Extract SMS from broken Android
All contents in your Android will be scanned out. The results will be displayed in categories for your selection. Only check the box next to "Text Messages" if you only need to recover messages from broken Android phone.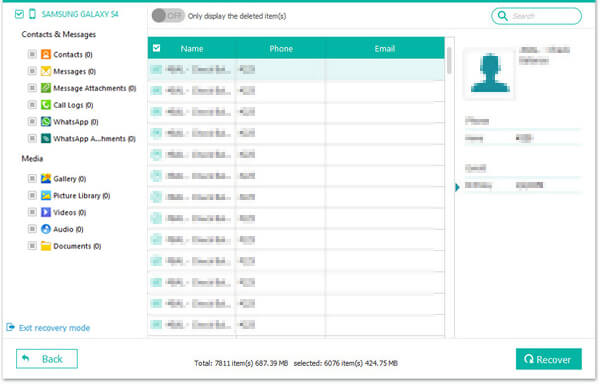 Note: If your Android is broken due to system issues, you need to use the Android Data Recovery to scan lost files again after the device returning to normal.
Video Tutorial:
Check Supported Devices of Broken Android Data Extraction
Samsung Galaxy Note:
Note 3: SM-N900, SM-N9002, SM-N9005, SM-N9006, SM-N9007, SM-N9008 SM-N9008V, SM-N900S
Note 4: SM-N9100, SM-N9106W, SM-N9108V, SM-N9109W, SM-N910C, SM-N910F, SM-N910G, SM-N910H, SM-N910K, SM-N910L, SM-N910P, SM-N910R4, SM-N910S, SM-N910T, SM-N910U, SM-N910V, SM-N910W8
Note 5: SM-N920C, SM-N920G, SM-N920I, SM-N920K, SM-N920L, SM-N920P, SM-N920R4, SM-N920S, SM-N920T, SM-N920W8
Samsung Galaxy S:
S4: GT-I9500, GT-I9505, SCH-R970, SCH-R970C, SGH-I337M, SGH-M919, SPH-L720
S5: SM-G900F, SM-G900FQ, SM-G900I, SM-G900K, SM-G900L, SM-G900M, SM-G900P, SM-G900R4, SM-G900R6, SM-G900S, SM-G900T, SM-G900T1, SM-G900W8
S6: SM-G9200, SM-G920F, SM-G920P, SM-G920T, SM-G925F, SM-G925P, SM-G925T, SM-G928P, SM-G928T
Samsung Galaxy Tab:
Tab Pro 10.1: SM-T525
Some Warm Tips May Help You:
1. Purchase a phone shell to take good care of your phone.
2. Back up your phone data frequently so that you can easily restore your data from the backup file even though you can't access your broken phone. Here is a guide telling you how to backup Android phone on computer.
3. Erase all your private and personal information on your broken phone if you don't want to use it anymore. Here is a kind guide shows you how to erase your Android phone data before you sell, recycle or donate it.
4. If you don't want to use your broken Android phone anymore and plan to purchase a new phone, no matter another new Android phone or iPhone, you can have a way to transfer everything from your old phone to new phone with one click. Refer to the guide: How to transfer data from Android phone to another Android/iPhone/Symbian phone.
Related Articles:
Samsung Galaxy Desktop Manager Software