There are so many ways that people can get their Samsung phones damaged. Apart from having fallen it in water or hard ground, virus infection, OS corruption and software updates are all the reasons that causes damaging your Samsung device. Well, then the question is that how to deal with your data stored in the phone after the phone is damaged? Is it possible to recover data from a Samsung phone that is damaged or broken? You might be afraid that to fix this since you need to reset your Android phone – which means erasing all your data. It's okay. Don't panic, it's easy to get back what you need from your damaged Samsung Galaxy device.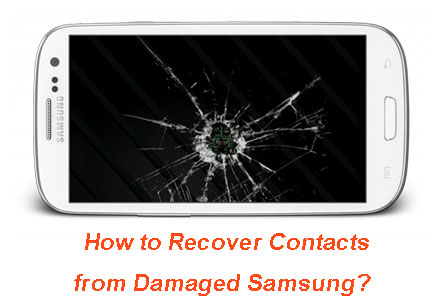 - How to Recover Data from Bricked Android Phone
Part 1. The Best Data Recovery for Your Damaged Galaxy S8/S7/S6
Contacts should be the data you most anxious about. Losing contacts means it will be difficult to communicate with your families, friends and workmates, especially when you didn't back up your Samsung contacts before. Since the Samsung device have broken or damaged, that means you may cannot operate it normally. Don't worry, now we will recommend a tool that can recover data without operating on a damaged Samsung phone.
With Broken Android Data Extraction, you don't have to worry. It has special advanced functionality to detect and scan data on your Android device even if it is broken, damaged and non-response. As your life saver, it empowers you to recover contacts, messages, call logs, photos, music, documents, etc. from damaged Samsung phones and tablets, like Galaxy S8/S8 Plus/S7/S6/S6 Edge/S5, Note 7/6/5/4, without hassle. Follow the guide below to start contacts recovery for your damaged Galaxy.
Part 2. How to Recover Contacts from Damaged Samsung Galaxy?
Preparation: Click the following button to download and install the contacts recovery software for damaged Samsung on your computer.

Step 1. Run the damaged samsung contacts recovery
After downloading and installing the program on your computer, launch it and choose "Broken Android Phone Data Extraction" from the left side of the home page of the program. Then, click "Start" button to get access to your phone's memory.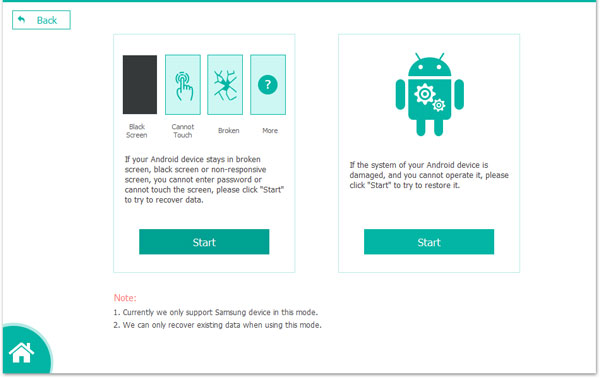 Step 2. Choose the phone model for scanning
Select your Samsung Galaxy's name and model and then click "Confirm" button. After that, you'll guide to enter your Samsung phone into Download mode. Just follow the steps displayed on the window to finish it.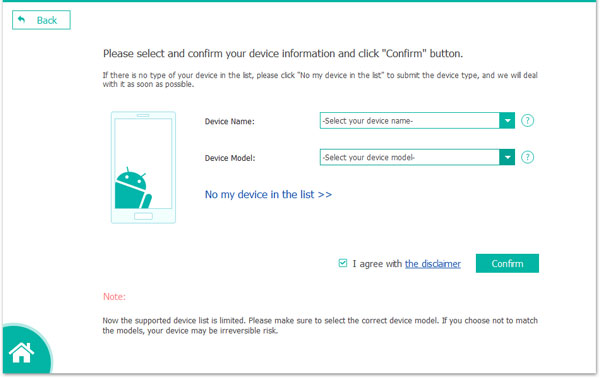 Step 3. Recover contacts from damaged Galaxy
Click "Next" to start the program scan your damaged Samsung Galaxy, and when the process is ended, all files recoverable from the damaged Galaxy will be displayed here. Preview them one by one and mark those you need. Finally, click on the "Recovery" button to save all of them on your computer.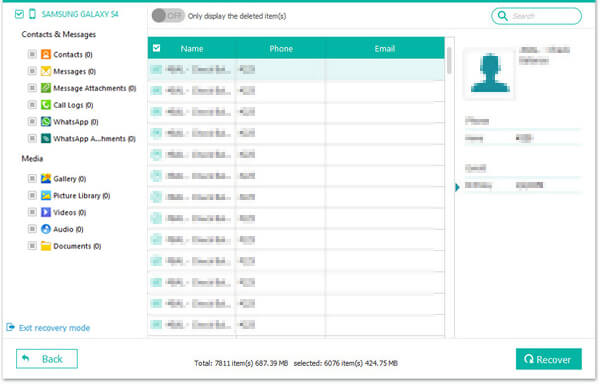 Check Supported Devices of Broken Android Data Extraction
Samsung Galaxy Note:
Note 3: SM-N900, SM-N9002, SM-N9005, SM-N9006, SM-N9007, SM-N9008 SM-N9008V, SM-N900S
Note 4: SM-N9100, SM-N9106W, SM-N9108V, SM-N9109W, SM-N910C, SM-N910F, SM-N910G, SM-N910H, SM-N910K, SM-N910L, SM-N910P, SM-N910R4, SM-N910S, SM-N910T, SM-N910U, SM-N910V, SM-N910W8
Note 5: SM-N920C, SM-N920G, SM-N920I, SM-N920K, SM-N920L, SM-N920P, SM-N920R4, SM-N920S, SM-N920T, SM-N920W8
Samsung Galaxy S:
S4: GT-I9500, GT-I9505, SCH-R970, SCH-R970C, SGH-I337M, SGH-M919, SPH-L720
S5: SM-G900F, SM-G900FQ, SM-G900I, SM-G900K, SM-G900L, SM-G900M, SM-G900P, SM-G900R4, SM-G900R6, SM-G900S, SM-G900T, SM-G900T1, SM-G900W8
S6: SM-G9200, SM-G920F, SM-G920P, SM-G920T, SM-G925F, SM-G925P, SM-G925T, SM-G928P, SM-G928T
Samsung Galaxy Tab:
Tab Pro 10.1: SM-T525
Related Articles:
Transfer Contacts between LG and Samsung